All yule need for the holidays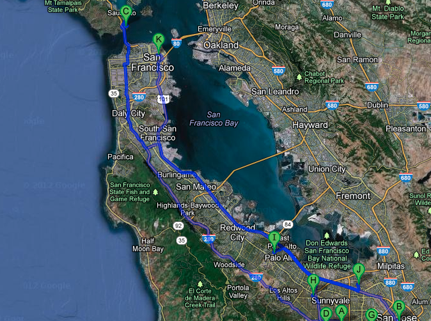 Yashashree Pisolkar
December 17, 2012
The lead up to the the holidays may seem premature. The tree lighting ceremonies at the Quinlan Community Center and the annual Christmas carols at the Cupertino Library happen almost an entire month before Christmas bells start ringing. Even then, the early lights and carols have become tradition as our community gears up for the holiday season. This winter, celebrate these ten events with your friends and family –– entertain, feast, serve and bond.
ENTERTAIN
Bat away those visions of sugarplums and instead expose yourself to the arts, culture and entertainment of the Bay Area. We have always delighted neighbors with our numerous holiday parties –– this holiday season, let the community entertain you.
START WITH ART
As the epicenter of contemporary art in Silicon Valley, the San Jose Museum of Art is committed to providing the community with exposure to local cultures and ideas. After 5 p.m. on the third Thursday of every month, the museum allows visitors to embrace the experience for a reduced admission price of only $5. Celebrate the last "third Thursday" of the year with a steaming cup of hot chocolate and live music from the Dinwiddie Duet, Trace Elementary Choir and the American Harp Society. Escape the bustle of the holiday season with a peaceful stroll through the galleries.
THE HOLIDAY SPECIAL
The latest film adaptation of "Les Misérables" finally hits theaters on Dec. 25. The British musical drama film, which stars a brilliant ensemble cast (including Hugh Jackman, Anne Hathaway, Amanda Seyfried, Sacha Baron Cohen and Helena Bonham Carter) portrays French society in the 19th century. While the film does not release in other countries until after New Year's, there's no need to be miserable: you can watch it in AMC Cupertino on Christmas morning.
KWANZAA CULTURE
"Habari gani," a traditional Kwanzaa greeting, means "what is the news" in Swahili. So what is the news? On Dec. 26, the annual Kwanzaa celebration at Bay Area Discovery Museum in Sausalito features a free concert by the renowned jazz drummer E.W. Wainwright. The museum offers free admission as exciting Kwanzaa festivities. Visitors of all cultures are encouraged to learn more about the African-American holiday through concerts, shows, displays and interactive exhibits.
AMAZING GRACE
A traditional ballet by renowned French or Russian dancers is sure to be spectacular, but a trip to France or Russia is simply too far a trip for Cupertino residents. Luckily, the world-famous Moscow Ballet will return to the Bay to perform the Great Russian Nutcracker in the Flint Center at De Anza College on Dec. 22. In addition to company dancers, the show also features students from the Saratoga School of Dance and combines both foreign talent and local youth. The dancers, music and acting are sure to add up to a stunning theatrical performance –– visit www.ticketmaster.org for tickets.
FEAST
Every community has its own traditions regarding food, but it's obvious that everyone loves to eat. The Bay Area has developed its own unique flavor, absorbing tastes and styles from all around the world.
WINTERGREEN
Whether you'll have vegetarian guests at your holiday parties or simply want to give your favorite holiday dishes a twist, it's always a great idea to fill up your culinary resumé (and stomach) with some vegan or vegetarian meals. On Dec. 19 Whole Foods in Blossom Hill will offer shoppers a showcase of delicious vegan and vegetarian alternatives to traditional holiday dishes. They'll even have free samples to snack on as you browse.
HIGH TIME FOR HIGH TEA
If you are tired of the peppermint mocha latte at Starbucks and feel like trying something different, visit Lisa's Tea Treasures in Santana Row or Campbell. Enjoy a royal experience as you savor speciality holiday teas and dessert delights from Dec. 17 to Dec. 23. Visit www.lisasteatreasures.com to make an early reservation. Limited seating.
SERVE
Whether you celebrate Christmas, Kwanzaa, Yule, Bodhi Day, Hanukkah, all of the above or none of the above, extend your blessings and help to others in the community.
RING IN THE HOLIDAYS
Through Dec. 24, volunteer to ring bells for the Salvation Army at Nob Hills supermarket in Mountain View. Show your support of the Salvation Army by signing up for two hour shifts as bell ringers through the Los Altos United Methodist Church. Also consider donating to the Salvation Army's Red Kettle fundraiser started by Captain Joseph McFee to fund impoverished communities in the Bay since 1891. You must be at least 16 years of age to volunteer. Make a donation at www.onlineredkettle.org.
MAKING SPIRITS BRIGHT
Though donations are often associated with monetary help, don't limit charity to your wallet or checkbook. If you are gifted in music or dance and would like to entertain the senior citizens at Lytton Gardens in Palo Alto, visit www.lyttongardens.org to volunteer. Help serve Christmas dinner and share a holiday meal with the elders; generation gaps are insignificant when it comes to heartwarming merriment.
BOND
AROUND THE WORLD IN JUST A DAY
This holiday season, you don't have to be Alice to journey to Wonderland. Experience holiday-spectaculars and exhibits at California's Great America in Santa Clara before Jan. 1. Bring along friends and family to view the county's most versatile event, Global Winter Wonderland. View light and laser shows, acrobatic performances, magic shows and magic lanterns, or pose with Santa. If you're an adrenaline junkie, don't forget to enjoy the roller coasters and other park attractions as well. Visit globalwonderland.org to purchase a daily ticket or season pass.
HIT THE HIGH ROAD
Times Square may be the place to celebrate New Year's Eve, but San Francisco's Union Street is where you want to be for Christmas. Through Dec. 22, enjoy the Fantasy of Lights display between Van Ness and Steiner Street across from Fillmore Street. Take in the light and holiday decorations amidst the city's Victorian shops and restaurants while jugglers, Santa's reindeer and magicians roam the streets alongside you and your family. Don't forget to pose for photos!
 Event dates, locations and timings are subject to change. Please contact event organizers directly for further questions or comments.