Prom embraces cultural threads
Students share their opinions on the cultural inclusivity of prom outfits
Donning a dark green kurta alongside his prom date, who wore a green lehenga, MVHS alum 22' Ronit Avalani noted that he might "stick out" at prom, but didn't fear a negative reception to his outfit. He believes this is largely because MVHS has a lot of representation of aspects of South Asian culture, with three unique Indian dance teams that range from traditional styles to Bollywood and Hip-Hop fusion. He says the reception of his and Sarin's outfits was great and that their peers were excited to see them.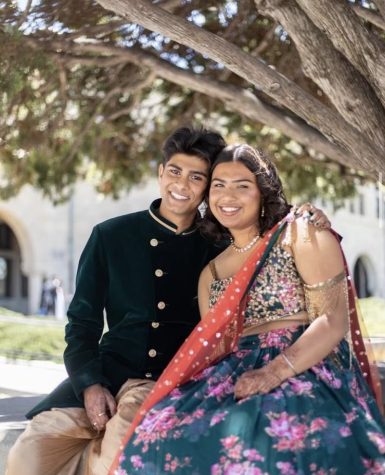 "Before high school, I was not very into my own culture, and through MV Andaaz, I found my love for my culture and an appreciation for a community within my culture," Avalani said. "Prom was a step into embracing my culture in a place [where] it's not traditionally embraced. Even though I was going to stick out at this event looking different [and] unique, part of me wanted [that] because I wanted to embrace my culture and present it in a way that I'm proud of." 
MVHS alum 22' Anushka De also feels that despite the general norm to wear a suit or long dress to prom, she didn't feel any pressure to wear Western clothes to prom, attributing that to the fact that a large portion of MVHS identifies as Indian-American. De wore a bodycon black dress with jewelry originating from India, like bangles and a tikka — a piece of jewelry that hangs over the top of one's forehead. Avalani also noticed several girls pair Indian accessories with more traditional prom dresses, and found it really interesting because he feels that many students at MVHS are in the middle of associating with being multiple cultures and the fusion of those two identities through a prom outfit shows that "you don't necessarily need to identify with one or the other, but you can be a mixture of both."
Junior Medha Singamsetty similarly wanted to represent her Indian American identity by wearing a classical prom hairstyle with a pink lehenga. Singamsetty says that several people, including herself, got inspiration for prom outfits from TikTok, where people showcase nontraditional prom outfits, including cultural outfits or handmade outfits. De similarly recalls watching fashion-related YouTube videos since she was in fourth grade and has noticed that there is more diversity and variety of prom outfits represented on TikTok now.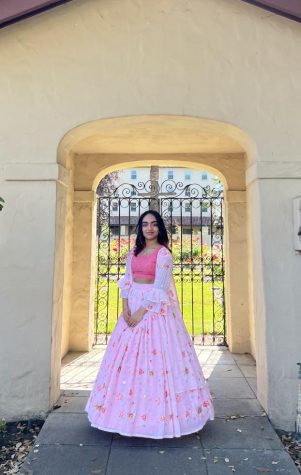 "The people who [were] popular on YouTube, especially six or seven years ago, were much more racially homogenous, and Lilly Singh was the only brown girl on YouTube at the time," De said. "I saw a very specific image of what you're supposed to wear to prom. [But] with TikTok, the ability for people to randomly go viral has made it so that you see so many more outfits. I also see brown girls who were wearing full lehengas to prom [and] Indian jewelry. Now there's such a cool variance of what people think is acceptable and interesting, and that allows us as people to have way more fun with it. Because [prom is] supposed to be a night where you get to go all out if that's your thing and like, have no reservations about it."
The majority of the Indian jewelry De wore to prom belonged to her mother, resulting in De feeling a deeper connection with her mother and heritage, especially as her mother helped put on the jewelry, telling her about the occasions where the items were generally worn, like weddings and religious events.
Avalani agrees that TikTok inspired him to wear a kurta and acknowledges the positive impacts of social media on prom fashion, while adding that social media can pressure people to wear styles that they aren't comfortable with.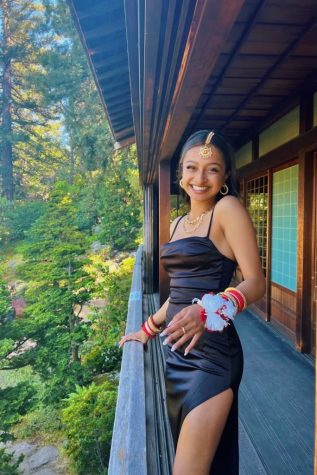 "I feel like people are making prom more, 'How can I look like them?' Not 'How can I look like myself?'" Avalani said. "I know that prom doesn't necessarily have a meaning — it's more just a thing that you get excited about. But I think individuality and finding your own style within a formal event and formal structure is something that has started to decline with the implementation of media because more people are just trying to take a draft and copy it, [and] use that exact same dress over and over again."
Singamsetty also feels that although sleek, shiny prom dresses or poofy ball gown dresses are more common, people shouldn't be afraid to step outside those norms and wear something that they like, including cultural outfits. 
"We have [the] MV prom dress 2023 [Instagram account] that makes sure people don't match, but by wearing your own cultural clothing, or more unconventional outfits, that wouldn't even be a problem because everyone [would] have a slice of their personality in their outfit," Singamsetty said. 
Avalani feels that as a result of opening discussions about culture, gender and sexuality in recent years, society is breaking down what prom really is and why so much emphasis is put on it. He believes that prom is really just another event where people get to dress up, and since that's all it is, everyone should be able to dress the way they want to.
"There should be absolutely no pressure [to dress a certain way] because realistically, you're paying 100 something dollars to go to a boat and dance," Avalani said. "Do it however you would like to."