Protecting our voice
Examining the effects of censorship on student journalists and advisors
Protecting our voices
"They don't respect us as student journalists."
This was the headline of Daniel Pearl Magnet High School's editorial after hearing that their journalism advisor may be suspended for three days. 
In November 2021, DPMHS Journalism teacher Adriana Chavira's students wrote an article about the departure of their school librarian, including her vaccination status and the school's mandate for staff and students to be vaccinated. In response to the article, the librarian claimed that the journalists revealing her vaccination status was a breach of HIPAA guidelines and called for the removal of the article. 
After discussing with the Student Press Law Center, an organization that protects student journalists' press freedom rights, the students ultimately chose to keep the story since none of its information was factually incorrect or libelous. As a result of continually denying requests from administrators to remove the story, Chavira was issued a three-day suspension in September 2022 as a case of subordination. 
"When I heard it was only three days, I was relieved because I was expecting a bit longer than that," Chavira said. "I think it was more of the aftermath if they did suspend me — if I did serve, then when I came back from my suspension, they could have moved to fire me because that [article] would still be on the website. So there was really no point in telling the students to remove [the article]."
Chavira had no fears about facing her suspension, though she could never have imagined that this situation would have happened at DPMHS. After all, the high school's name is a tribute to Daniel Pearl, a journalist kidnapped and murdered in Pakistan during his research on Islamic militants. 
"We had a lot of conversations," Chavira said. "The students realized that I could face suspension, and they were like, 'Should we remove it?' I said, 'No, it's accurate. There's nothing wrong with the reporting — this is censorship.'"
SPLC Executive Director Hadar Harris has drafted numerous letters to DPMHS calling for the rescission of Chavira's suspension. Harris is surprised that this case occurred in California, the state with the country's oldest and strongest press freedom rights. According to Harris, administrators tend to censor stories that include information that would upset parents or defame the school.
"With all of the legislation that is trying to be introduced around limitations of critical race theory and LGBTQ+ content, even if there's not a law in place that [prohibits] this kind of content, there's a chilling effect," Harris said. "Because it's being introduced and creating a discussion in the world and administrators just don't want to deal with upset community members or parents."
Chavira's suspension made national headlines, and DPMHS' student newspaper Pearl Post published its editorial on Sept. 6, 2022, receiving mass support for writing about the issue. Two weeks after her suspension notice, Chavira's appeal hearing resulted in the DPMHS administration rescinding the suspension with no explanation. 
Chavira and Harris hope that other school districts will consider the student press laws in their states, especially California Ed Code 48907, before making decisions like this. Harris finds that the censorship of student journalists only prevents their peers from receiving factual information and cultivating a more united school community. 
"I think student journalists are among the bravest and boldest folks out there today," Harris said. "They're telling their stories, reporting on their truths, and learning the skills of asking hard questions to people in power or interesting people on the streets. These skills of investigating truth and those skills of documenting the experiences of the community are vitally important to a democracy and vitally important to the future of our democracy.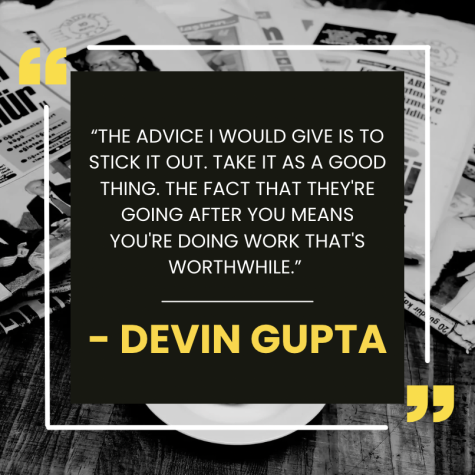 Protecting student journalists
Devin Gupta, MVHS alumni and former managing editor of El Estoque, published a story on the candidates running for Cupertino City Council in September 2020. He reached out to five candidates to interview about their platform for the election; however, one of the candidates, Charlene Lee, never responded to the interview request. Gupta and the editorial board decided to leave "no comment" on the section of the article about Lee. A week later, Gupta received five text messages saying, "I know where you live" and "You need to take the slander down," along with messages threatening to talk to the principal, his parents, and colleges. Gupta also saw a Facebook post with his home address and a picture of his house.   
"I just remember it was really exciting in a way but also a little bit scary," Gupta said. "My parents were really worried. I had to spend a lot of time sitting down with them and convincing them that it was going to be fine. Everyone's, worried about us. It felt it just felt really validating that the work that we were doing meant something and that there was some relevancy."
Gupta adds that there was very little for the editorial board to do in this situation: they could either issue a statement or send Lee an email. However, Julia Satterthwaite, adviser of El Estoque, provided advice that allowed Gupta to improve as a journalist.  
"I think that was a really powerful move by[Satterthwaite] because she allowed us to grow as writers and figure out what we thought we should do," Gupta said. "If we were making a bad decision, she would have stepped in, but it felt like you were definitely making your own decision."
Gupta advises current student journalists who struggle with censorship in their schools to keep moving forward. 
"The advice I would give is to stick it out," Gupta said. "Take it as a good thing. The fact that they're going after you means you're doing work that's worthwhile."