PHOTO GALLERY: Dance team's spring showcase a success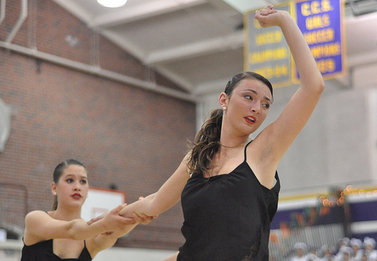 "Let's Get Fit" featured animals, Bboys, and Radiohead


Click through for caption.

On May 20, Dance team hosted its annual Spring showcase under the theme of "Let's Get Fit".·
The Marquesas featured many types of dance—Hula dancer junior Sammi Howard, Lincoln High School's dance team, teachers, and the A1 Bboy crew—as well as singers junior Jacob Lui and sophomore Saee Bhide, and both Cheer and Song team.
Highlights of the night included Cheer team's routine which placed second in nationals, Dance team's "White Wedding" routine, and junior Teresa Li's solo piece.·
For seniors, the Spring showcase was their last time dancing as a Marquesa.·
Seniors Abhishek Kumar and Daniel Ki emceed the event.·
"The final score is 4-3 and the Sharks won," Ki said.·
But as loud as the applause for the Sharks' victory was, cheers for the performers rang louder.
Among other guest performers, junior Jacob Lui and sophomore Saee Bhide performed at the Dance spring showcase on May 20. The duo performed covers of "Next to You" by Chris Brown feat. Justin Bieber and "Don't Leave Me" by The Jackie Boys. Watch the video to hear the full-length performance of "Don't Leave Me." Video by Sara Yang and Akshay Agrawal.
5/23 Update: This content item has been updated with photos and a video.
{cc-by-nc-nd}