Around campus, senior Ridhima Katare has heard many students using the word "depressed" and finds it bothersome when students use it as a joke or casually. With many students using the term loosely, she believes the serious nature of the topic should be understood and addressed, so it is not jokingly used in daily conversations. Similarly, Akiko Chung, a school- based therapist at MVHS, feels that the word "depression" has been used by students to describe their feelings whenever they have negative emotions. According to Chung, students who have been diagnosed with depression and need to talk may not be able to have their feelings heard, especially if the term is taken lightly.
"Some kids might really need to vent and the other person receiving it says, 'Oh, you'll get over it,'" Chung said. "Then the other person feels like they are not being heard."
Katare agrees that this type of repeated situation among MVHS students can especially have detrimental effects on those who experience clinical depression. She also thinks that being mindful of what students say is important.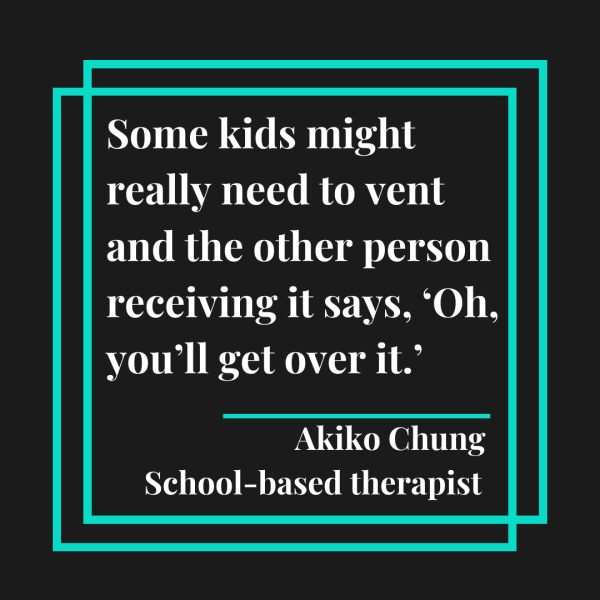 "[There's] a blurry line because there are a lot of students who are actually depressed and if 'depressed' [is used] casually, it kind of takes away the meaning from the word and people take it less seriously," Katare said. "So it's definitely something we have to be more careful about in our speech."
Mark Healy, the chair of Psychology and a professor at De Anza College, reflects Katare's stance that being careful about speech is important, and throwing the term around with those living with depression can be harmful. Katare believes that with phrases such as "I'm going to kill myself" in common circulation among students, "depression" becomes a term that is frequented and accepted as part of the culture. However, clinically, depression is persistent and prolonged feelings of sadness, rather than temporary feelings of unhappiness, which students might attribute to.
Katare echoes Healy's thoughts that using the term casually can make the person struggling with the disorder feel uncomfortable and highlights the importance of being mindful when using language to express emotions which may unintentionally bother a student.
Furthermore, with many students using this term as a means to express their problems, this can cause more students to feel that terms associated with mental disorders like depression are not important. Katare also thinks students must find a way to not undermine the serious nature of the term.
"I think that joking about things can help you feel better about [the issues], and it also helps [students] relate to each other, which is good," Katare said. "But we can do that in a way that doesn't make fun of this serious stuff."
However, both Healy and Chung emphasize the benefit of more students communicating through social platforms about mental health disorders, such as depression. According to Healy, this kind of communication allows students to be more open about their struggles and gaining support, bringing forth a larger emphasis against trivializing the term.
"A lot of us are on longtime group chats with our friends [such as on] Discord servers," Healy said. "So the more that [it is] talked about, the more it goes around. That fuels even more conversation about [this topic]. The more you talk about something, the more diversity in that conversation you get and the more nuances will be discussed. The more I think people are comfortable with seeking help, [overall] it's a good thing."