Staying in the loop
Examining how MVHS stays transparent with the community
Principal Ben Clausnitzer released a statement on March 2 informing the MVHS community about a student's use of the N-word in a video shared with administration and the negative impact of hateful language. The email is one example of how Clausnitzer continuously informs students, parents and staff as part of a school-wide shift toward transparency.
MVHS is currently in year two of a six-year action plan with provisions aimed at increasing communication between administrators and the school community. This plan involves conducting student and parent surveys, sharing resources for mindfulness and posting School Site Council and PTSA meeting minutes on the school website. Outside of the plan, Clausnitzer sends weekly emails and incident notifications continuously to the school community.
Assistant Principal Nico Flores highlights the importance of staying transparent about important events, especially incidents on campus. He believes that sharing this information along with workshops and anti-racism resources encourages greater proactiveness from the community to address harmful behavior.
"We've discovered that the best way to [share information] is twofold," Flores said. "If it deals with students, connecting with them [and] having that transparent conversation about what's happening at school [regarding] the consequences [is important]. But the bigger level is to make sure that the [whole] community knows [what's happening]. If we can bring awareness to what's happening, especially if it's something that's inappropriate, the hope is that the families start to talk about action."
To ensure the school administration is notified of incidents on campus, MVHS has implemented a form on its website to report them. Flores says that custodians are also on the lookout for incidents — obtaining information about reported events is ultimately a community effort. He acknowledges that while communicating knowledge of these occurrences leaves out names due to protections around student privacy, communicating the situation and the school's stance sends a message that certain behaviors are not tolerated.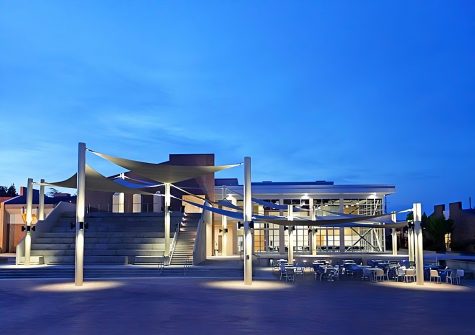 College and Career Advisor Rogelio Calderon agrees with this sentiment, saying that a culture of transparency at MVHS fosters a positive community and that Clausnitzer's approach to incidents stands out from those of other schools he has been at.
"[Clausnitzer] gets that information out to the folks in our community relatively quickly, and I think that's something that I haven't seen previously [at other] sites," Calderon said. "Situations [like the N-word incident] and that dialogue [are] uncomfortable conversations. When we can get that out in a timely manner, with resources [too], I appreciate that."
Similarly, MVHS has also made strides to collect input and ensure that school goals, as well as responses to incidents, are transparent and in line with community feedback. In February, Clausnitzer hosted in-person reflection sessions to discuss school goals openly with the MVHS community and receive feedback. He believes that collecting student input and staying transparent about the school's actions is crucial to making improvements in the school.
"We're not trying to hide anything," Clausnitzer said. "We're looking to be responsive, and in [the N-word] situation, when we think about education, oftentimes we say it in the context of 'your voice is important to us,' but it's also important that you feel yourself seen both in the classroom and outside the classroom here at Monta Vista. It would be really powerful for us as a school to collect that kind of information from our students [and] use the data to turn around and improve."
The impacts of regular communication unrelated to incidents also contribute to fostering a positive school environment. Calderon says that there has been clear messaging to staff around issues like declining enrollment, and communication with Clausnitzer is accessible to staff. Moreover, Calderon also notes that Clausnitzer's "MV Good News" notifications, which highlight the accomplishments of the school community, have been a part of the shift toward transparency.
"I know our principal [is] transparent to talk if there's any pertaining issues, and it doesn't have to [always] be negative," Calderon said. "It could be anything positive, [like] our Girls Basketball team and our [other] sports [teams] having a phenomenal season. Things like commemorating student achievements really promote transparency."
With various types of information constantly communicated, Flores believes being able to be transparent with the entire community allows the administration to communicate news clearly — from students and parents to the administration and teachers.
"
I think that honesty and transparency allows us to have an honest conversation.
— Ben Clausnitzer
"If we're going to make a school successful, we have to partner together," Flores said. "[And] that comes with really clear and transparent communication whether [that's] students [or] administrators, community members, teachers or whoever [else] it is, we'll be better served and in a better place to serve."
As MVHS continues to follow its six-year action plan and take other steps to increase transparency, Clausnitzer recognizes that MVHS still has room for improvement, such as in educating students about unacceptable speech and supporting disadvantaged students. Ultimately, Clausnitzer believes that clear communication within the community is an important step toward continuous improvement in transparency.
"We should recognize we're not perfect," Clausnitzer said. "But we should also recognize [that] our goal is to get better in different places. I think that honesty and transparency allows us to have an honest conversation. Monta Vista is an incredible, wonderful place. In the context of continuous improvement, [it] all starts with honesty and transparency."