Mustang to Matador
FUHSD Board passes proposal to help with MVHS's declining enrollment
the In recent years, declining enrollment has been a pressing issue for FUHSD schools, especially MVHS, which has been losing students every year since 2006 and currently has a population of 1,743 students, the second lowest in the district. To address this issue, FUHSD formed the district-wide Citizens Advisory Committee. After drafting multiple proposals for an outreach program targeting students from neighboring areas to enroll at MVHS, the FUHSD Board passed the committee's proposal on Dec. 6 to bring 30 students from the Homestead High School attendance area to MVHS for the 2023-2024 school year.
Assistant Principal Janice Chen says MVHS hopes to emulate Lynbrook High School, which implemented the Lynbrook Supplemental School Assignment Plan in 2016 to enroll about 90 students outside of its attendance area after a record low of 1,766 students. 
"They're able to boost their numbers," Chen said. "We're taking tips from Lynbrook as we're learning what they've done and how they've advertised."
One of the potential ways the district may try to convince prospective HHS students is by highlighting programs at MVHS. Eighth grader and future HHS student Kevin Yap is not planning to attend MVHS because it's far away from where he lives. However, he says he might consider going if MVHS advertises that it has classes not offered at other schools.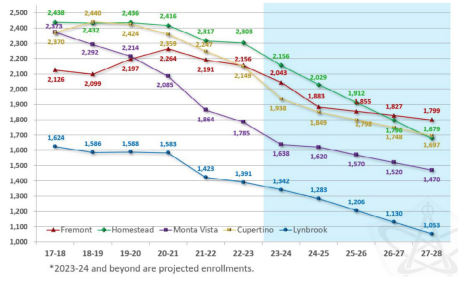 "[If it has] a super good class that I'm really interested in, then I might go if no other schools have it," Yap said.
Chen says MVHS will start advertising to families in the HHS attendance area and host an informational night for those interested in MVHS in January. She also says there could be a program to allow prospective students to shadow an MVHS student for a day to get a feel for the campus. With the application for prospective students closing in early February to allow time for course selection, Chen believes it is essential MVHS does not compare schools when pitching the program.
"[The advertising will be] more about highlighting Monta Vista," Chen said. "If families feel like this school is a better fit for their student, they should make that choice for themselves."
Economics teacher Pete Pelkey, who previously taught at HHS, says he doubts students from the HHS attendance area would want to go to MVHS because of the intense academic environment and lack of school spirit at MVHS as well as a desire to stay in the same social groups.
"[If I was a student], I would think that it would be better to be over there [at HHS] with my friends," Pelkey said. "That would be the hard part for the student. Is there an adjustment coming over here [to MVHS]? Absolutely, there's adjustment coming."
Ultimately, while Chen feels the program is only a temporary fix, she is hopeful and believes the initiative allows MVHS to pursue other, more long-term solutions in the future.
"I think it would be cool to be able to get 30 students here and kind of see how it goes," Chen said. "I think it's important for us to be open to adapting [and] trying different things as we [face] declining [enrollment]."