Preparing for the unexpected
Exploring how school safety plans are created and updated at MVHS
MVHS staff members received two anonymous emails threatening the safety of the campus with an explosive device on the mornings of Sept. 21 and 23. The administration decided to evacuate all students and staff from campus both times. The evacuations followed the school safety plans that Assistant Principal Sydney Fernandez updates each year – protocols covering not only emergency evacuations but also student injuries, science safety and more. 
With increasing gun violence at schools across the country, districts have accounted for the increasing number of threats to school safety through taking measures to prepare for emergency circumstances. Over the summer, Assistant Principals Nico Flores and Sydney Fernandez attended a Zoom meeting hosted by the Sandy Hook Promise to learn about school safety. Around the same time, Fernandez also completed joint training with other schools in Cupertino and the Sheriff's Department, where she reviewed maps to identify evacuation points and command centers.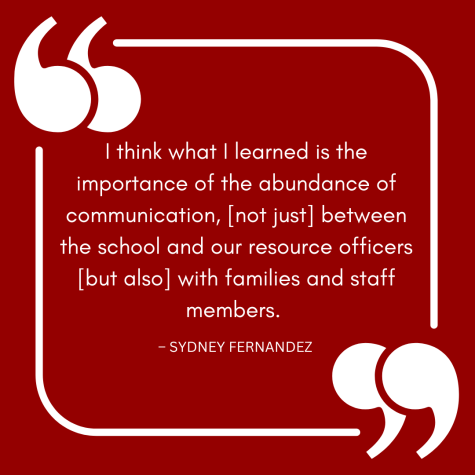 "I think what I learned [at the training] is the importance of the abundance, maybe even overabundance, of communication, [not just] between the school and our resource officers [but also] with families and staff members," Fernandez said. "It's better to over-communicate and to be very clear with the work that we do."
All five schools in the district, including MVHS, use a template for school safety plans, which administrators review and send to the district office each year. Fernandez helps update the plans to account for new information; for instance, shortly after the first anonymous bomb threat, Principal Ben Clausnitzer asked Fernandez to review safety plans to improve student-family reunification procedures in similar circumstances. 
The school's emergency response includes an incident command system that outlines the roles of different responders, such as the Sheriff's Department, Fire Department and MVHS staff members, in organizing an emergency response. According to Flores, this information is shared with all staff and updated to account for new teachers. 
"The most important part of [the] document is that there is a clear line of communication of who is running the show," Flores said. "Who is taking the lead, and who needs to follow so that we don't have too many cooks in the kitchen. [We need to identify the] person that's leading us, and we follow [their] directives, and then we disseminate information down."
Fernandez also considers the role of school resource officers when developing school safety plans. Although the school is "in direct connection with [a resource officer] on a day to day basis," Fernandez adds that additional resources would be called upon in the case of a real emergency or threats. 
Deputy Sheriff Aalok Patel, one of the officers involved with FUHSD's SRO contract, notes the extent of the training police officers receive when training to work with schools.
"[As an SRO], it's pretty stringent; the way you walk, the way you talk, the way you interview people, the way you investigate crimes," Patel said. "I've been a police officer for approximately seven years, and I'm still learning new things. My partner Deputy Bui has been a police officer for 12 years, and he's still learning things [as well]."
School resource officers often help schools facilitate responses to crimes, student reports and child protective services incidents and are also involved with conducting run, hide, defend drills on campus. Before every drill, Patel typically reviews a 30 to 45 minute presentation with school administrators and teachers. 
"The goal is essentially to get out of the mindset [that] this is never gonna happen to [us], not where [we] live," Patel said. "Cupertino is a safe area, and we need to keep people mentally prepared in the event that it does happen. Our goal is to inform school members [of] what our response is going to be like [if an incident occurs]."
Flores says that prior to COVID, the Sheriff's Department would attend a staff meeting every year to bring staff members up to date on school safety practices such as making strong interior barricades, using locking mechanisms on doors and conducting school drills.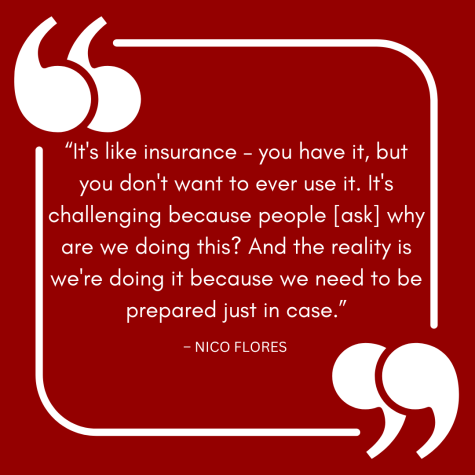 "It's something you hope you never have to do, right? It's like insurance – you have it, but you don't want to ever use it," Flores said. "It's challenging because people [ask] why are we doing this? And the reality is we're doing it because we need to be prepared just in case [of an emergency]."
According to Patel, the district's resource officers and Sheriff's Department have also studied recent incidents across the U.S., including the Uvalde school shooting in May, to identify the "things that [go] right and things that [go] wrong" in each incident. 
"The way I see it, it's not a blaming game," Patel said. "We review [action reports] ourselves, go through them [with] a fine comb, and start taking notes on what happened. After all that, we go to the administrators of schools, the district [and] the city, and go, 'Hey, [this is] what we've seen, this is what's going on, we would like to implement these new changes.'"
Flores says that establishing a well-coordinated plan for any threat is important not only to ensure the immediate protection of students and staff, but to guarantee a safe school environment in the long run.
"Anytime you have a situation, whether it's leading up to [it] or in the moment, communication and just making sure that you don't take anything for granted [is important]," Flores said. "Sometimes we hear a lot of threats [that are] not necessarily about violence or things like that, but following up on those [is] really important. Taking everything seriously and making sure that we're communicating with the right people to ensure that our safety [and the safety of] our students [is] at the forefront of everything we do."