BREAKING: MVHS students and staff evacuated following second bomb threat
Law enforcement has declared the campus "clear of danger"
9/23/22
For the second time in three days, MVHS administration issued an emergency evacuation on Sept. 23, following another email threatening the safety of the campus. 
An announcement was broadcast at 10:41 a.m. during tutorial, urging all students to shelter-in-place in their fifth period class. Students without fifth period were instructed to wait at the Student Union until 11:15 a.m., when they were allowed to evacuate. 
Principal Ben Clausnitzer said that "safety is [the] number one priority" and is again working with the Santa Clara County Sheriff's Department to conduct a forensic email investigation, which he says will take some time but could result in finding an IP address. The potential consequences if an individual was caught could include expulsion or prosecution. 
According to Clausnitzer, each threat was sent from a different email account that was not registered in the school's records as a private or school email. The subject line of each email was identical and some of the content between the two emails was the same in terms of setting a time later in the school day. 
Regarding future threats, Clausnitzer said that the administration would continue to go through the process of thoroughly assessing each threat.
"I think it would all depend on what information comes to us at that time," Clausnitzer said. "[We would continue to treat] it seriously and [partner] with Santa Clara County Sheriff's Department to figure out next steps."
Junior Catherine Chen still "[feels] really nervous" about the situation, even though the second bomb threat was less alarming to her. 
"I was really anxious and scared [during the first threat] because obviously this is America, so it's really commonplace and it's possible that something will happen, but I feel like it's starting to get more normal now," Chen said. "I know that sounds really messed up, but I'm not as scared as the first time." 
Clausnitzer sent another email at 2:07 p.m. to notify all students and staff members that the campus had been searched and was once again "clear of danger." The email also asks for anyone with "pertinent information" to contact Clausnitzer or any adult at school. 

"Now's not the time to engage in rumors or conversations that maybe fall into stereotyping or bias or belittling jokes around this topic," Clausnitzer said. "That impact on others in our community can be negative, and that's not what we're looking for as a school community. We want to be able to move forward in a way that our students [and] our staff feel safe."

9/21/22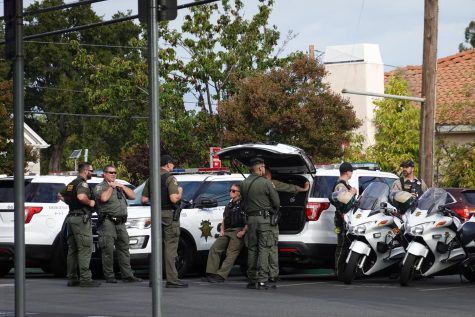 In response to an anonymous bomb threat sent to several staff members, MVHS declared an emergency evacuation on the morning of Wednesday, Sept. 21.
Principal Ben Clausnitzer announced an immediate shelter-in-place at 9:06 a.m. over the school's intercom system. At 9:20 a.m., he sent out an official evacuation notice and students were instructed to leave campus under the guidance of teachers and staff members. Students without a means of transportation were advised to gather at the softball field near the Fort Baker gate entrance to wait for their rides to arrive. Shortly afterwards, students at Lincoln Elementary School were also evacuated following a shelter-in-place.
According to Clausnitzer, the email threat was "generic in nature" as it did not specify where the potential threat would be located. Despite this, his first action was to contact the sheriff's office to call for a safety sweep out of an "abundance of caution."
"I think people quickly recognized that we did not have an immediate threat," Clausnitzer said. "And so [we got] everybody together to start talking. In that process, we determined [our] next steps."
The safety sweep involved the dispatchment of bomb-sniffing dogs, school resource officers and around 20 deputies from the Santa Clara County Sheriff's Department. Classroom doors were left unlocked for the search, and law enforcement officers arrived to patrol the front and back entrances to the school.
"Our first priority remains the safety of our students and staff, and we sincerely appreciate the quick response of [the] Santa Clara County Sheriff's Department this morning," Clausnitzer said in an email to students and staff.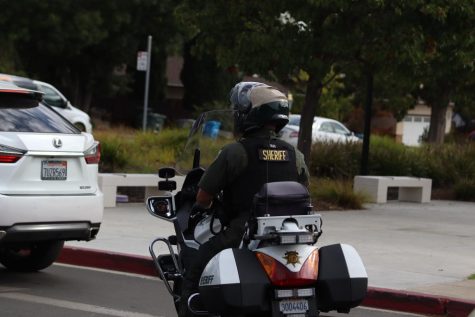 In preparation for future threats, Clausnitzer asked Assistant Principal Sydney Fernandez to review the school's safety plans, specifically the process of reuniting students and families after emergencies. 
"[Preparing] for true reunification is important for schools to think about," Clausnitzer said. "[The] process of reunifying them [would] usually [require] a signature for the student to leave with that parent and [the parent] have to show [their] ID. That process could take a long time."
Following the search, the site was deemed to be "clear of danger," according to an email sent at 12:44 p.m., but the campus will remain closed for the rest of the day. School will resume on Thursday, Sept. 22 with the regular bell schedule.
Clausnitzer shared his thanks for the level of cooperation from all involved.
"I'm really proud of the way the MVHS community handled [the situation and] the partnership with our Sheriff's Office," Clausnitzer said. "Ultimately, we had the opportunity to honor our number one priority, which is the safety of staff and students."