MVHS welcomes Counselor Ashley Voigt
Ashley Voigt joins the guidance team at MVHS
Counselor Ashley Voigt shares that when she was a high school student at MVHS in 2008, the college application process was "very unique and scary," especially since she was a first generation college graduate. Voigt heavily relied on her high school counselor throughout the college application process, and her experiences inspired her to become a school counselor herself. 
Throughout graduate school at San Jose State University, Voigt became passionate about practicing self care, whether it be going on hikes, reading, cooking vegetarian meals or spending quality time with her cat, Bear. Voigt was reminded of the importance of taking care of herself before taking care of others after hearing stories from the students she counseled. 
Voigt began her counseling career at Cupertino Middle School and worked there from 2017 to 2022, but her dream had always been to be a high school counselor. According to Voigt, middle school counseling focuses more on social and emotional concerns, while high school counseling concentrates on academics and helping students prepare for life after high school. When she saw a job opening at MVHS, she was eager to apply. 
"Even just in my first two weeks here, [I am working] with a lot of seniors to answer their questions about college applications and talking through that process," Voigt said. "That's really rewarding for me."
During her first few weeks as a counselor for students with last names A through Gou, Voigt says that she "felt nothing but welcomed by the staff members" and that her co-counselors have been especially helpful with answering her questions. Voigt was also surprised at how many students introduced themselves to her on the first day. She shares her love for engaging in mature conversations with students and seeing students truly benefit from their meetings.
"I have met so many students and all of them have their own unique [stories]," Voigt said. "They're appreciative of my help, even though I don't feel like I've helped them very much. What I'm already getting at Monta Vista as a whole is that students are very motivated and very respectful."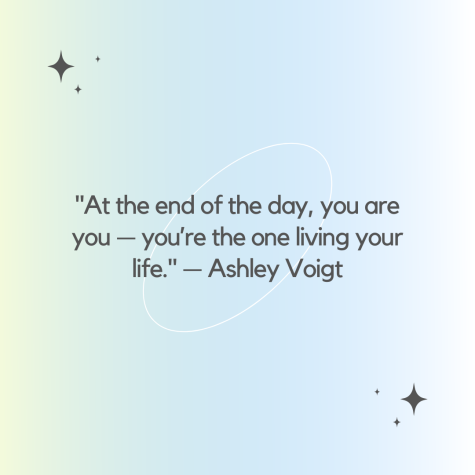 While interacting with students, Voigt has noticed that "social pressure" is a significant factor that complicates the college application process. She explains that "most students know that they shouldn't listen as much to other people's opinions," but in reality, it is difficult to actually do so when surrounded by pressure.
Voigt wants to emphasize that students should focus on themselves rather than what others are doing because "at the end of the day, you are you — you're the one living your life."
Voigt looks forward to continuing her work at MVHS and helping students, just like her high school counselor did for her. She is thrilled to be returning to her alma mater to help students fulfill their dreams.
"I am just so grateful to be here," Voigt said. "It sounds corny to say this, but this is a dream for me to come back to the school that I attended and to already have such a positive experience. Some days I really feel like pinching [myself] to make sure it's real."