All Aboard!
How MVHS staff use prom as a way to unwind from end-of-the-year chaos
After being canceled for the last two years due to the pandemic, prom is back at MVHS. This year, as a combined event with juniors and seniors, aspects of both Junior Prom and Senior Ball were taken to create a masquerade-themed experience. Prom took place on a boat in the San Francisco Bay, and students and staff were transported to and from the location via buses, a tradition different from those of other schools.
In fact, Assistant Principal Mike White has taught at schools such as Lynbrook High School and James Logan High School where proms have served as a "come and go dance," where students would drive themselves and sometimes only stay for an hour before leaving. White prefers MVHS' united transportation to the event as he says it encourages a collective celebration of the end of the school year. Because this year's prom was combined with the junior and senior class, a first for MVHS, it had a higher attendance than ever before, with 730 students, nearly 200 attendees more than in 2019, the last prom before the pandemic.
"I think bigger is better," White says. "The boat just looks empty [with both classes split into their own events.] I'm just excited that people are going. I want people to come, have a good time and get the dance floor busy."
Social Studies Department Lead Bonnie Belshe is also excited for the combined prom, as the proms that she went to in high school were always combined with the juniors and seniors. She has been to 12 proms at MVHS, and is chaperoning again this year. At the beginning of each school year, Belshe looks forward to sign up to chaperone Junior Prom and see her AP U.S. History students in an elevated and fancier light than they are in the classroom.
"Getting to see what [my students] choose to wear, [how they] style their hair, do their makeup, get their dress or tuxedo, is such a glimpse into seeing the adult that they are becoming," Belshe said. "You see this kind of next person, this next stage of their life emerging, and it's so neat to be able to see that after having a student in the classroom, knowing that there are these other steps that they're working towards."
In addition to seeing their students dressed up, chaperones also have fun with other teachers, get cartoon caricatures drawn and as Belshe says, "take 100% advantage of the dessert bar." 
However, the chaperones' first priority is to ensure that students are being safe and responsible throughout the night. White understands that "accidents happen, and they're always going to happen," but also wants to remind students that it is a school event and they need to be mindful of how they behave. In comparison with other schools he has been at, White feels that MVHS proms have had relatively "no problems."
Having witnessed tugboats ushering the prom ships back to the dock during low tide and seen another teacher get proposed to at prom as they crossed the Golden Gate Bridge, Belshe is excited to see what prom this year will bring, especially because she is amazed at "how remarkably [proms] have stayed the same" throughout her years teaching. 
What has changed, however, is prom fashion. Fashion plays a large part into the excitement leading up to prom, inspiring Instagram accounts such as "montavistaprom2022," where students post pictures of their prom outfits before the big day. While White agrees that such excitement for prom, including large promposals, group shopping events and photoshoots are all part of the fun of the "magical evening," he also believes they can perpetuate heightened expectations for the night, when really, he just wants everyone to come, "have a great time" and ditch the glamorized version of the event that is often portrayed incorrectly in movies.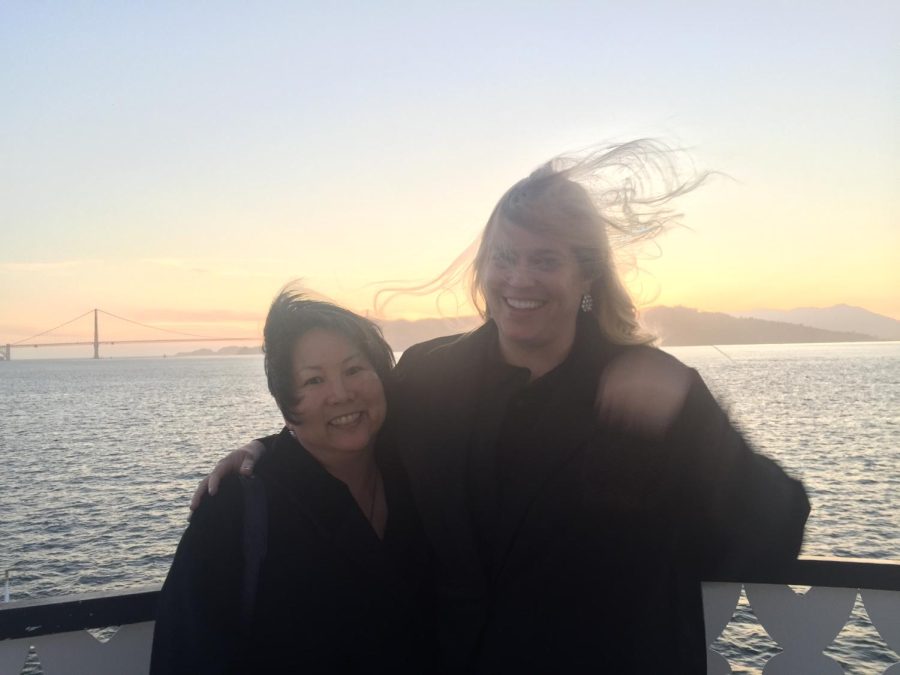 Besides prom's extravagant influence through the media, its timing is also a large motivator for students to attend, as it occurs after the end of AP examinations and before the start of senior finals. MVHS has a long-lasting reputation for students working extremely hard throughout the year, and Belshe says she hopes that prom can serve as a break from this stress, allowing students to finally get the chance to relax for one last time before the end of the year.
"Let's give students and teachers this chance to just breathe," Belshe says. "[Prom] serves as a moment where you don't have to worry about what happened before or what's coming after. Take one night to enjoy and have fun. It is a good reminder that school means so much more of a larger community piece than just classroom and work."