Creative entrepreneurs for a cause
MVHS students start clothing and accessory businesses and raise funds for coral restoration, children in need, COVID-19 and BLM
During shelter-in-place, MVHS students have more free time to delve into creative passions like sewing and designing. Students are recognizing and addressing needs within communities, from masks for hospitals and homeless people to fundraising for the Black Lives Matter movement. With social media, getting the word out about sustainability, speaking up and reaching out to customers and supporters can be even more effective. 
Cali Kinis
Ever since a year and a half ago, junior Lauren Ruckstuhl has been surfing as often as possible. As a result, she developed a habit of constantly shopping for new bikinis, but realized she didn't want to contribute to the fast fashion industry. To address this issue, Ruckstuhl created Cali Kinis, her handmade bikini business that donates 10% of profits to the Coral Restoration Foundation, the largest organization dedicated to coral reef restoration and research. Through Cali Kinis, she was able to establish her niche of sustainability, body positivity and love for surfing.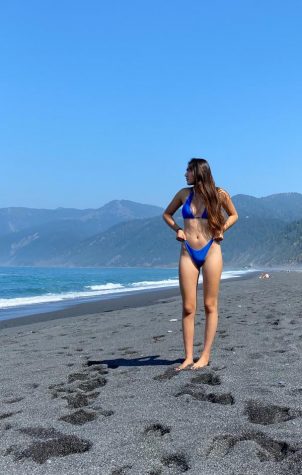 "[The bikinis are] only sewed to order, so we produce very little waste, and that is a part of why I started my business," Ruckstuhl said. "These are custom orders — people can put in specific things they want in a bikini that they maybe can't find at other larger companies, and I can do my best to accommodate that … It's more eco-friendly … and it's just a creative outlet for myself."
Ruckstuhl has made 10 bikini set sales with nylon spandex and polyester spandex, sourced from scrap materials meant for waterproof hair ties. Once a customer makes a purchase off her website, she orders the fabric and begins the six-to-eight-hour production process. Despite not knowing how to sew before she started Cali Kinis, Ruckstuhl has taught herself to sew along the way and has now bought a serger, a machine she says will improve her product quality due to its capabilities with handling stretchy fabric. 
As the summer ended, Ruckstuhl stopped receiving orders and now plans to use the fall and winter to rework her business plan and decide where each dollar will go in terms of donations, profit and production. According to Ruckstuhl, her lack of organization when starting out prompted a lot of criticism from her parents.
"I know they support me and they love me, but … obviously everyone in Silicon Valley's very tech savvy and they're all business people — and my mom critiques my business all the time about how my business isn't scalable," Ruckstuhl said. "I say to anyone who has an idea and a passion for something, they should just go for it because even in your failures, you're still going to learn so much. I think I've just learned so much from this business already that no matter how much money I gain from this in the future, I've already gained enough wealth of knowledge to last me."
Ruckstuhl also encourages potential student entrepreneurs to not feel too disappointed if an idea falls apart. During the summer, Ruckstuhl brainstormed many ideas to support ocean conservation and environmental friendliness, including a homemade sunscreen business. While those ideas didn't work out, she believes that Cali Kinis took hold partly due to its connection to personal growth. She has battled insecurities about her physical appearance, and she wanted to help those around her with similar issues.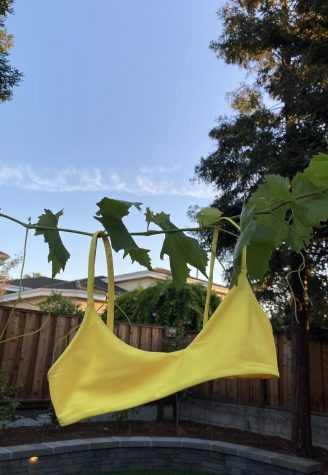 "Hearing people that are very famous … talk about loving yourself can sometimes not be very effective because you don't know them, you don't have a personal connection to them," Ruckstuhl said. "But I hope that because I'm a MVHS student and I also struggle with my own insecurities that my words might have more of an impact on students and people who are insecure, because I just really want to get the message across that they're beautiful, they can be confident and eat whatever they want and wear whatever they want and still love themselves."
Ruckstuhl finds it disheartening to see others, especially girls, feeling insecure about their bodies even when they are still developing as teenagers. Regarding a photo of herself in her handmade bikini set that Ruckstuhl posted on her business Instagram account, she says she recognizes that she has built more confidence in herself, as she herself used to handle her own insecurities.
"That was one good photo out of so many photos but I just felt I looked so fat and so disgusting and I felt really sad that day," Ruckstuhl said. "Looking back on it, I feel like it doesn't really affect me as much, because every day I learn more about my body, and every day I gain more confidence and understand that my body is the way it is because [of] genetics and what I eat and how I work out … While encouraging others to love themselves I've also realized that I need to be doing what I'm preaching … It's normal, everyone has to go through that process. I'm glad that my process maybe [happened] a little earlier than the average person so I can try helping some other people's insecurities."
Krz Creationz
In late July, sophomore Nikita Swaminathan bought a new phone, so she looked online for a new case. Finding the prices unreasonably expensive, Swaminathan was inspired to create a business to sell phone cases for cheaper prices. Seeking artistic skill, she contacted sophomore Angela Doncsev, and they posted a couple designs to their Instagram accounts to gauge interest. After receiving positive feedback, the two added hoodies and more phone case designs to their product list and began creating business social media accounts, a logo and a website.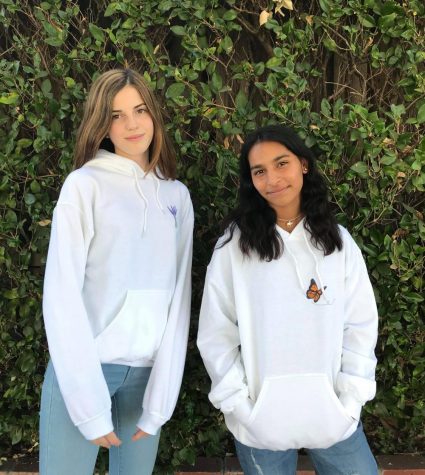 "When I posted those polls, so many people would respond, give their ideas and really show that they care about it, which is really good, because we really need that support," Doncsev said. "And that's what honestly made us continue what we're doing and start our business because of the support we have. So we're really grateful for that."
Doncsev and Swaminathan have been working together for a few months, and are thankful that their business has brought them closer since their first encounter.
"I had [Art 1] with her last year and I noticed how good she was because I would be sitting opposite of her," Swaminathan said. "I [would] be looking at her drawing, and it's so good; literally, it's amazing. I don't know how to express it because it's so good. I would be looking at my mine and I'm like, 'I don't know how this works. How is she so talented?'"
Art has always been a hobby of Donecsev's. In 2015, as part of a Hungarian television show "Jónak Lenni Jó," which means "Being Good is Good," Doncsev's painting was put up for auction and the money collected was donated to children in need. Doncsev and Swaminathan are considering donating a portion of their Krz Creationz profits as well. However, they just launched their website; on it, customers can choose from eight phone case designs and six hoodie designs, all of which Doncsev designed.
"I like to really take my time when I'm making artworks because I'm more like a perfectionist, and [Swaminathan] always gives me all of these ideas, like '[Here's] what's trending right now, I've been observing all of these things,'" Doncsev said. "And to be honest, I've never really thought that running or starting, just by collaborating, a small business can be this difficult and challenging. But then at the same time … it really pays off seeing people be satisfied with what we have and be interested, it makes us really happy."
After reaching 100 followers on their Krz Creationz Instagram account, the two are looking forward to slowing down and thinking through each aspect of their business as the school year progresses. Simultaneously, Swaminathan recognizes the rush she had to get their products online, which started from the brainstorming process.
"I would text [Doncsev] all the time, telling her, giving her my ideas," Swaminathan said. "I'm impatient. That's the problem with me. I just like to throw my ideas to her. I would be spamming her phone, which I feel really bad about. But I've been doing that and we've both been able to make things faster and move things a bit faster. … If you really think you can do something and if you really love what you're doing then things are going to go a long way." 
The Mask Task
Junior Sophia Bokovikova describes The Mask Task as a youth-led organization devoted to providing health care workers and homeless people with face masks made from recycled materials. In early April, she and junior Shivali Tewari started gathering fabric from pillowcases, bedsheets and old T-shirts. While Bokovikova had prior sewing knowledge and leftover fabric due to her mother's experience as a costume designer, Tewari created their website. Both of them share the task of distributing fabric and elastic to their designated group of volunteers, who sew masks for anyone who needs them.
"We noticed that there was the largest shortage in masks for health care workers, nurses [and] doctors," Bokovikova said. "And then from there, we also realized that there was a problem with specifically homeless people, because how are they supposed to get masks when they can barely even afford something like food? And the virus, the spread of it, is never going to stop if only a specific group or if only the people that can afford masks are the ones that are protected."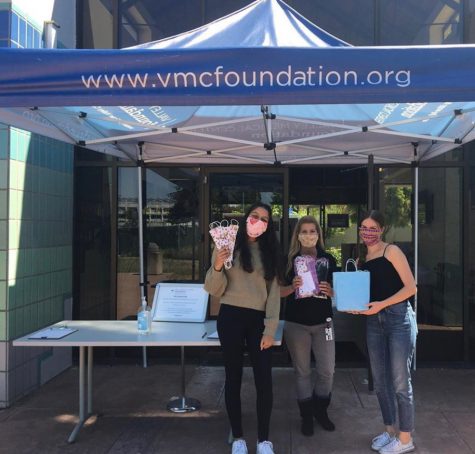 Bokovikova and Tewari have partnered with organizations that provide the homeless with care packages with necessities such as food and sanitization products and added their homemade masks to them. They have also donated to the Santa Clara Valley Medical Center twice and interviewed the Chief Operating Officer of the Valley Medical Center, a video they posted on their Instagram, to learn about how the hospital uses the masks and their overall mask supply status. 
After 12 donations, The Mask Task has donated a total of 900 masks and they are aiming to hit the 1,000 mark. As the organization progressed, some of their volunteers with more sewing expertise have improved upon the design the two initially provided, including pipe cleaners for moldable nose bridges and masks that wrap around the head for added security. 
"Some of our volunteers still make the simpler design — it has three folds in it and it's double-layered," Tewari said. "But then one of our adult volunteers and one of our volunteers that goes to [MVHS] actually, they are super into sewing and so they had their own ideas and they made these super intricate masks that had nose wires and they were just more comfortable." 
Initially sourcing volunteers from local high schools, Bokovikova and Tewari now have volunteers from all over the Bay Area, across all ages. According to Tewari, adult volunteers have joined them as they had more time to spare, and she is thankful for their generosity and readiness to help.
"We had people that signed up that were all the way from middle schoolers to, now, retirees and grandmas that sew masks with us," Bokovikova said. "So in the interactions that we have with them, I think that it really strengthens everything and builds the community closer. Also just being able to create relationships with the people that we have donated the masks to, I've learned a lot about our community. And I think it's the positivity that is spread through these interactions has hopefully left a positive impact."
Time for Justice Collection
After watching the video of George Floyd's death and feeling inspired to take action against racial injustice, seniors Asuka Tomonaga and Rena Watanabe launched their Time for Justice Collection on Bonfire. Watanabe managed the campaign, while Tomonaga designed their T-shirts and long-sleeves.
"I was also feeling a little ashamed by not knowing the racial injustice or racism that is still going on in this country, so that big movement made me think about what is going on in this country or in this society," Tomonaga said. "Then I was like, I need to do something for them and I need to support them to show that I am anti-racist and … contribute to the movement."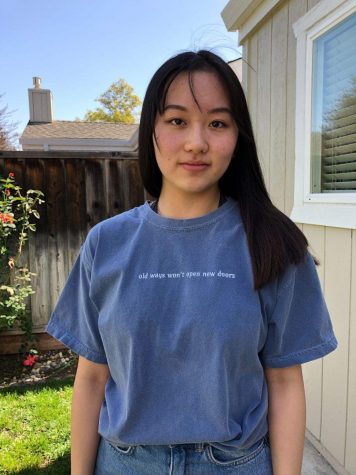 Tomonaga and Watanabe's design includes the quote "old ways won't open new doors" and a flower called the Black-eyed Susan. According to Tomonaga, this flower represents courage and justice. With options to buy the shirts in blue, black and gray, all profits go to the NAACP Legal Defense and Educational Fund. By promoting their fundraiser through social media and to teachers and coaches in their community, Tomonaga and Watanabe were able to raise $258.
Recognizing the limitations of fundraising during shelter-in-place, Tomonaga regrets not being able to wear their shirts at school or reach more students with posters and word-of-mouth. Still, Tomonaga feels that as an upside to their online promotion, she was able to grow from her lack of confidence and speak up about social issues. 
"At first, I think I was very nervous and worried about how people are going to react to what we're doing," Tomonaga said. "But as we [continued] to promote our post, there [were] so many people that are saying good things about our movement or what we did … And you don't have to be an expert to raise your voice or stand up for the racial injustice that is going on in this country. I know this is very sensitive content, but I think you don't have to be so nervous about saying what you believe or what you want to do." 
According to Watanabe, she was also shy, and didn't see herself using her voice about racial issues. By reaching out to her community for support for their fundraiser, Watanabe felt that she learned a lot about using her voice to spread awareness. She emphasizes that the movement shouldn't become a short trend and activists should continue to speak up until justice is "achieved" — she and Tomonaga also plan to relaunch their fundraiser soon.
"Even though [justice] might take a long time, I think it really starts from individuals –– being aware, and challenging our old ways and implicit biases we may have, and really changing our behaviors and constantly having an open-minded perspective," Watanabe said.
About the Contributor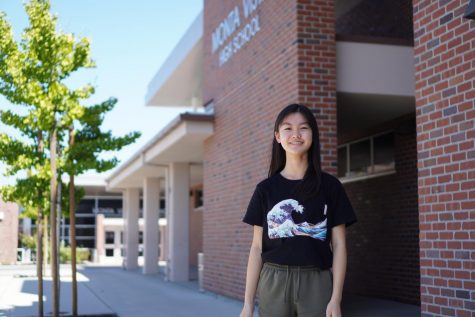 Andie Liu, Managing Editor
Andie is currently a senior and a managing editor for El Estoque. She runs on the track team and plays the erhu, a traditional Chinese instrument. To relax, she listens to violin and cello concertos while reading, drawing and attempting to meditate.