Selfie factories
Examining the rise of interactive art museums over traditional art museums
Overstuffed, small rooms lead to the next, with young attendees posing toward cameras, large, colorful sculptures flowing throughout and samples of ice cream flavors given around every corner. For $38, junior Sophia Chen and her friends toured the Museum of Ice Cream in San Francisco, which serves both ice cream and the perfect backdrops for social media posts. 
"Take your time, get your photos," are the first words attendees hear from the staff when entering the Museum of Ice Cream. Installations like the Museum of Ice Cream are spaces for people to take photos, and Chen credits this trend to the "Instagram era."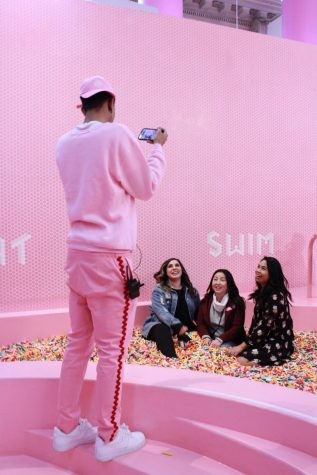 The aesthetics of the bright pink and white colors seen throughout the ice cream themed installation along with the different themes inhabiting each exhibit provides visitors with numerous photo-worthy opportunities. Since its opening in 2017, the building has captured the attention of almost 2,000 people every day.
Chen went to the museum over the summer to celebrate her birthday. It was one of the many things they did that day, but Chen says she wasn't quite satisfied. The bright lights and the "immediate sense of excitement" that greeted her at first didn't last throughout the tour, and Chen attributes most of the fun she had to friends who accompanied her rather than the museum itself.
"You get the immediate sense of excitement, then you walk in and people hand you ice cream, and it's definitely a welcoming, happy experience," Chen said. "As a person who doesn't care that much about [taking] photos, personally, I didn't think it was worth [the $38], but it was to celebrate our birthday and it was with a group of my friends, and I did have fun." 
Chen says with her background in art history and being an artist herself, the interactive style of the museum did not meet her standards of an art gallery she would find interesting, and it is something she can't quite consider to be art. 
"Is the Museum of Ice Cream even art?" Chen said. "Reading into the work of famous artists and studying the time periods and knowing that there's history behind that piece of art is more compelling to me than a giant cherry … I think with interactive museums like Museum of Ice Cream, it is fun, but there's no deeper meaning. There's no meaning to the actual artwork besides the fact that it's colorful and it's fun."
"
Is the Museum of Ice Cream even art?
— Junior Sophia Chen
On the other hand, art teacher Brian Chow says that critics should welcome the rising trend of pop-up art exhibits that serve the purpose of being interactive for visitors. As a father of three, Chow says he has struggled with keeping his kids interested in art when visiting established art museums like San Fransisco Museum of Modern Art, but says interactive experiences like these help.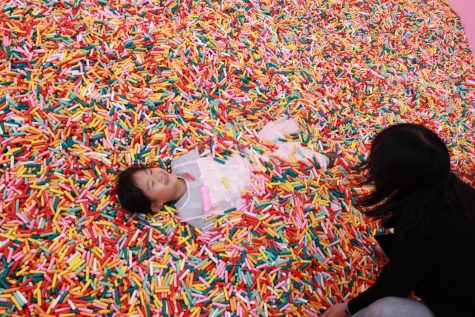 "How do you swing the deal for a kid to be engaged in work like that? Well, have a hands-on art activity," Chow said. "I think more engagement is fun and that's going to help people get engaged in their work and learn about it. There's a controversy or critics in terms of embracing this, but I think they're a little too old school in that aspect of it."
Chow says if established art museums were to implement what interactive exhibits are achieving with hands-on activities, visitors would engage more with the artwork and potentially learn more.
"When we [think] about the museum, how do you design the experience for people to come to it? Because that's what you're trying to do," Chow said. "You're not just trying to house [the art] to keep it safe and archive history, you want people to see and engage … They don't have to come preloaded with any information, they can use technology or these devices to then engage in the work and then they can be connected to the work in a different way."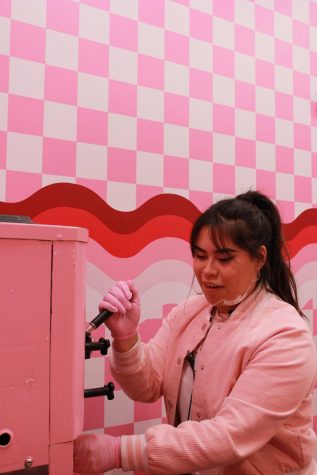 But mixing museum styles and purposes isn't ideal according to Chen. Chen says that the two should stay segregated so that established museums can remain recognizable to the people who regularly attend them, like herself, and preserve the history she deems more important than an attraction for social media attention. 
"I do think that there should be a difference between interactive art museums and art museums," Chen said. "I think art museums [like SFMoMA] are definitely more important for preserving that historical context and the historical styles of pieces of art from [SFMoMA] is more important than [interactive] art that people just want to take photos with."
One of Chow's art students, senior Kiren Balakrishnan, says that she likes the idea of mixing interactive and traditional museums to attract all kinds of people. However, she says that this strategy only works when the mixing takes place in already established museums like MoMA because the Museum of Ice Cream will only use it for profit advantages. 
"I feel like it's cool that MoMA, both SFMoMA and the one in New York, does have certain areas that are meant [to] take your phone out and take photos and be cute," Balakrishnan said. "And then they have areas that are just like a traditional art museum, [and] it's a nice mixture. So you get a taste of a regular art museum experience, but you also attract people with the social media buzz … You can tell that [the Museum of Ice Cream is] trying to capitalize on our crazy obsession with social media because SFMoMA is a genuine art museum and that's all [the museum is] there for."
Chow says that the controversy over these new pop-up installations isn't entirely realistic, as they don't threaten traditional museums, and either way, people will likely share their life experiences online anywhere they go. 
"This is a museum of ice cream, so have some fun with that," Chow said. "What's the drawback to having an immersive exhibit? That someone's taking a picture in front of the artwork? It's not competing with SFMoMA or the icons in the 20th Century … And who cares if someone takes a selfie with their favorite artwork? They're going to do it anyway."