Physics and Engineering Club demos a quadcopter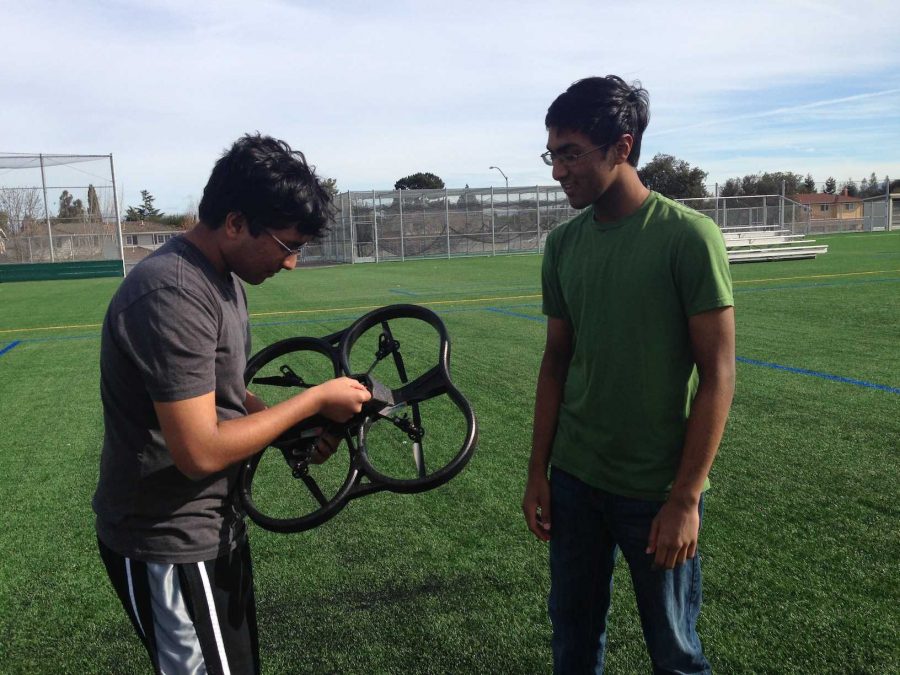 Varsha Venkat
February 3, 2014
Club teaches members about four-rotor devices, called quadcopters, at its first meeting of the semester.
[dropcap1]A [/dropcap1] group of 11 students stood in a circle on the upper field and stared attentively as a black object slowly lifted off the ground and rose higher and higher in the air. On one end of the circle stood senior Paras Jain, who was controlling the object using a cell phone. Paras watched carefully as the object rose, and suddenly maneuvered it so that it flipped over several times in the air before it regained its balance and hovered half a foot above the ground.

At its first meeting of the semester, held on Jan. 28, Physics and Engineering Club members learned about the mechanics behind quadcopters. Quadcopters, also known as quadrotor helicopters, are flying devices propelled by four rotors instead of the single rotor that normally propels a helicopter. Paras and his younger brother, sophomore Ajay Jain, who are the club President and Vice President respectively, built the quadcopter on their own time using a kit they bought online for $300.

Paras and Ajay worked with quadcopters last year when they were participating in the Synopsys Science Fair held in March, and later in the California
State Science Fair in April. The duo's project used quadcopters to map outdoor disaster zones and buildings, with the aim of helping prioritize rescue efforts and remotely diagnose victims. Their experience with the devices inspired them to share their knowledge with the club's members.
"It's cool because you can start programming for it and working with it," Ajay said. "So that's what we did. We wrote programs for it [and] we wrote algorithms to map out the area."
The quadcopter that the club demoed at its meeting was controlled using a cell phone; however, Ajay said that the device can be programmed so that it can move on its own without the directions from a phone.
Once the officers finished their demonstration they opened up the floor to the club members. Several members attempted to maneuver the quadcopter themselves, with some guidance from Paras.
"It was very interesting," sophomore Evan Zhang, who attended the meeting, said. "[The officers] explained some of the physics behind it."
While it only held a couple of meetings last semester, most of which focused on helping students currently taking physics, the club plans to broaden its scope this semester with more activities. According to Ajay, the club will do more project-based activities like working with robotics.
"It's that kind of project-based learning that is something I think we can give to the club," Paras said. "[It's] not really covered in the curriculum."
The officers also hope to teach students in future meetings to write programs to move a quadcopter.
"I think it went over well," Paras said. "It's always fun to play with something like this."
The Physics and Engineering Club meets Tuesdays at lunch in B106.