Future Practicing Physicians Network hosts Stanford University guest speakers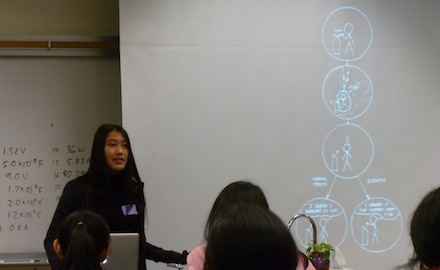 Graduate students present to club members on the field of medical research.
Science teacher Lora Lerner sat in the back corner of her classroom, watching intently as a cell divided on the projector screen before her: interphase, prophase, metaphase, telophase, cytokinesis and then back to a single cell as the clip restarted.
"Is that in real time?" Lerner asked.
The Stanford University graduate student leading the lesson, Whitney Johnson, shook her head and answered: no, the clip was not in real time.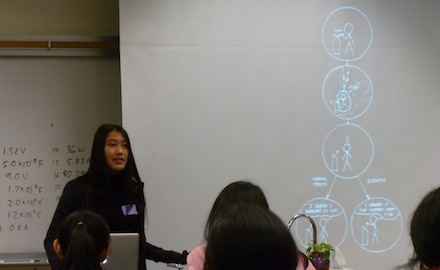 Johnson and three of her colleagues from the Straight Lab at Stanford University — Shengya Cao, Bradley French and Teddy Yewdell — presented to almost 30 members of the Future Practicing Physicians Network at lunch on April 8. The four graduate students shared both their own experiences in research and their advice for high schoolers interested in pursuing careers in biology.
After starting with some general information regarding medical research, the guest speakers provided specific details on the research conducted at the Straight Lab. The lab's focus is on chromosome segregation and cell division. The researchers start by examining the cell as the whole and later perform manipulations.
"Using biochemistry, we can take frog eggs, isolate the cytoplasm from them, and then isolate the proteins from that," French said. "We can understand what's going on the molecular level and then relate that back to what we see on the cellular level."
The graduate students then shared personal stories regarding their involvement and interest in research.
"When I entered college, I actually joined a diabetes and obesity lab," Cao said. "But what I started finding was that even in that lab, the cures that we have aren't that great. There's a lot of things that we don't know, which is really limiting how we can tackle a lot of the diseases. And so studying it on a fundamental level, we can actually have a very real impact on the field of medicine."
T
he presentation lasted for around 30 minutes and was followed by a question-and-answer session. Students inquired on subjects ranging from what sort of people one encounters in the lab to the differences between working in academic research as compared to industry.
According to FPPN co-president senior Kathleen Miao, the club invited the presenters by emailing the professor who oversees the Straight Lab. These were the first guest speakers the club has hosted this academic year; its biweekly meetings typically consist of dissections or games. Though the club's focus — as its name implies — is on the medical field, Miao said that anyone with an interest in science is welcome.
"Our club has a lot of members that are interested in both medicine and science," Miao said. "So what we do is allow them to explore both aspects."
The speakers also placed an emphasis on science in general, not just medicine.
"If you're very curious about the natural state of things, and you want to know how things are working, you should possibly consider being a scientist," Cao said. "Because that's what we do."