Taylor Swift appeared on the stage in a billowy lavender dress, beaming at her fans as she dove into her setlist with "Long Live." For fans like junior Kiana Mark, who had been anticipating this moment for months, the memory of long hours scrounging for tickets faded away as the roar of the crowd filled her ears. Prior to the show, Mark spent days making friendship bracelets to trade at the concert, planning outfits with her friends and constantly singing Swift songs. As Swift sang her song, the song she spent months hoping to hear live — "All The Girls You've Loved Before" — she was moved to tears, enjoying what she says is one of the most impactful moments of her life.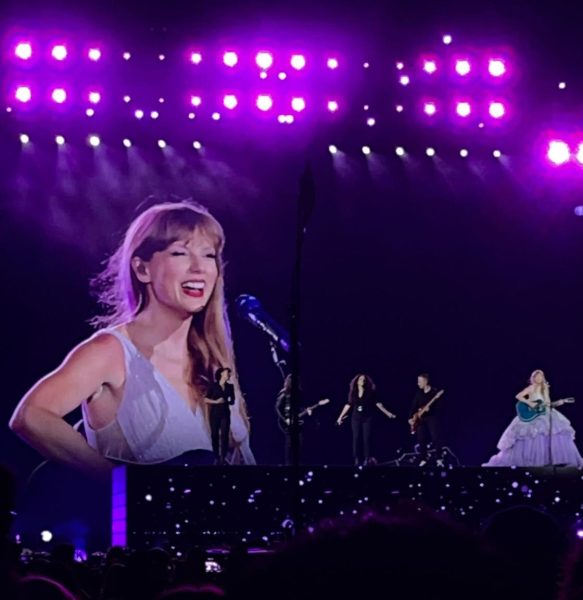 "Everyone was dressed super colorful, sparkly and beautiful," Mark said. "And when Taylor was coming out, everyone was up on their feet and we were all screaming and dying and it was just amazing. I had to wear earplugs though because [I] probably would have gone deaf [because it] was just so loud. The whole atmosphere was [amazing, there was] cheering and clapping the whole time [and] there was never a dead moment in the concert."
Swift's Eras Tour started early March of 2023 and is her sixth headlined tour, with prominent locations all over the world. Locally, Swift performed at Levi's Stadium on July 28 and 29. Swift will continue to perform in other countries in 2023 and 2024, with a total of 146 shows across five continents. 
The tour is described as a "journey through all of Swift's musical eras," with a set list of 44 songs that span each of her 10 albums. In addition to the set list, Swift performs two "surprise songs" from her discography at each concert that she rarely repeats at another location. 
Fans all over the world attempted to purchase tickets, despite the limited quantity. After tickets sell out, they can be resold for thousands of dollars. Senior and Lynbrook High School student Katie Chin says the high cost of resale tickets "pushes [out] a bunch of fans who may not be able to afford it due to financial reasons." 
Homestead High School junior Monica Nie, a longtime Taylor Swift fan who was unable to obtain tickets due to financial reasons, agrees with this sentiment. According to Nie, the high cost of tickets, costumes, bracelets and merchandise are all factors that prevented her from attending the concert. Nie instead opted to watch videos online of Swift's performance. 
"I wouldn't consider myself super wealthy," Nie said. "But I feel like even if you're not wealthy, you can still attend [the concert] because it really just depends. [For example], I know some of my friends got [tickets] for free somehow … so [it all depends on] your connections."
The process of obtaining the tickets is yet another hurdle in going to Swift's concerts. Prior to the official ticket sale, fans need to register for a presale code, and when the codes get emailed out, fans can log into TicketMaster to try their hand at getting tickets. 

"It was really crazy," Mark said. "My mom took the day off work to go on Ticketmaster. She had to send them [an] email because she's a verified fan [and] they verified her. We still didn't get tickets, so she complained to them and we were able to get two tickets."
Among the 14 million people trying to purchase tickets, many were unable to obtain tickets.  For instance, CJ Aspiras, who works at the front desk of Extended Stay America — a hotel less than three miles away from Levi Stadium, where the concert was hosted — was unable to attend the concert due to work as a result of the sudden influx of customers. 
During the end of July, when the Taylor Swift concert was taking place, Aspiras noted 30 to 40 parties stayed at the hotel — nearly double the usual amount of customers. 
"[The Taylor Swift concert] impacted us by giving us a lot of revenue," Aspiras said. He welcomes more blockbuster events hosted nearby in the future, hoping for a similar effect on the hotel's revenue.
De Anza College economics professor Janis Kea adds that Swift's tour has been able to "draw [in] people who are willing to spend," which she sees as a positive for local businesses. In addition to hotels, Kea points out that sales at restaurants and shops increased, and there was a greater need for local taxi services. 
According to CBS News Bay Area, Swift's concert boosted Santa Clara's economy by $33M. Not only did the tour rake in revenue for Santa Clara, it also created positive experiences for those who attended. A large part of the culture involved trading friendship bracelets with other enthusiastic fans.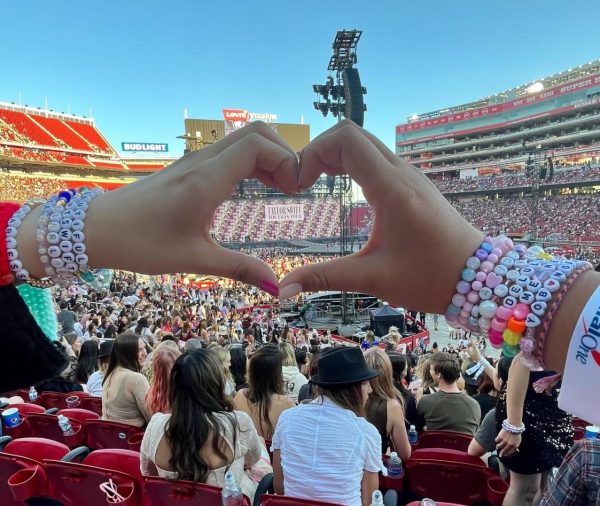 "Everyone was super nice and really approachable so you can just be like, 'Oh, do you want trade bracelets?'" Mark said. "My friend and I were planning everything for months ahead and we were making bracelets together [which] we were able to bond over. [We were] also guessing the surprise songs and betting with each other and then getting ready together [which was so fun]. It was really nice to [be able to] connect with other Swifties."
Trading bracelets was only one of the many ways fans connected. Built by their shared love for Swift and the generosity of fans, the concert was a welcoming, open community, according to concert attendee and Cupertino High School principal Kami Tomberlain.
"People were so generous and I thought that was an incredible moment," Tomberlain said.  "[Swift's concert gave me] clarity. [Seeing] this powerful woman running her own business [and] making 68,000 people just roar for three and a half hours … I want to continue to build on that [energy and spirit] at Cupertino [High School] and [for] the rest of my life. Just the generosity of spirit and that feeling of belonging to a group and to a community — that was remarkable."