New places, new faces
Exploring why students leave the country for college
Whether it's sitting in a bustling Seoul cafe or strolling through a park in Berlin, over the next four years, senior Mulyn Kim will have the opportunity to study around the world through an online teaching platform. As a Minerva University student, Kim will travel alongside 20 fellow students to residential areas in various countries, where she will take online classes and explore the culture of each area.
Opportunities outside of the U.S. after high school can range from traditional four-year colleges to taking a gap year to travel and experience different cultures. Senior Brooke Frei will attend Concordia University, located in Canada, which leans toward the traditional college experience one might receive in the U.S. 
"My parents lived in Montreal for a while, which, first of all, means that I have citizenship there, so I don't have to jump through as many hoops to go there," Frei said. "The second is just because I really like to experience new things and explore, especially because I'm a teen. I have a lot of things that I could do with my youth, and I just want to spend that [time] getting as many new experiences as I can."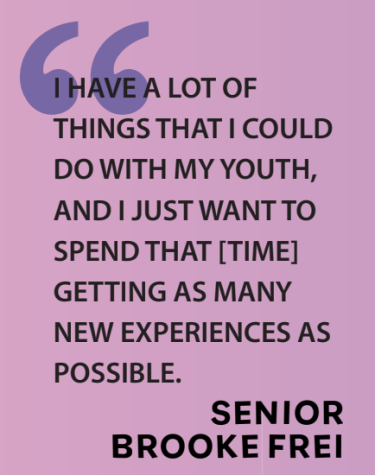 Similar to Frei, Kim also hopes to gain new experiences through her travel. Attending Minerva University, Kim will spend four years traveling to seven cities — London, Berlin, Hyderabad, Buenos Aires, Taipei, Seoul and San Francisco. Although Kim was initially intimidated by being so far from home, she conceded that attending Minerva was simply an opportunity she was not willing to give up. 
"Minerva is completely different [from] what I was looking for," Kim said. "But I applied because it's a once-in-a-lifetime experience to be traveling and studying because I won't have this time after I graduate. So if I'm doing it while I'm in college, that'll be really ideal."
On the other hand, senior Amy Hu considered taking a more unconventional route. Following a disappointing rejection letter, she reconsidered the value of going to college and instead thought about traveling the world on her own, an experience that she believes would grow her sense of individuality. 
"I would take a plane to obviously some cheap country and stay at hostels in the night, so they'll be like $12 a night," Hu said. "I'd then spend the mornings traveling and creating vlogs and meeting new people. It would be an experience to grow my independence because I would be the person who's filming everything. I would be the person who manages my logistics, finances, safety and everything."
Still, after much deliberation, Hu is currently more inclined to attend a UC campus. She believes that this path is paved with more stability and that solo traveling poses many risks.
"I'd be missing out because all my peers will be experiencing the college experience and hanging out in their dorms and meeting new people at school, [whereas] l would be obviously taking a very different path," Hu said. "There's also financials. It's much easier for me to justify my parents spending money on education versus traveling the world. Also, safety [makes it] hard for a girl to go. If I was a guy, I'd probably consider it more, but with countries that are outside the U.S., [they] might not be super safe."
Senior Ved Anumala expressed similar worries when he was committing to Northeastern University's Global Scholars Program. He will spend his first semester in London before returning to California to study at the university's Oakland campus. Although he has some family members in London, he feels that the experience of living there will be his first time being truly independent, and he is excited about the cultural opportunities it will provide.
"The one perk about [London] is that it's English-speaking, but it's a whole different experience," Anumala said. "I get to see a lot of different people from a lot of different cultures, but obviously I want to just tour the city in my free time. Also, there are a lot of countries neighboring the U.K. So, if I get the chance, I want to explore the countries nearby like Switzerland or other EU countries and get a more expansive experience."
Frei, Kim and Hu all agree that growing independence played a large role in deciding if they should leave the country for college. Being so far from home, Frei says the distance will allow her to grow as an individual. 
"I do think that experiencing something outside of the U.S. will help me to just have a more worldly knowledge and be able to see myself in other places," Frei said. "Right now, it's sort of difficult to imagine a life outside of the U.S. because I've lived here since I was 2 years old. I think that just being able to break out of my shell and experience new things will make me a lot more open to having a much more changing and fluid life in the future, [beyond] college."
Ultimately, while some students choose to rely on the comfort of a traditional college experience in the U.S., others utilize the unique post-grad time for self-exploration through different cultures. For Kim, taking that next step on an unfamiliar path is an experience worth trying as she enters an era of freedom.
"My entire path was set on going to a traditional university, so when I did get in [to Minerva], I remember I was crying because my decision was going to be harder to choose which school I wanted to attend," Kim said. "I knew I would regret it if I didn't choose this option. I think it's very scary that I'm choosing such a different path, but really exciting as well."