I'm Going Viral!
Bored during the peak of quarantine and looking to TikTok for entertainment, MVHS 21' alum Sachi Roy posted a funny video imitating different types of high school choir singers, not expecting much out of it. Being an independent singer-songwriter, Roy created videos on TikTok to promote her music. Their TikTok presence was minimal, yet slowly increasing. It wasn't until her light-hearted choir video skyrocketed to 5 million views that they truly felt the influence of being a viral star.
https://www.tiktok.com/@sachiroyofficial/video/6949003882940960006?_t=8aIFDbdHPRr&_r=1
Roy began writing songs in sixth grade and posting clips by eighth grade, before releasing a six-track EP her senior year. To Roy, "music is a direct way of self expression," and she admires how the art form can implement melodies and instrumentals to convey feelings when words cannot. After gaining 50,000 new followers from their viral TikTok, Roy says it was a golden opportunity to promote her music. Suddenly, Roy's TikTok comments and Instagram messages became flooded with positive praises from strangers.
"[These random people] don't have to send kind messages," Roy said. "But the fact that they put in that effort was a new validation, more motivating than [what] I get from my friends and family. I expect [my friends and family] to say, 'You're doing a great job.' But when you hear that from a stranger, it's a different level of, 'Oh, this is something that I am actually good at and should continue pursuing.'"
Roy invested her time into their rapidly growing, international fanbase by finding lyrics in her music that could make for funny TikTok audios or performing original songs on TikTok Lives. However, despite her traction, Roy often feels angered and demotivated by the instant successes of many TikTok influencers like Addison Rae or Nessa Barrett who released music after already having gone viral from what Roy believes to be their looks or viral TikTok dances.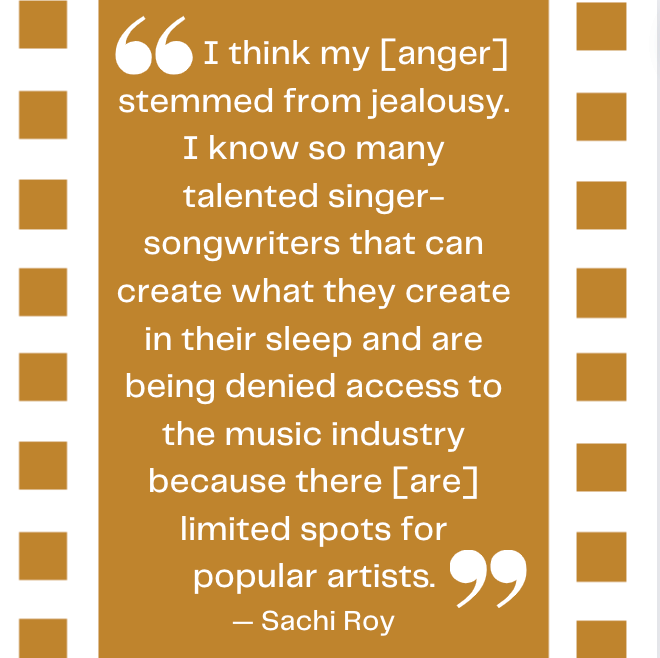 "I think much of my [anger] did stem from jealousy," Roy said. "I know so many talented singer-songwriters that could create what they create in their sleep and are being denied access to the music industry because there [are] limited spots for popular artists. I don't think it's fair how these people achieve their fame."
Roy's mixed feelings on TikTok's influence is similar to that of Sequoia High School Media Specialist Betsy Snow. Snow's purpose is to "shepherd folks to appreciate all forms of literacy and storytelling." Like Roy, Snow began engaging with TikTok during the 2020 quarantine period to create short videos which recommend unique, literary material to her school community. 
Snow compiles specific school-related information — like there being a "Black History Month book collection in the library" — in TikToks to be released to the school in a digital newsletter and on her Instagram profile. She takes these extra steps to communicate information because she knows that most students will never see her videos with the TikTok app. To Snow, everyone's content being personalized to a specific algorithm is both exciting and worrisome. 
"Social media platforms have evolved into different channels where like-minded folks can find exactly what they like," Snow said. "It is dangerous because it's cultivating the echo chamber. While I feel safe on librarian TikTok, it's this false sense of security. It takes one Fox News reporter to [appear on your feed] for you to realize, 'Oh, there's a whole other world [out there].'"
https://www.tiktok.com/@itssggia/video/6993421987217476869?_t=8aIEjf4QHQE&_r=1
The problem of algorithms keeping popular influencers popular carries from the music industry to the book industry with #BookTok. Snow feels the same books by the same authors are constantly being promoted on TikTok, especially with the rise of author Colleen Hoover, making Snow wonder who is behind the screen determining the content being pushed to users.
"The publishing industry [still] tends to market certain books and certain voices," Snow said. "Hopefully [the curators of TikTok content] are deciding things based on more than what's bringing views and likes. I like to think that [when people say] 'BIPOC voices are having a moment,' I hope it's not just a moment. I hope that's an authentic attempt to make everyone have a space."
Although still biased, Snow's TikTok feed has exposed her to different media content that she likely wouldn't have ever considered engaging with. Discovering her new favorite song, "Carry It Well," and the viral, Grammy-winning Bridgerton musical by TikTok composers Emily Bare and Abigail Barlow remind Snow of TikTok's positive effect on amplifying creators to gain hard-earned success. 
The influence of TikTok on new artists has also been evident in junior Ethan Wang, known as Ethanerino on streaming services. Using both Instagram and TikTok to promote his music, Wang has seen a massive increase in streams by regularly engaging with the platforms. Wang's style leans towards rap, where he combines his musical influences Eminem and Juice Wrld with his unique Bay Area experiences to create music through previously created beat tracks. 
"I've formed a community [through TikTok] with local rappers," Wang said. "[I would recommend] other [new] artists to do the same, because it helps you grow more by learning from each other and giving feedback."
The local music community that Wang created by the influence of social media, has allowed him to collaborate with local artists like Fremont High School rapper YNR Sway. Wang also notes A-list singer Taylor Swift's massive social media presence as an inspiration for doing similar self-promotion through Instagram stories and TikTok dances. Wang's increase in followers through social media has allowed him to connect with fans internationally and become heavily recognized at MVHS for his music. 
Wang's gratefulness for TikTok's influence on his music career is parallel to Roy's, despite her critiques of its heavily biased algorithm. Even with TikTok's many flaws, she still feels the platform is the best way to advertise her music as it is "a very accessible entryway into the music industry."
"At the end of the day, I think about what it would be like if I was in that position [of a popular TikTok influencer]," Roy said. "The way my viral TikTok that had nothing to do with my own music, pushed me into some type of attention, spotlight, I [would also] use that [influence] to my advantage to pursue something that I wanted to pursue."