To the top
Detailing the Varsity Girls Tennis team's journey to winning CCS and becoming NorCal runners up
Entering the CCS finals game against Cupertino High School on Nov. 11, the Varsity Girls Tennis team had nothing to lose and everything to gain. 
CHS was undefeated and favored to win — MVHS having already lost to them twice during the regular season — but MVHS soon went up 4-2, which assured them the win regardless of the outcome of the final match. The victory meant that MVHS, who had entered the CCS playoffs seeded seventh, had defeated the first, second and third seeded teams to win the CCS championships for the first time since 2013. For the players, it was a fitting pinnacle to a groundbreaking season.
"[Our win in the CCS finals] was really unexpected," junior and captain Himani Jha said. "But we definitely played really well. We went into it with no pressure, so that also helped, whereas the other teams had a lot of pressure on them to beat us since they were the top seeds."
The team faced many worthy opponents on its road to the CCS finals. MVHS narrowly defeated St. Francis High School 4-3 in the quarterfinals and Harker High School 5-2 in the semifinals, with the team's hard work culminating in its underdog win against CHS in the finals. Qualifying for the NorCal playoffs after making it to the CCS finals, the team aimed to double its count of championship wins. On Nov. 18, the team played back-to-back playoff games against Lowell High School at 10 a.m. and Miramonte High School at 1 p.m., which MVHS won 7-0 and 4-3 respectively. This sent the team to the NorCal regional finals the next day, scheduled against none other than CHS — but this time, MVHS was unable to bring it home, losing 5-2.
What made the team unique was its relative youth. In fact, it had the only fall sport roster at MVHS with no seniors, and the top two players were freshmen — twins Lelani and Zoe Laruelle — who eventually took second place in doubles in the 2022 CCS Individual Tennis Championships. Coach Gene Fortino, who was also chosen as the CCS De Anza League's Coach of the Year, says that the low average age of the team was something unique to him in his 30 years of coaching tennis.
"It was an unbelievable season," Fortino said. "It was just crazy, to not have any seniors, and that eight out of our starting 10 were freshmen and sophomores. I was just unbelievably proud of that. And I can't say enough about our captains, the two juniors that were in the starting lineup, Himani Jha and Varshetha Senthilkumar. They were amazing captains all season long and really believed in the team. They were almost like the team moms."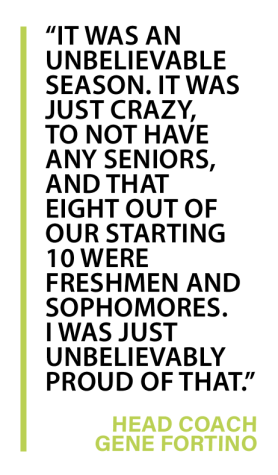 Sophomore Varsha Iyengar says the relative youth of the team "didn't really affect the way [they] played," but believes it will be beneficial to them in the next season, as they won't be losing players and will instead just be gaining new ones. Iyengar believes that despite not having everyone play in the same match, tennis is a very group-oriented sport due to the encouragement and motivation she and her teammates get from each other. Iyengar feels that since the team has gotten to bond throughout the season, not having to adjust to the loss of players will strengthen team camaraderie overall. 
"It was pretty easy for us to bond together since we all have outgoing personalities and we're willing to get to know each other," Iyengar said. "We already got to know each other this year, [and we know how everyone plays], so we're going to be even stronger next year."
Sophomore Lucy Yung says that a major aspect of the team's strategy that allowed it to win the games was assigning players to different matches based on their strengths and the specific circumstances surrounding them. For example, she says her most gratifying match was her doubles win against CHS in the NorCal finals, in which Senthilkumar was her partner, even though Senthilkumar typically played singles. 
"In other sports, I feel like you can't put people interchangeably into different positions, [since] people specialize," Yung said. "But for this match, we put [Senthilkumar] into doubles so that we could have a better chance of winning."
According to Jha, the team didn't necessarily have any plans for huge victories going into the season, seeing as many of their players were not yet veterans in the high school tennis scene. However, looking ahead to the next season, Jha says that she has high hopes for the team's ability to replicate the success that it experienced this season.
"We're really excited for next season because we all work really well together and we've all bonded a lot," Jha said. "So it's nice that we won't lose anyone. I think [we] have a really good opportunity to perform well [and I'm] definitely looking forward to it."
Fortino agrees, saying that although he believes that the expectation will be on MVHS to succeed as returning CCS champions, he thinks the team has high potential for success next year.
"Coming in as returning CCS champions, I think expectations are gonna be a little higher and everyone will be kind of aiming for us a little bit," Fortino said. "So we're just gonna go again, try not to feel the pressure. but I think we're going to come in with the unity that we built this year and everyone's gonna be a year older, and we'll see what happens."