From the kitchen
How the nutrition services team develops and prepares the cafeteria food
District Manager for Nutrition Services Divya Puri says developing new recipes requires the nutrition services team to come together to brainstorm what can realistically be offered within a limited time frame and price point, while also considering what products their vendors offer. 
As a registered dietician who has been working in school food service for 15 years, Puri works to ensure meals are nutritious. She says that the nutrition services team collects student feedback and uses nutrition software to ensure the food is enjoyable, healthy and complies with federal regulations. 
According to Puri, it takes at least four months to develop each recipe, and the team sometimes faces problems that prevent them from adding a dish to the menu. Such problems include limited products, labor or workspaces. 
"We were planning to offer vegan chili this fall, [but] we were never able to get the product [for the dish]," Puri said. "The product [itself] was available in April, [but] we never received it, so we had to take [the chili] off the menu. Those kinds of hiccups come in where we plan everything [and] review [everything], but we don't get the item." 
Furthermore, while trying to add dishes such as the chili to the menu, MVHS food services manager Edgar Rodriguez says that he has to work closely with managers at other FUHSD schools. Since all FUHSD schools are required to serve the same foods on the same days, Rodriguez says that the managers have to communicate effectively to coordinate details across the district. Rodriguez describes this process as challenging since different managers have differing opinions. MVHS chef Margie Sanborn also adds that different dishes are more popular at different schools — for example, she says that the marinara pasta is the most popular dish at MVHS and the orange chicken is the most popular dish at LHS. 
Puri explains that another crucial process is training cooks at all FUHSD schools on the proper procedures and processes. According to Puri, the food services team at each FUHSD school consists of the food services manager — or as Puri calls it, "their anchor" — the cook, seven to eight employees and student workers. Rodriguez explains that his role as the food services manager is to order products from different vendors and ensure that everyone on the food services team is getting along.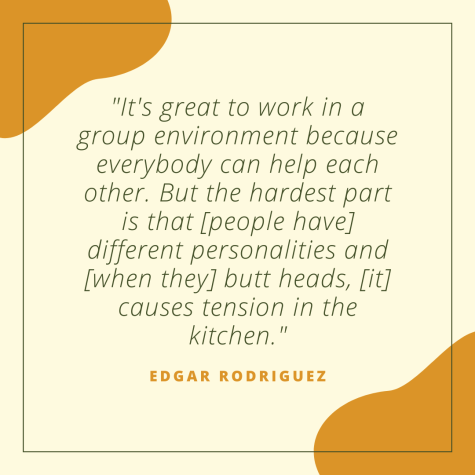 "It's great to work in a group environment because everybody can help each other," Rodriguez said. "But the hardest part is that [people have] different personalities and [when they] butt heads, [it] causes tension in the kitchen. Dealing with all of that is probably the hardest thing." 
Sanborn explains that she prepares the main entrees, while other employees prepare other items like parfaits, sandwiches and wraps. The Food Services Manager orders about 40 pizzas daily from an outside company, as it is difficult to cook such a large quantity of pizzas at school. Sanborn says when the proper products don't arrive on time, that presents new challenges and makes it more difficult to stay on track. 
Other challenges have emerged after COVID-19, as the food services team transitioned to the free meals system. Rodriguez's first year working as the manager at MVHS was also the first year MVHS offered free meals. Initially, he says he had trouble ordering the right amount of products. However, through trial and error, Rodriguez says he has perfected knowing the correct number of products to order. Sandborn also says that before COVID-19, the food services team prepared 150 meals per day, and now they make 400 to 500 meals per day. 
To account for this increase, Puri says that the team has implemented measures to make the food distribution process more efficient. The food services teams package and wrap foods beforehand and also utilize data from the previous year to predict how many students will get meals on certain days.
"We're just buying more equipment, ordering more food [and] figuring out ways to work smarter, not harder," Puri said. "[For example] we didn't have the card [system] before COVID-19 because there was no need."  
In the future, Puri hopes to continue developing the menu and offering food items that students will enjoy. Puri is dedicated to offering delicious and nutritious foods, and being open to students' feedback during the recipe development process. 
"At the current rate of reimbursements we get, we don't have the bandwidth to go fully vegan, but I believe in offering inclusive choices, so that's our goal," Puri said. "We're just not fully there because we're struggling with procurement. I [want to continue to] serve our students and keep the menu creative."