Forever Inked
Exploring what tattoos mean to the MVHS community
Dragons and flowers are among the most common tattoo designs in the United States. They're also a few of the many tattoos that English teacher Jessica Kaufman has.
Although California law prevents anyone under 18 from getting a tattoo without parental permission, some MVHS students opt for stick-and-pokes, also known as hand pokes, which are a form of nonelectric tattoos. Stick-and-pokes are supposed to be done by a licensed professional on an individual 18 or older, but since these tattoos don't use machines, it's much easier for people to attempt it at home. When doing a stick-and-poke, a needle is applied to a contraption and ink is applied directly to the skin by hand.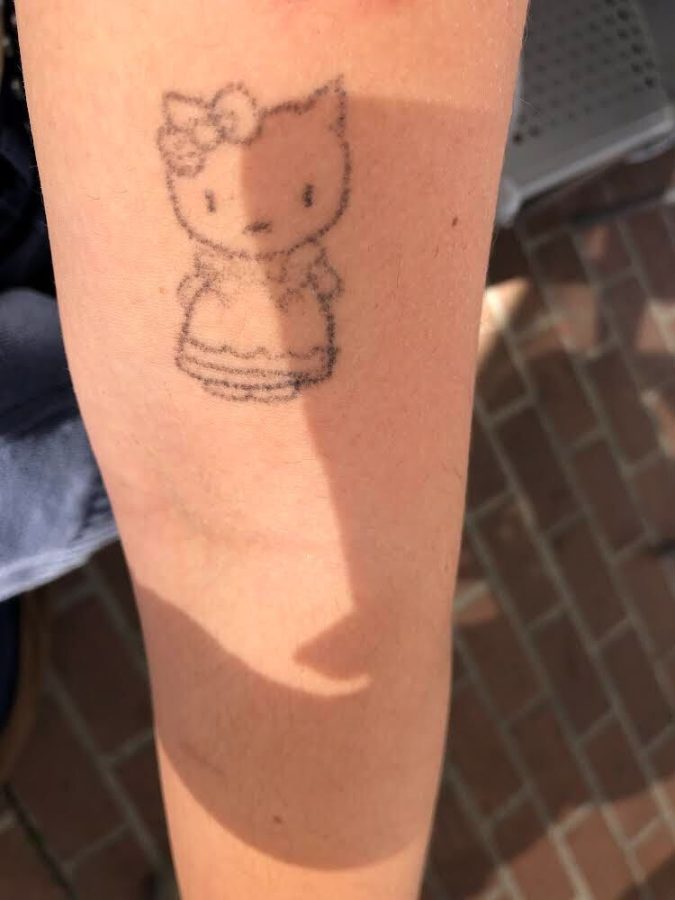 Sophomore Lisa Smith has multiple stick-and-poke tattoos, including several X's across her knuckles, a skull and a Hello Kitty tattoo. Smith did her stick-and-pokes the summer before freshman year with her friends and did not obtain parental approval prior, although her parents ended up being OK with the decision. 
"In the moment, I was really hesitant," Smith said. "After I did [the stick-and-poke], I was like 'Oh, maybe I shouldn't have done that.' But I've taught myself that even though I might not really like it now, those were memories, like my past events or something I'd like to carry with me."
On the other hand, MVHS alum '22 Vyshnav Venkatesh's parents encouraged him to get his first tattoo. In honor of his late grandfather, who was lovingly nicknamed "Moon Dada," Venkatesh and his cousins all decided to get matching moon tattoos. Since Venkatesh was a freshman when his grandfather passed away, he could not get the tattoo along with the rest, but he knew he wanted to keep up the tradition. So, just days after Venkatesh turned 18, he went to a professional tattoo parlor to have a moon tattooed on his back shoulder.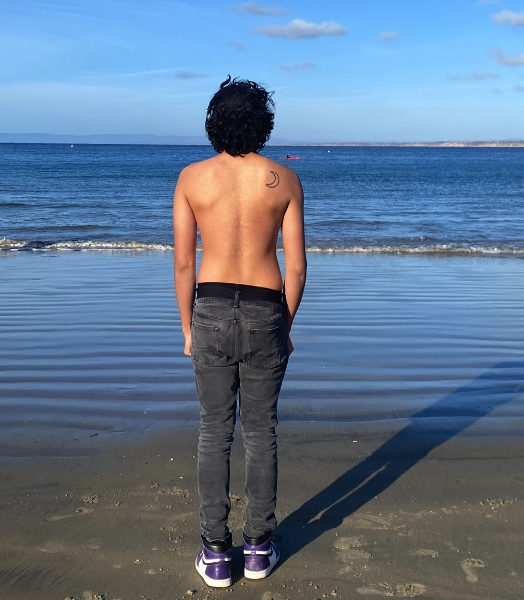 "I think I want to get more tattoos down in the future, but I'm not sure what [I'll get]," Venkatesh said. "But I want each tattoo to have a meaning [and] not just be something random."
Similarly, English teacher Jessica Kaufman got her first tattoo professionally done after turning 18. Since then, Kaufman has gotten multiple tattoos, including an orchid on her foot, a tattoo of dahlias across her ribcage, a phoenix on her thigh and more.
"I've always thought tattoos were cool," Kaufman said. "I think [what] makes them cool is their permanence and the fact that it's art on your body — a way to customize yourself in ways. We all have different ways of expressing ourselves, and I think it's cool to be a walking art canvas in some ways."
Junior Anqi Chen agrees with Kauffman, and says they like something that differentiates them from others. Chen has two stick-and-poke tattoos, both of which they did themselves over the summer. 
"As an MVHS kid, I never do anything [out of the ordinary]," Chen said. "I wanted [to do] something that either I'll like in the future or maybe even if I'll regret it, that's fine. I just wanted to do something that's not just school and taking tests."
One of their tattoos is a burnout campfire they did while enrolled in a pre-college program symbolizing the burnout they felt at the time. The second is the chemical equation of antidepressants tattooed on their collarbone. 
While some people like Venkatesh and Chen choose tattoos based on meaning, the opposite is true for Kaufman. The only tattoo that has a meaning behind it is the phoenix tattooed on Kaufman's leg symbolizing her "rising up" after a tough time in her life.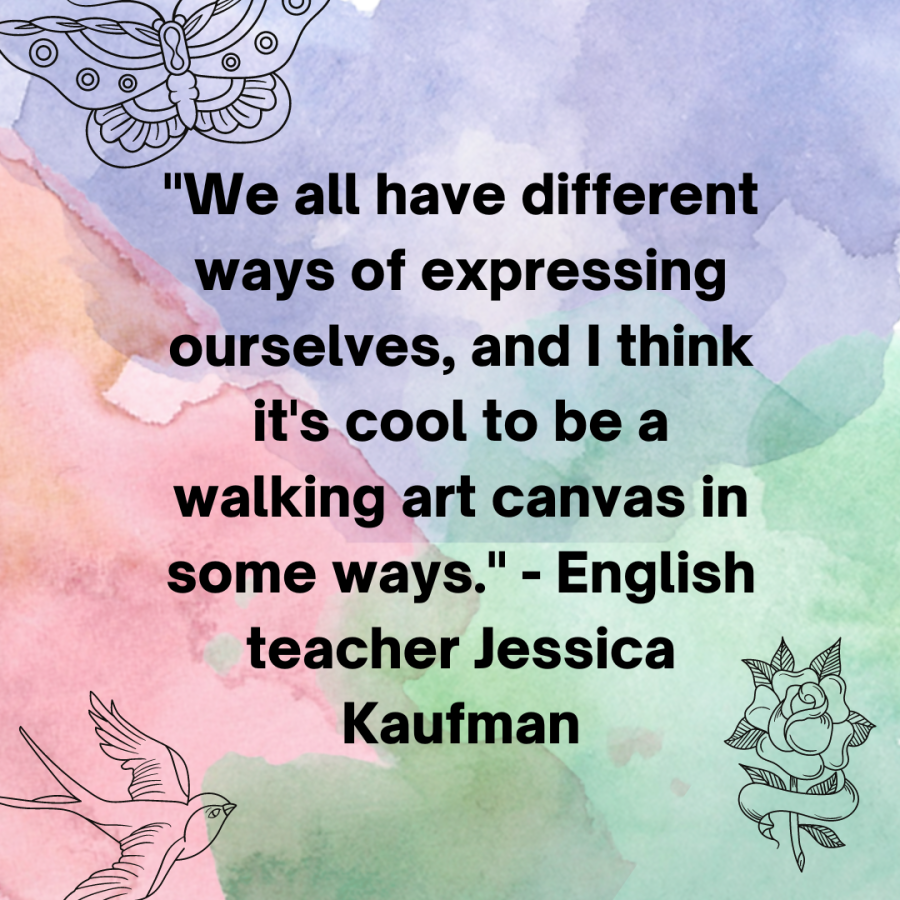 "None of my tattoos have any meaning with the exception of one," Kaufman said. "I've always just gotten them, and I think that is what I like more about them. I have gotten things because I liked them, and I think it helps because I never get sick of them in that way. The meaning never changes. So it's not like, 'I have to get that removed or have to get that covered.'"
Tattoos can be associated with negative connotations contributing to a stigma around having them. While Chen feels there is less of a stigma around tattoos in the U.S., they say these tattoos would likely be frowned upon in China, especially since they are still in high school. Kaufman confirms these sentiments, saying while there certainly is less of a stigma today, that wasn't always the case. 
"When I first started working many years ago there was definitely a stigma," Kaufman said. "Even when I first became a teacher, I didn't have my arm tattooed. I didn't get my arm tattooed until I was tenured and couldn't get fired because I didn't know how it would be perceived by parents, students or other staff members. There has been a stigma about [my] intelligence and my lifestyle choices that are associated with it … it's something I have had to combat."
While Chen and Smith both did stick-and-pokes on themselves, they both recommend trying to get tattoos professionally done. Kaufman agrees, recommending finding a reputable artist and familiarizing yourself with their style beforehand.
"If you're of age and want to make that decision, then go ahead, but think through it," Kaufman said. "Do your due diligence about the shop and the artist so that you feel comfortable because that's the key."