Comprehensive climate curriculum is crucial
The need to implement climate change education at MVHS is more important now than ever
Climate change is part of the core curriculum of three MVHS courses: freshman Biology, AP Biology and AP Environmental Science. Yet, only one of these courses is required for graduation. 
In a world where our generation will shoulder the burden of mitigating the effects of a rapidly warming climate, it is crucial that we are educated on climate issues. We will have to be knowledgeable about actions we should take in order to combat the consequences of a global temperature that is expected to rise 14% in the next nine years, according to the COP26 discussions. This reinforces the need to implement climate change education into more curricula at MVHS. 
Climate change education should not be limited to our science courses. For example, we can spend time researching organizations and companies with sustainable practices in Economics. In history classes, we can explore the varying impacts that historical events had on the surrounding environment as well as the history of climate policy. In literature classes, we can use our rhetorical analysis skills to deconstruct non-fiction texts about climate science and write essays about next steps to combat the issue. Equipping students with not just the scientific aspect of an issue, but also real ways in which to address that issue as both a consumer and voter, will better allow us to catalyze real change.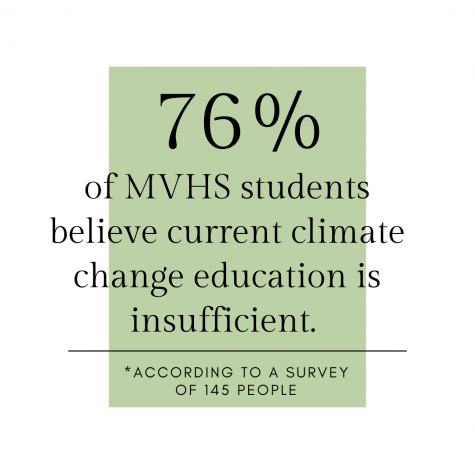 At the 26th UN Climate Conference, a meeting for delegates representing countries around the world to discuss climate strategies for the future, the countries agreed on the need to "phase down unabated coal" –– a watered-down variation of a previous agreement that called for the need to "phase out" these fossil fuels. Decisions like these, although disappointing, are not surprising. We are running out of time, and while world leaders have the luxury to make deals they won't revisit until years later, we don't. According to the latest IPCC report, emissions from greenhouse gases caused by human activities are responsible for the 1.1 degree Celsius increase in global heating since the early 1900s, a number that is expected to rise another 2.4 degrees Celsius at least. The consequences of climate change are being felt on every continent. While results like flooding and fluctuating weather patterns may not impact our day to day lives directly just yet, a chain of cause-and-effect events can trigger longer lasting – and deadlier – impacts. 
We need to provide as many resources as possible to ensure students are educated on crucial climate issues and prepare them to live sustainably. Consider this: before a Biology test, a student needs to know all the material to pass. And the biggest test of our generation is coming – a test that threatens the well-being of people around the globe if we fail.