Students and staff celebrate Hanukkah
The MVHS community shares its Hanukkah experiences
Hanukkah is annually celebrated around the beginning of December or November, fluctuating because of the Hebrew lunar calendar.
A central part of Hanukkah is the food — frying foods in oil is especially common because of the history of the festival. Spanish teacher Molly Guadiamos explains that Hanukkah is a festival celebrated to remember how Jews fought to reclaim the Holy Temple in Jerusalem. Oil played a crucial role as it provided light during the conflict.
"While they were waiting for supplies, and they didn't have their lights, they supposedly only had enough oil to keep that burning for one night, but that amount of oil stretched on for eight nights," Guadiamos said. "Because of the oil, the connection of the oil and the remembrance of that [difficult time], traditional foods are fried in oil."
Some of senior Gabi Morali's favorite Hanukkah memories include making traditional fried foods with her mother, including sufganiyot, known as Israeli doughnuts, which she describes as "soft and like beignets."
Another popular Hanukkah food is the latke, which is the Yiddish word for "fried potato pancakes." Guadiamos eats latkes, served with sour cream and applesauce, with her family every Hanukkah.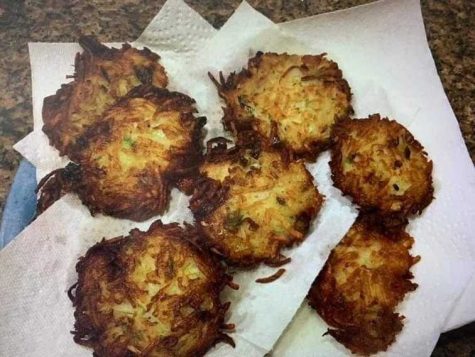 Math teacher David Greenstein loves to eat latke with his family as well. In addition to food fried in oil, lights are a symbolic part of Hanukkah. Greenstein recalls his family decorating their house with lights when he was a child.
"We lived on a farm in an area that was not Jewish at all," Greenstein said. "Decorating the house was special because it was the only place we could celebrate. That's what made it special — it was our home." 
Another way people celebrate the festival of lights is by lighting a Chanukiah for eight consecutive nights, one for each night the oil lasted. 
"We usually light the Chanukiah, which has nine spots, eight for the eight nights, and an extra candle that you use to light the others," Guadiamos said. "So for each night, we do the candles, and there's a little song and a blessing that you sing over that."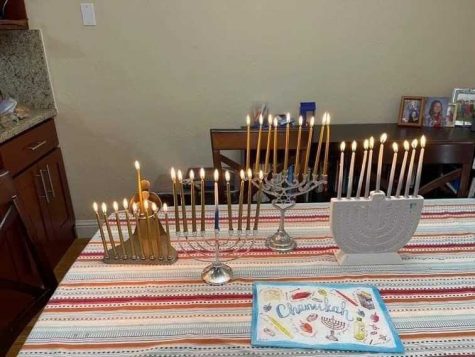 In recent years, Guadiamos has had virtual celebrations with her daughters, who are away at college. They meet on FaceTime and light candles and open small gifts from their dorms for each of the eight days. 
Gift-giving is not a traditional part of Hanukkah, which Morali believes adds to the common misconception that Hanukkah is "like a Jewish Christmas.'" 
"[Hanukkah] has more meaning behind it and [not everyone] also gets presents for eight days — that's a stereotype that most people think," Morali said. "[Hanukkah] is just a time to be with your family."
Greenstein finds that another common misconception is that Hanukkah is more important than other Jewish holidays. He believes that people overemphasize Hanukkah's importance compared to other Jewish festivals like Passover and the Hebrew New Year, Rosh Hashanah. Guadiamos echoes these sentiments, believing that "relative to other celebrations in the Jewish calendar, Hanukkah is considered more of a minor holiday."
"I think Hanukkah has gotten a lot more attention because of its proximity to Christmas," Guadiamos said. "Because [when] Christians are celebrating Christmas, they go, 'OK, what are you celebrating at this time?' It's just one of our smaller holidays. I'd rather have them learn more about some of the bigger holidays, like Passover. I think the main thing is just that I think we should all learn about other important celebrations."