Facing the pressure of passion
Reflecting on the role piano has played in my life
When I was 3 years old, I woke up to the sound of my brother practicing the piano. Given that he was only six years old, it was something along the lines of "Twinkle Twinkle Little Star" at 0.25x speed, but to me, the sound felt strangely comforting. I waddled next to where he sat at the keyboard, set down my baby blanket and resumed my nap. 
After that day, I grew more interested in this activity that my brother participated in every day, so I begged my mom to let me try it. She agreed and enrolled me in group piano lessons with a bunch of other four-year-olds. These lessons turned into private lessons, and after transferring teachers a few times, I began to compete. 
I won my first competition when I was 10 and joined the San Francisco Conservatory of Music Pre-College Program two years later — a program for musicians to experience a sliver of what life is like in a music conservatory. I quit my after school program, Chinese school, and the cello, which I had been playing since I was six, all to devote my afternoons to practicing the piano. While my other hobbies faded away, I always had piano. 
However, even while spending all my time on piano, I never once considered music as a career or gave any thought as to why I played the piano. No one had ever asked me, so the question never crossed my mind. 
Until quarantine — the middle of eighth grade. 
More time at home meant more time to practice, but also resulted in more time to think. As the school year ended with nothing but a certificate and some emails to congratulate the middle school graduates, the question, "So what are you going to do in the future?" began to loom. 
"What major will you study?"
"What career are you interested in pursuing?"
"What's your passion?" 
To others, pursuing music seemed like the most obvious answer for me. However, despite countless friends, family and teachers voicing their encouragement, I didn't feel like it was the right path for me. Besides imposter syndrome telling me I wasn't good enough, I felt like there was something I was missing in comparison to everyone else who seemed truly talented and dedicated to one specific area of their lives. 
One night, I voiced my uncertainty about becoming a professional pianist to a teacher who had been inquiring about my plans for the future. She was silent for a moment and then asked, "Why?" 
The question followed me to my practice later that night. I searched for areas in my music where I needed to concentrate more, but found that I wasn't sure where. I glanced at my watch — it was only 8:30 p.m., so it was too early to start on homework without feeling guilty about not practicing enough. So I sat there silently, flipping through my music books, trying to figure out what to do while being frustrated, and eventually came to a revelation.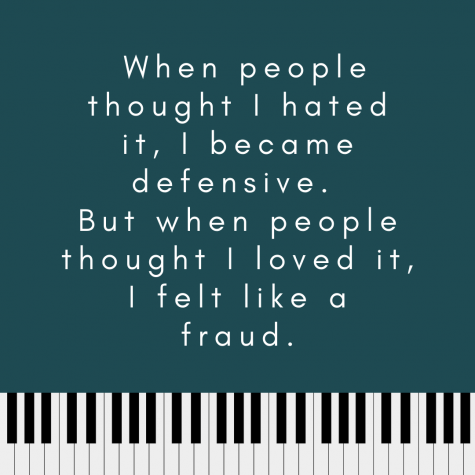 I realized that it was passion for music that I was missing. I had no real reason or drive to play the piano — I just did because I thought I was supposed to. 
At the SFCM Pre-College Program, there were child prodigies who had debuted with eight different orchestras by the age of 13, or kids who had traveled all over the world for international music competitions and managed to stand out. These were kids who genuinely loved what they did, and it felt unfair. Why did those with talent also get to have the passion, while I felt like I had neither? 
The deeper I dove into uncovering the reality of how I felt about piano, the more complicated my emotions seemed to be. There were moments when I enjoyed playing — moments overshadowed when I inserted myself on the far end of the spectrum where many people claimed piano is nothing but a chore. When people thought I hated it, I became defensive. But when people thought I loved it, I felt like a fraud. 
To this day, I still don't know what I truly want. Piano isn't something I want to completely let go of, and a future without it entirely is something I can't even imagine. But, I'm hoping that continuing to be honest with myself about how I feel is a step towards the right direction of finding something else I can be passionate about.