The graduation plan for the Class of 2021
MVHS plans to host six in-person graduation ceremonies for the Class of 2021
"I think graduation for a lot of people is a celebration of all that we've accomplished in the past, not only four years of high school, but like 13 years of schooling," Senior Class President Sarah Tan said. "And I think, as much as it's expected of us, it's also a lot of hard work that we've put in and I think it's really important to have that moment to celebrate it all."
Graduation for the Class of 2021 will take place in six separate sessions spread out over three days — Tuesday, June 1 to Thursday, June 3 — in order to uphold COVID-19 safety guidelines. Each of these days will have two ceremonies — one from 10:30 to 11:30 a.m. and another one from 4:30 to 5:30 p.m. Each graduation will have around 70 to 96 students and students are allowed to bring four guests in order to keep the event under 400 attendees. Senior Class President Sarah Tan worked with Assistant Principal Mike White and the rest of the 2021 class officer team to organize an in-person graduation.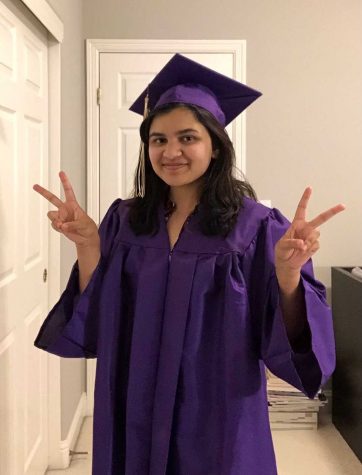 "I think this year will also be really nice because we'll be able to have a couple of speeches and people will get to walk down the field and get their diplomas," Tan said. "And I believe we're also going to be live streaming the event so that any family members or friends that aren't able to attend or exceeded the four person maximum would still be able to watch the event in person. Even though it's not the entire class together, a lot of people are excited to still be able to graduate together."
Unlike the Class of 2020's Car Parade, the class officers wanted to plan an event similar to a traditional graduation. During the graduation, chairs will be placed on the field in order to separate attendees by six feet and bleachers will be sectioned off for families. Afterwards, first guests, then students, will exit to the parking lot in order to maintain social distancing. 
However, some seniors are also finding some drawbacks to the graduation plan, such as the fact the AP macroeconomics test conflicts with the two graduations on June 2. This has led to some issues regarding seniors trying to sign up for graduation dates with friends.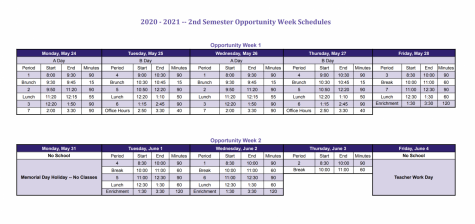 "A lot of friend groups were like coordinating and seeing which time slot they wanted," Tan said. "And it was definitely a little bit scary when someone in the friend group didn't get one fast enough or people were abusing the system and taking too many tickets. Some of them on accident but there are definitely some people who weren't necessarily being the most generous. I think at the end of the day, it doesn't have the same visual impact to be able to sit with all of your peers and cheer all of them on when they graduate."
Senior Aditi Sadwelkar is one of the seniors who will be taking the AP Macroeconomics test before graduating. Sadwelkar and her friends specifically coordinated to get a date so that they could all graduate together after their AP test. They were ultimately successful in securing a date and Sadwelkar is looking forward to her graduation, despite the limitations.
"I think this year we're more fortunate than the Class of 2020," Sadwelkar said. "They had their graduation canceled, they couldn't attend the actual ceremony — they didn't have an in-person ceremony. And I think in that sense, we are a lot more fortunate that we actually get to be in school. We're actually going to walk down the stage, get a diploma in our hands, it will be a much more formal ceremony which I think is a huge milestone for everybody and it's unfortunate that the Class of 2020 had to miss out on that."
Senior Adithya Patil's sister graduated in 2020, so he is also happy to have a graduation similar to a traditional one. However, he also has a few concerns and is disappointed in some ways. 
 "I wouldn't say I'm completely satisfied with the plan," Patil said. "I mean obviously, it's going to be really different not being able to graduate with everyone in our grade that I actually care about graduating with… but definitely a lot of people that I'm missing out on."
Although the pandemic has caused many setbacks, Tan and the officer team wanted to provide the Class of 2021 with the best graduation possible.  
 "A lot of us want to go to college and are becoming adults, so it's definitely a big transition," Tan said. "And I think the sad part is that, in many ways, we didn't get to say goodbye properly to [MVHS] and a lot of our classes, extracurriculars, teachers [and] even campus. So at least having this will kind of help us close out our time here."