MVHS hosts senior car parade
Seniors gather to celebrate their socially distanced graduation
In vehicles decorated with posters, drawings and ornaments, hundreds of seniors and their families rolled into the MVHS student parking lot on the afternoon of June 4 to participate in the Class of 2020 Car Parade, a celebration planned by school, district office and city officials to honor graduating seniors.
For senior class president Armond Bigler, the parade was a fun and uplifting opportunity to reconnect with many classmates and friends after months of shelter-in-place.
"Seeing everyone's names written on their cars was really nice — I would just look out across the huge array in the parking lot and see a few of my friends and stand up in my car and yell their name and say hello," Bigler said. "I [also] handed out some markers to people to draw on their cars last minute."
Details for the parade were emailed to students and parents in late May, but district officials began discussions on different celebratory events as early as the start of the shelter-in-place in March, according to Fremont Union High School District (FUHSD) Associate Superintendent Trudy Gross. 
"Originally, [Santa Clara County] had said 'no car parades,' [but] two weeks ago when they issued their most recent update, they said car parades were allowed and they provided specific parameters," Gross said. "As soon as our superintendent heard that, she made the commitment that we would do the car parades because she knew that from her colleagues in districts around us that they had already been planning such things and that it was something that our community really wanted. There wasn't a moment of hesitation that once we knew we'd be allowed, we would make it happen."
As the Bay Area shelter-in-place order inched towards its second phase, FUHSD approached the City of Cupertino with the idea. One supporter was City Manager Deborah Feng, who was responsible for coordinating with the district office, individual schools and the Santa Clara County Sheriff's Office. Feng wanted to provide recognition for seniors with the parade.
"Car parades … simply allow seniors to have some recognition," Feng said. "It's just [a] hard time to be in school and taking classes and then not [being] recognized for all of your hard work at the end of such a big, life-changing moment — it seems a bit anticlimactic."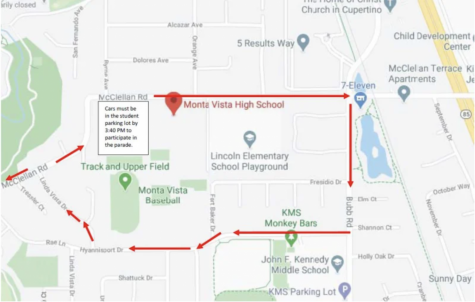 Feng says the city ensured that the parade plans were within the bounds of municipal codes and laws, and she also contacted the Sheriff's Office to confirm that no additional fees would be charged for policing the car parade. To make the Sheriffs' role less complicated, Feng urged schools to create simpler parade routes.
Principal Ben Clausnitzer was also responsible for coordinating the parade on behalf of MVHS, for which he attended various Zoom conferences to map out the parade route and the role of the Sheriffs who facilitated the parade. Clausnitzer says that the car parade wasn't necessarily intended in lieu of any traditional senior ceremony.
"It isn't trying to try to find something that's new or different — it really is the option between doing nothing or trying to do a little bit more," Clausnitzer said. "From a school perspective [and] from a district perspective, we'd like to do a little bit more for our seniors."
Parade participants entered the MVHS student parking lot at 3:15 p.m., where many cap-and-gown-clad seniors gathered together to have their photos taken by parents. At 3:45 p.m., vehicles started along the parade route, stopping by the bus circle where photos of each senior were taken. Cars then proceeded along the route amid cheers from onlooking parents, school staff and community members from the surrounding streets.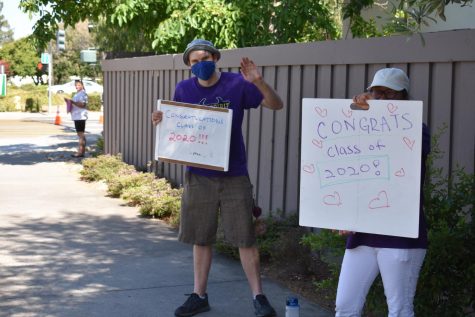 Bigler thought that the parade was a pleasant addition to graduation week because many seniors could see their friends in person.
"I heard that it was very slow, but I think the overall event went really well just because people saw a lot of their friends who they haven't seen in a while," Bigler said. "[Many] people who are strictly quarantined felt that it was safe enough to stay in their car, so people [could] see from car to car. We haven't really gotten an event to come together and celebrate, so this is that event.
Bigler particularly enjoyed the thoughtful gestures of so many community members who supported the graduating Class of 2020 from the sidewalks, despite the social distancing and shelter-in-place guidelines.
"I was a little skeptical at first just because I thought not many [seniors] [were] going to come out and not many other people are going to watch," Bigler said. "But [there was] overwhelming support from the community, [from] people who are out on the sidewalk, cheering from their houses, waving [and] making us posters. Even the senior [citizens] who don't have any kids in [MVHS] coming out and waving at us was really heartwarming, and to see all my friends for the last time on graduation day meant something, so it's nice that we got one last chance to come together."
About the Contributors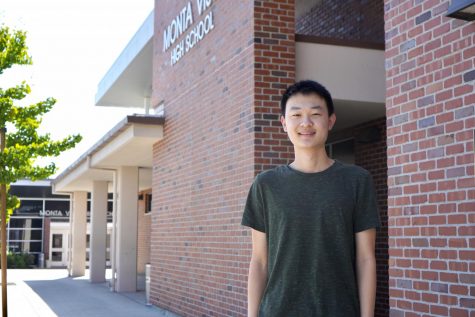 Robert Liu, Managing Editor
Robert is a senior and a managing editor for El Estoque. He spends his free time practicing the piano, programming and reading books.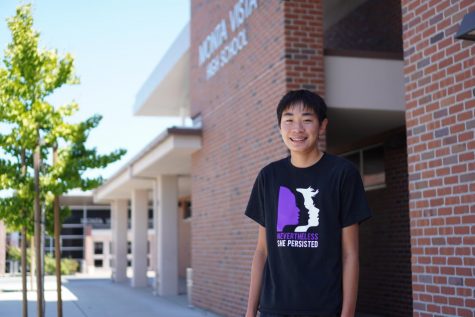 Lance Tong, Sports Editor
Lance Tong is currently a junior and sports editor for El Estoque. He is a member of the MVHS Volleyball team. Lance enjoys watching sports and studying for APUSH in his spare time.