JOHN GILCHRIST: The new marching band director
Getting to know John Gilchrist and his plans for the future of the music department
On Aug. 3, former MVHS band director Ricky Alegria sent a Zoom link to the band students, during which he announced his resignation. As a result, he and the rest of the music program staff began looking for a new band director. They recruited students and parents who were heavily involved in the music program to review their applicants. To senior and drumline leader Cole Heider, one applicant stood out: John Gilchrist.
"[Gilchrist] was the first interviewee and he was this really charismatic, really energetic guy who seemed really smart," Heider said. "He seemed really involved in the community. He was at Homestead HS teaching percussion and jazz band and he was also at Milpitas HS, so he's from around the Bay Area."
Gilchrist began his teaching career in high school as a math tutor for other students. While still in high school he realized he could combine his love of teaching with his passion for music. He started working as a high school band teacher in 2019. He student taught at Homestead High School and Lynbrook High School. He then worked in the Milpitas Unified School District teaching band and percussion. Gilchrist says he is glad to return to FUHSD and has many plans for the future.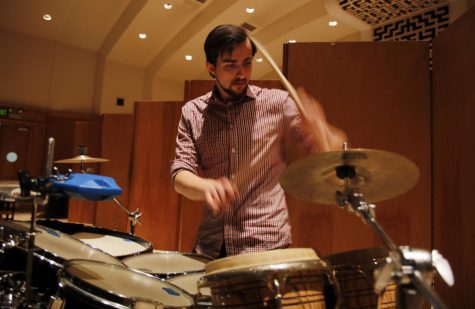 "I would really like to bring a full orchestra to MVHS, meaning string orchestra, along with winds and percussion," Gilchrist said. "I think that having that kind of corps ensemble experience is really important and can be a lot of fun to participate in." 
Gilchrist's other plans for MVHS include: growing the program by advertising to middle schools, expanding programs such as winter percussion and winter guard and bringing in a designer to explore design elements for the marching band shows. Although he says his plans are ambitious, Gilchrist believes the students in the music program are strong and cooperative enough to handle them.
"My first impressions of the community here [were that] the students [were] highly motivated and they [showed] a serious passion for the arts and music in particular," Gilchrist said. "Just from a couple weeks of teaching here, [I can already] see that we have incredible musicians in each and every ensemble that I teach. I also see a lot of potential for growth." 
Although the restrictions of distance learning have made it difficult for teachers and students to bond, senior Cheryl Leung believes that Gilchrist has already made an impact on his students and has been able to impressively face the challenges of distance learning. She appreciates his involved teaching style and his upbeat personality.
"We're all very inclined to pay attention in class and we're all still having fun," Leung said. "It's not like we're forced to listen to him or anything. We're all just having a lot of fun making music together. He's only been here two weeks, and everyone already loves him. He makes jokes and he's pretty relatable to the majority of the band."
Currently the marching band has postponed its season due to COVID-19, and Gilchrist feels sympathetic to seniors like Leung and Heider who are unable to experience their last season of marching band. To remedy this, Gilchrist plans to try and give seniors their final season before college. 
"Once it's safe to go back to in-person [rehearsals], we will have the marching band going at full force [and] stronger than ever before," Gilchrist said "I'd say right now, my heart really goes out to this year's seniors most of all. I can only imagine how hard it must be [to] think that last year may have been your last year to put on a show. I really want to look at the different ways that I can give some closure to the seniors in marching band."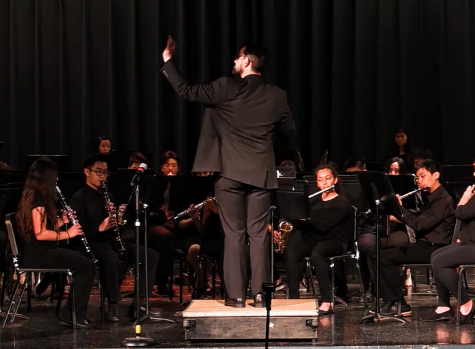 In the meantime, Heider is more concerned about the next generation of the marching band. He wants the marching band to remain a supportive and hardworking community for the incoming classes and he appreciates Gilchrist's efforts to bond with his students. 
"I never wanted [marching band] to be like boot camp or completely serious," Heider said. "I always wanted fun to be a priority as well as being good. So I want, as a senior leaving the marching band, to just keep that same fun, light-hearted approach. But also whenever it's time to work, just keep getting down to work, keep fighting, keep growing and keep getting better and keep improving everyone as a group [and] as musicians." 
Gilchrist also emphasizes the importance of community for students in marching band.  His first priority, for the time being, is to be a good teacher for his current students because he knows that the band director is at the center or marching band and the marching band's community. 
"I really want to be the kind of teacher that motivates my students to reach their highest potential, whatever they feel that their potential may be," Gilchrist said. "One of the most important factors in any great teacher's relationship with their students is trust, first and foremost. With many of the music teachers that I've had in the past … I trusted them to guide me and my classmates in my musical and personal growth. So even though we're not in-person, I want my students to know that if they feel like they need any extra help, or they need someone to talk to, they can always come and see me and I'll be there to listen." 
About the Writer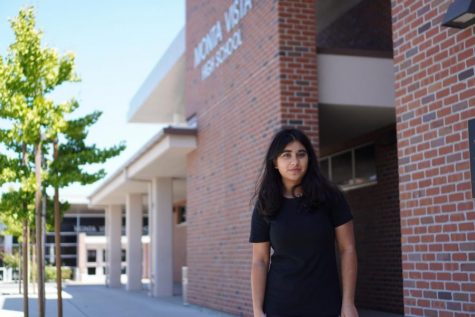 Anika Sharma, Staff Writer
Anika is a staff writer for El Estoque. In their free time they like, knitting, reading, practicing color guard and hanging out with their dog.