TikTok trends
Students discuss the latest trends on the popular social media app
In October of 2019, senior Winter Bloom posted a video lip-syncing to the song "Last Christmas" by Wham! on TikTok. A few days later, she was shocked to see that her video had gained over 500,000 views and was one of the top few videos using the song. Students at school would come up to Bloom and point out that they saw her video on their own "For You" pages. Bloom says that trends and videos like this are what make TikTok stand out from other social media platforms.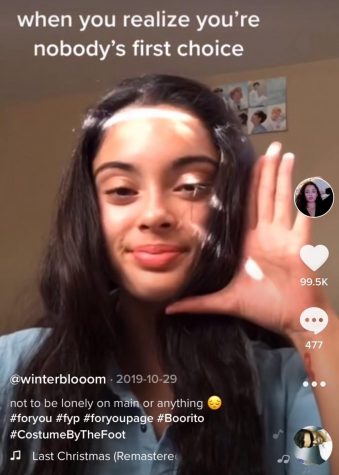 "Especially with us being in quarantine, we're bored and we need social interaction, stuff that's refreshing," Bloom said. "You can't always look at Instagram all the time. Instagram is just still photos and sometimes you get videos in there, but TikTok is more current."
Junior Sophia Chen has been an avid user of TikTok since October of 2019 and has been posting videos for her friends to see. Chen explains that the various types of content are what makes TikToks easy to watch for hours.
"I think it caters to all sorts of different interests," Chen said. "People like to refer to the videos they see as skincare TikTok, or politics TikTok, fashion TikTok, European TikTok. There's just so many different kinds of videos that virtually anyone can get addicted to."
One of the most popular types of videos on TikTok are dance videos, where a user will create a dance that others can learn and post a video of themselves performing it. Recently, a trending audio to dance to is "WAP" by Cardi B, with 1.8 million videos on TikTok. Because of the sexual implications of the song and dance, the trend has faced some controversy.
"I think the song itself has a whole bunch of backlash, which I find interesting considering it's from two female artists," Bloom said. "Male artists kind of create the same sort of music, the same sort of sexual message. But when a woman or women do it, it's a little bit risky so I like how TikTok is taking that song and making it popular." 
Along with sharing dances, TikTok is a platform for creators to share their own audio and music with their followers. A majority of TikTok videos include a song or dialogue in the background that people can lip-sync or dance to. Users can click on sounds to view the song title, artist name and how many videos have been created using the sound.  
"My favorite thing about TikTok is definitely the sounds and audios because there's lots of funny sounds," Chen said. "I really like the cool remixes that people make to different songs and stuff because they're very catchy. I even made a Spotify playlist called TikTok just for the songs I found on there."
Additionally, Bloom mentions that TikTok can be an excellent way for small artists to get their music out to a broader audience. By creating a fun dance or trend that virtually anyone can participate in, songs can go viral quickly.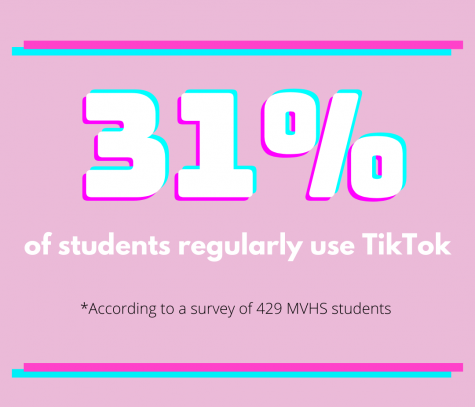 "If your audio does well on TikTok, it's really, really beneficial for the artists," Bloom said. "Like Conan Gray with [his song] 'Heather' — he got really popular with that [song]. I've been following him for a decent amount of time and seeing his hard work pay off is really nice. Overall, watching artists that I have seen on the app or beyond the app, gaining popularity through TikTok has really been interesting, because they deserve it."
Another popular type of content on the app is humorous videos. Users can add text and filters to their videos to make different jokes and deliver their punchline. For sophomore Krupa Shanware, the humor on TikTok is her favorite aspect.
"Right now during quarantine, I guess my life's pretty boring," Shanware said. "I think that really applies for everyone else too. They're seeing things on the app that they find super funny and that kind of draws [them] in." 
With the current COVID-19 pandemic and Black Lives Matter protests, users have begun discussing politics and speaking out about pressing topics on the app as well. The hashtag #BLM has accumulated over 15.1 billion views on TikTok.
"The popularity of politics being discussed on TikTok has overall de-stigmatized the entire conversation of politics," Bloomsaid. "Having a sort of outlet to talk about or try to discuss what you feel, outside of your immediate circle is pretty interesting. You get multiple opinions and you get to talk about the stuff you wouldn't normally talk about."
TikToks about current events and politics have surfaced on a variety of media platforms  — some of them have even been aired on news stations such as Fox News, NBC and CNN. With millions of videos about social injustice, TikTok has become one of the biggest platforms for social media activism.
Bloom feels that spreading information about current events, petitions and protests can be beneficial for young adults who are reaching or are of voting age. However, Shanware also acknowledges that she doesn't always find all of the content personally relevant. 
"You've seen all the BLM trends on TikTok, but then there's also people on the opposite side," Shanware said. "On every one of the BLM videos, there'll always be people saying Trump 2020, Blue Lives Matter, things like that." 
With DataReportal recording over 800 million active users, Bloom says TikTok will continue to grow in popularity, especially as election season approaches. 
"The overall reach and the diversity of the people that you can interact with or the people that can interact with you is really interesting," Bloom said. "It also allows for a sort of escapism in a way. Whether it be positive or negative, it's just always a different experience every time you open up the app."