Design It: How graphic design and traditional art mediums help with stress relief
Design It officers use various mediums of art to express themselves
Senior and Design It president Grace Ryu joined the club in her freshman year after a morning announcement about the graphic design club piqued her interest. Graphic design, however, was hardly her first encounter with art or creative expression; art has been a part of Ryu's life for as long as she can remember.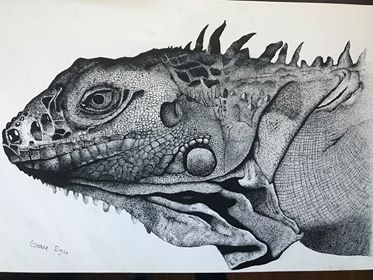 When Ryu lived in South Korea, art class was an excuse to spend time with her friends. She enjoyed painting and drawing but looked at art as a casual hobby. Junior and treasurer Sarah Tan felt the same way about her weekly art classes where she started to experiment with oil painting in elementary school.
"I feel like [art] was definitely a really great creative outlet for me," Tan said. "It was a really nice thing to know [that] every week, I'm going to go and work on my painting. Also, it's really cool to see your work afterwards, and the great thing about having those physical paintings is you get to keep them in your home, and it is something you get to keep forever."
After moving to the U.S. from South Korea in seventh grade, Ryu started to immerse herself in her artwork. She began working with mediums (materials) such as oil paints, acrylics, sketching and learning about various forms of art, which eventually became an immensely important part of her life.
"I've just been learning [art] consistently from middle school all the way until now," Ryu said. "I want to pursue a career that's a little bit art related as well in the future. Not just art, but maybe business and art."
Senior and vice president Daniel Duan, had a different outlook on his childhood art classes. Initially enrolled by his mother alongside his older sister, Duan hated the crowded feeling of the studio and how his hands got dirty after working with paints and sketches.
In his freshman year, Duan's sister began experimenting with different graphic design software and Duan picked up some knowledge about graphic design through her. One year later, Duan became the appointed designer for FBLA, and was given many more opportunities to experiment with and curate a love for graphic design.
"[Graphic design] is a really nice medium for expressing creativity," Duan said. "Design is just a great way to take a break from academics because it's an activity you can do [while] you listen to music. It's just a really great way to express something in a unique and creative medium."
Ryu also uses graphic design as a stress reliever and she appreciates how it allows her to create with a different medium. Ryu utilizes Design It as a way to actively pursue graphic design and use software that her art classes do not have access to. 
For Tan, one of the most appealing characteristics of graphic design is the lack of materials required to create a product, as opposed to the multitude of expenses that accompany oil painting. Tan also appreciates how graphic design allows her to promote events for the various clubs and leadership initiatives she is a part of and how it gives her an avenue to focus on an activity outside of school.  
"I think art and graphic design are really stress relieving because they require a lot of attention to detail, and when you're hyper focused on making something the way you want it, you're able to block out a lot of things that are stressing you out," Tan said. "I think it's also just really cool because you have a lot of freedom. I feel like at school, with most things, there's a certain outline [or] requirement you have to meet. With design, you get to decide what you want to do with it."
"
No matter who you are, you can always use [art] as an outlet to express yourself, even if you're not super professional, it's still available to you.
— Grace Ryu
For Ryu, the creative outlet and stress relief that art provides her are the reasons why she continues to pursue both traditional art forms and graphic design. Ryu's favorite thing about being able to express herself through art is that her level of experience with a specific medium or material does not hinder how much she enjoys creating.
"No matter who you are, you can always use [art] as an outlet to express yourself, even if you're not super professional, it's still available to you," Ryu said. With science or math, if I'm not good at it, it's hard to fully immerse myself into it and enjoy it. But even if I'm using a medium I'm not good at I still enjoy it because it's just me putting myself out there."