Cycling fundraiser: Ride4Diabetes
Annual biking event supports diabetes advocacy on Sept. 8
Diabetes has become an epidemic, though preventable — according to Ride4Diabetes Event Founder Kent Vincent, one in seven Californians are diabetes victims, and one in three Californians are pre-diabetic and don't know it.
In order to raise public awareness about diabetes, Vincent helped organize Ride4Diabetes, a biking event that raised funds for the Lions Clubs International's diabetes program. This year, the event was held at Memorial Park in collaboration with the charity organization, Lions Clubs International (LCI). Bikers could choose from three different treks: three miles, 12 miles or 25 miles. Participants of all ages were able to help promote awareness for diabetes, as well as donate to the cause through the $25 registration fee. 
Much of the Ride4Diabetes event's goals stem from the notion that in the 21st Century, people are beginning to live sedentary lifestyles, according to Vincent. By sitting behind office desks and driving children from school and back, people often cruise through their days in a stationary sitting position. This deprivation of exercise could prompt health crises such as diabetes.
"Ride4Diabetes draws attention to the need for exercise — it draws awareness to the problem of diabetes because it's a very silent killer," Vincent said. "If you start to get symptoms of diabetes that means you've already got it."
Although diabetes is a national health issue, according to Vincent, the epidemic is particularly critical in Cupertino, which has a predominantly Asian demographic.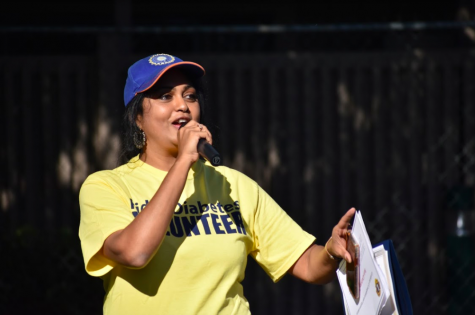 "I'd say even more importantly, locally, is that the Asian and South Asian communities are nearly twice as susceptible as everybody else — we don't understand why that is, but for the community of Cupertino, it really is a health concern," Vincent said. 
Additionally, Event Chair Sudha Kasamsetty believes that despite diabetes being a well known disease, data shows that very little initiative has been taken to solve the issue. Kasamsetty hopes that the event not only serves as an opportunity for community bonding, but also as a chance to raise awareness of pre-screening for diabetes.
"We're hoping that with this program we'll be bringing together the community and [be open in] talking about diabetes," Kasamsetty said. "Hopefully the personal awareness will grow and also the steps that we take will be used towards [curing] diabetes will grow. "
According to the National Institute of Diabetes and Digestive and Kidney Diseases (NIDDK), a pre-screening for diabetes is not only beneficial to the individual, but good for future health systems as well. For the individual, by identifying the issue early, patients are able to make better health decisions before their condition worsens. For the public, pre-screenings could help improve population health with 40% of Americans being at risk for diabetes.
With access to mobile screening units courtesy of the LCI, Vincent can bring these portable units to different diabetes advocacy events around the Bay Area to perform diabetes screens for people approaching the pre-diabetic stage. 
While there was not as much student participation as Kasamsetty had hoped, MVHS Leo Club came out to volunteer by helping with registration and guiding bikers along the paths. Leo Club secretary-treasurer and junior Natalie Zhou was compelled to contribute to the event due to her passion for nonprofits.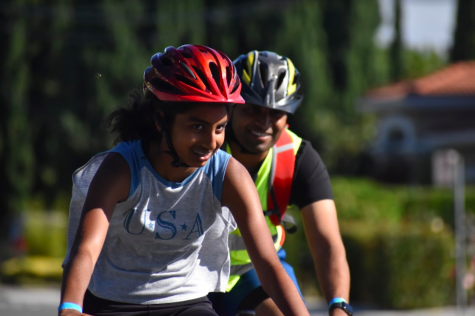 "I thought that Ride4Diabetes was a really interesting event because it was one of our most … popular events," Zhou said. "[It's] also one of our really important events for Leo Club, and I think that this event does a lot of good things because 100% of proceeds go to charity."
Despite the positive reception of Ride4Diabetes, Kasamsetty aims to further improve the event for next year.
"We were targeting [for] 100 riders at the start, but we had 111 people registered which was great, and we were able to raise funds which we will be donating to Diabetes Association," Kasamsetty said. "Next year we're planning to make it bigger. Next year we want high school students to step up and participate in this event."
Vincent also wants to expand the reach of Ride4Diabetes next year. However, he does acknowledge that the event has improved in terms of local engagement, as it was more of a "community event" in comparison to last year. 
According to Vincent, the first event was more regional and the cycling was up in the hills with less residential participation and more advanced cyclist attendance, though they were the "least likely [group] to get diabetes." For the future diabetes advocacy events, Vincent wants to expand the community outreach, believing that advocacy begins with the youth. 
"It's hard to get the word out, of course," Vincent said. "We'd like to be able to spread the word and we really enjoy getting the students at MVHS involved because they have such a good reach into the community — so many students and the parents and all that. We'd like to get the schools more involved."