Football: MVHS falls 32-6 against Mills HS
A promising start to the Matador's first home game ends in an overwhelming defeat
With its home opening game, the MVHS football team took on Mills HS coming off a 8-0 victory against Westmont HS. Throughout the game, MVHS struggled to gain momentum in key parts of the game, leading to its 32-6 loss.
Despite the final score, MVHS started off strong, including an opening drive that put them at the doorstep of scoring their first home touchdown. However, after a failed fourth down conversion, MVHS gave up the ball at the MHS one yard line. 
MVHS players stopped Mills from advancing three straight times before blocking a punt and scoring a touchdown after they recovered the ball in the endzone. Running back and freshman Greyson Mobley saw the momentum shift in this play.
"I think that after the punt block, we started getting hyped and we were doing a lot better than we were before," Mobley said. "The momentum really stopped when we got held at the goal line, those [next two] times. Especially that fumble that I had, we really gave them the momentum, and that's when it started going downhill."
Following the touchdown and a failed two point conversion, as MVHS succeeded offensively in getting close to the endzone, the team was stopped on the goal line multiple times. Head coach Casar Agront views the offense as the football team's one major flaw.
"Defense has been pretty stout from the beginning and I think we're going to be very good on defense," Agront said. "[However], it's a double-edged sword when your defense is always on the field — it's only a matter of time before somebody gets tired and someone [gets beat downfield]. I knew right then and there that we needed a spark on offense because if my defense is scoring and they're outsourcing the offense, that's a problem."
At halftime, MVHS led Mills 6-0, but failed to score the rest of the game due to interceptions and more failed goal line conversions.
After a crucial game-tying touchdown, MVHS failed to catch a kickoff as Mills recovered the ball around the 40 yard line. From there they would march downfield to score another touchdown,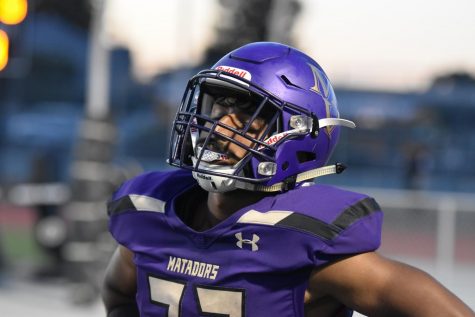 bringing the score to 13-6. Despite the numerous plays Mobley participated in, he takes responsibility for failing to make the catch, which he believes led to a downward spiral.
"[The play] really [took away] my momentum," Mobley said. "I was feeling really good. It felt like we were about to score, but then [I dropped the catch and that] just completely tore that apart, and I feel like it [didn't just] stop my momentum, but it stopped the team and started the momentum for [Mills]."
MVHS failed to convert on remaining drives. After scoring early, MVHS left the next 32 points unanswered. Cornerback, wide receiver, and senior Sean Kim saw the main issue was in execution.
"In the end, we couldn't execute — at half time we tried to get our minds right," Kim said.  "We all talked [it over], and we tried our best to execute [in the next half]."
Coach Agront says the lack of focus and quality of repetitions in practice ultimately played a role in the MVHS loss.
"The number one thing is to be more efficient [at practice]," Argront said. "We like to practice a lot — we like to put up good numbers in terms of reps. I think that we would like to decrease that number and increase the quality of reps rather than the quantity and we're going to see how that's going to work. "
While Mobley felt more effort could've helped them get the win, he is confident in the team's future and what they can bring in the weeks to come.
"I'm looking forward to next week [to put] this game behind us," Mobley said. "We just need to keep carrying on, hopefully getting in a few more wins in and forget about this game. [We need to] keep pushing ahead from here."
Additional reporting by Sreya Kumar.