Returning to the disco
The Welcome Back Dance draws in students and local businesses
To celebrate the first week of the school year, Leadership held its annual Welcome Back Dance on Aug. 23. The dance sported a variety of activities like electronic basketball, air hockey and Smash Ultimate in the Student Union. Most students, though, crowded in the Rally Court to join the live DJ, participate in the Silent Disco or jump in the bounce house.
Senior Rachel Millar, the Interdistrict Council (IDC) Representative, has the responsibility of organizing the Fantasticks rally for the high schools in the district and school exchanges. In the past, IDC representatives took on some of the dances alone, but due to workload, allowed for informal dances like the Welcome Back Dance to fall in the hands of Leadership instead. 
Leadership members decided on the boardwalk theme towards the end of summer, brainstorming and voting on the activities, decorations and food. Then, class teams chose which role they wanted to operate. For smaller tasks like the ticket booth or coat check, pairs of volunteers took shifts. Millar says this way, compared to how IDC hosted dances in the past, it stays more organized.
"We just sit in a giant circle of chairs of 50 kids and we [discuss plans]," Millar said. "We have a lot of meetings and discussions in class. [The debates are] just a lot of talk on what we like about last year, what we've always been doing, what do we want to change, what problems that we have and then delegate kind of who does what." 
Within 30 minutes of arrival, freshman Hayden Ancheta said he had tried almost all the activities, with Skee ball being his favorite. Due to his satisfaction with the many games offered, Ancheta believes he will likely return to more social events outside of dances, as long as they have a Silent Disco DJ. 
"I've tried everything, all the arcade games," Ancheta said. "I was expecting [Silent Disco] to be pretty trash, but it's actually pretty good quality … You just connect to one of the stations, and then you can switch between the [three] radios." 
A new addition to the dance this year was Mommy's Bánh Mí, a local Vietnamese food truck. Owner Curtis Lai was invited to work the dance by a weekly customer, Student Board Representative and senior Dan Sachs. 
"We used to serve at a farmers market at the Rose Garden in Santa Clara," Lai said. "Dan and his family, they come out every Saturday to eat our food… He was really interested in inviting us to come here."
Still relatively new, the Welcome Back Dance is Lai's second school event. Leaving Apple Co. to start his own business with his mother's recipes in January of this year, Lai says he has high hopes for Mommy's Bánh Mí in the future but will continue to sell at flea markets and more school events near San Jose until business picks up. 
"We'll be traveling around shortly, within the next year, because we're staying kind of local right now," Lai said. "It is a very difficult business to attend to because the demand is starting to grow … [When working at] big events, they always charge an arm and a leg sometimes because they know there's going to be millions of people there, which makes it hard."
Ancheta says compared to Kennedy Middle School dances, the Welcome Back Dance exceeded his expectations. He says the Welcome Back Dance shares a quality of hecticness because of its high attendance of all grades and his friends. 
 "Basically the entire school going, so I'm guessing it's gonna get pretty hectic which is really fun," Ancheta said. "I guarantee this is going to be a blast. Hanging out with my friends is never gonna not be fun."
About the Writer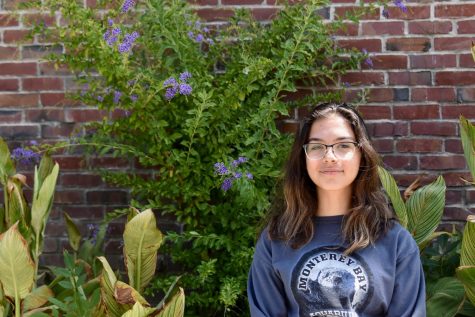 Ayah Ali-Ahmad,
Ayah Ali-Ahmad a junior and Co-Editor-in-Chief. Outside of being an editor for El Estoque, she is the Public Relations Officer for GSA (Gender-Sexuality Alliance club), the Director of Communications for MVHS's largest volunteering club, Octagon, and one of the Social Management Officers for the Color Guard team. In her free time away from her school life, she enjoys listening to music and getting boba with friends.