The six couples strutting down the Senior Ball Fashion Show
The class of 2019 promotes the upcoming senior ball with a fashion show
Girls adorned with glitzy gowns strutted down the makeshift red carpet, arms linked with their partner decked in sleek tuxedos. The Annual Senior Ball Fashion Show was held in the rally court during brunch on Friday, May 4 to help popularize senior ball sales starting the next day. With MVHS's long-lasting partnership with Tuxedo Warehouse, a tuxedo and suit rental store, students in the show were granted a 100% discount to rent tuxedos and alter dresses. There were a total of six couples who walked the show, with each male wearing a suit from Tuxedo Warehouse.
Take a look down below to see their runaway struts: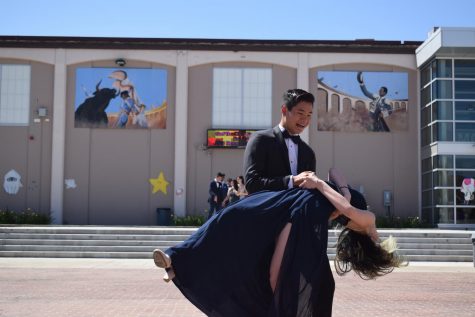 Senior Prateek Kaushik and Victoria Tung make a heart with their
hands at the end of their walk. Their action was met with an instant
'awww' from the crowd.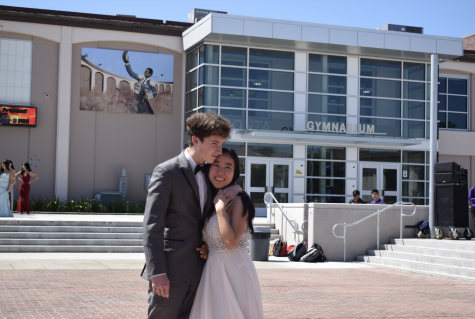 Senior Pramodh Srihari runs behind Jessica Ji in order to catch
up with her at the end of the runaway. Ji twirled Srihari and
ended with a quirky pose.
All photos and videos by Jai Uparkar