Boys volleyball: MVHS defeats Cupertino HS 3-0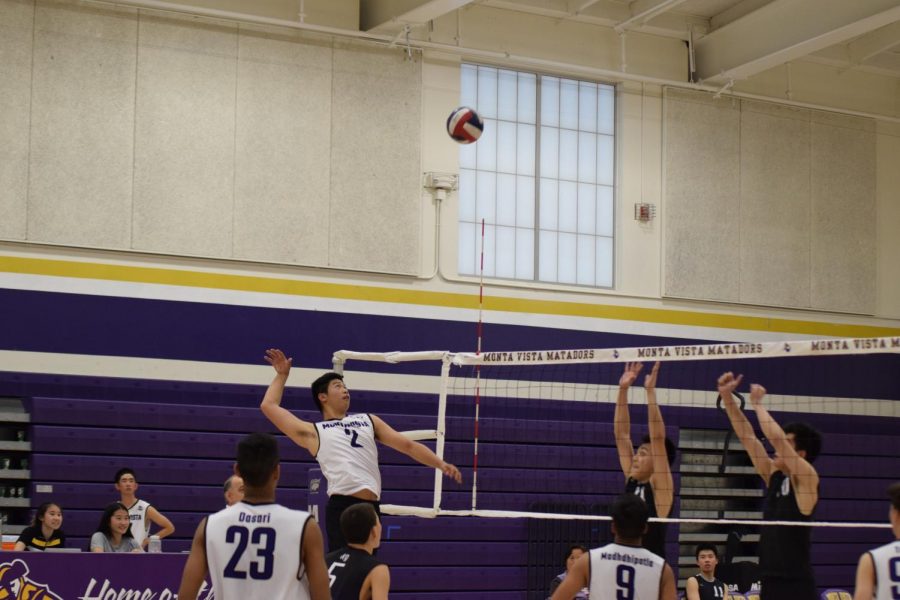 It was Friday before break as the MVHS boys volleyball team faced off against CHS. Parents and fellow students lined the bleachers as the confident Matadors team prepared to face their division rival, the CHS Pioneers.
Although MVHS was facing a team with a sub .500 record in their league, it was a very unusual game for the defending Norcal champions, as they did not look like themselves at the start of first set.
"I think to start off we did pretty bad," senior Ryan Tagawa said. "We gave them a 5-0 lead and we were just making a ton of mistakes, especially at the service line. And we didn't really pick it up until the second set. Overall, [it] was not the greatest."
After a rocky start to the first set, MVHS pulled ahead with several key blocks and spikes from senior Gautham Dasari and junior Kevin Matthew, gaining a 15-7 lead. Towards the end of the set, CHS almost pulled off a comeback, but MVHS was still able to narrowly win 26-24.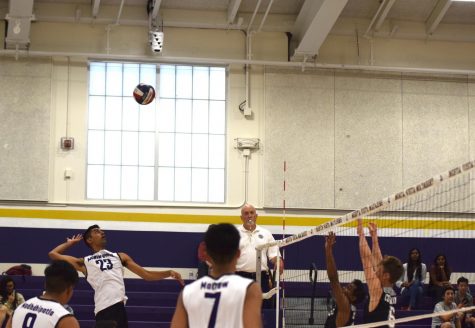 Unlike the first, MVHS came out strong in the second set, closing it out with a 16 point lead after several strong offensive plays from various players on the team. According to junior Charlie Yi, MVHS is extremely skilled on the offensive side, but sometimes lacks consistency in performance.
"As for the team, I think we did some good stuff in the first and second set," Yi said. "I think the energy could have been higher in the second and third sets. Just have our team be fully into the game, all three sets. That's what I want to see."
As the game went on, Cupertino's small squad of seven grew fatigued. After MVHS won two sets, the coach was able to put several bench players into the game. The third set also started off slow for MVHS, as each team remained within a couple points of each other. However, MVHS once again recovered towards the end of the set, winning 25-14.
Tagawa attributes the slightly bumpy game to the lack of focus from the team that day, especially because it was the day before break and many teammates went on the school physics trip to Great America earlier that day.
"The practice before, we were really unfocused," Tagawa said. "I think just taking [our practices] a little more serious [could benefit us]. We knew that they weren't going to have some of their better players, so we were kinda just joking around. We should probably not take anything for granted and play our game."
Matthew Yang explains that even though the team did not play their best, at the end of the day, the win was all that matters.
"Like one game last year, we were not in the right mentality and then we ended up losing a game that we should have won," Yang admitted. "So we knew we had to take care of business and I think we did it."
Moving forward, the team is focusing on its matchup against Harker HS on May 1st, which they anticipate to be one of the hardest games of the season. Yi explains the team's goals for the rest of postseason.
"Obviously [we are] looking to win CCS. I don't think our school [has]won CCS yet. We've taken second, third, fourth, we've never won CCS though. We're just looking to perform well at CCS this year, and then hopefully go to NorCal's, and then back to back wins at NorCal's."
About the Writer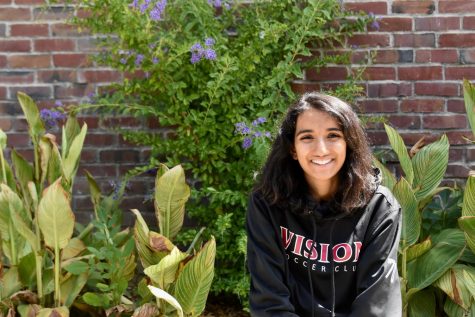 Stuti Upadhyay, Managing Editor
Stuti Upadhyay is currently a senior and a Managing editor for El Estoque. Stuti enjoys playing soccer, hanging out with her friends and family, reading books, watching movies, and doing anything outdoors.