Engaging in intergenerational conversation: CSF volunteers at retirement home
CSF volunteers learn from another generation as they participate in an arts and crafts social
J
unior Ellie Chen draws a small rectangle on a piece of paper, labeling it "green." She continues to draw bigger rectangles, labeling each with a different color, and hands it to the senior citizen sitting across from her. Picking up a watercolor pencil, the senior citizen begins to color.
On March 9, Chen sat at one of the six square tables scattered across a common area at Merrill Gardens Senior Living, and was one of six California Scholarship Federation (CSF) volunteers participating in the arts and crafts social. Chen, who is also CSF's Director of Activities, shares that this is one of the first retirement home events CSF has volunteered with.
"Usually, we volunteer at a lot of school events, like helping out with Lincoln, Regnart or Kennedy," Chen said. "I felt like this was kind of different and could expose our members to a different type of volunteering that our club doesn't usually offer."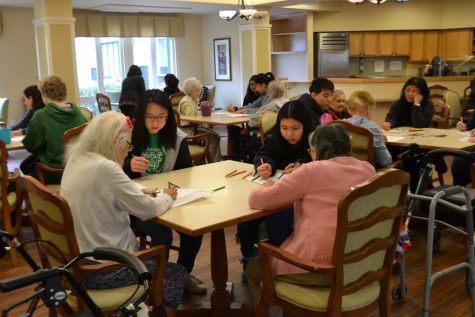 According to Merrill Gardens' activities director Jaquelyn Calmerin, while the goal of the arts and crafts social is to allow the senior citizens recreational time to socialize with others, it can also have a big impact on the students.
"Right now I'm seeing that [the volunteers] are collaborating and enjoying their time getting to know our residents, especially those who are ahead by generations," Calmerin said. "I think it's a good learning experience for them, [to see] how they would interact with our residents here who were born in the 1920s and 1930s."
Although Chen was unsure of what to expect at first, she ended up enjoying spending time with senior citizens. In particular, she emphasizes her belief that getting to know people of a different generation was a valuable experience for her and the other volunteers.
"Usually when MVHS students interact, they interact with people their own age or maybe their parents," Chen said. "But they generally don't interact with, for example, their grandparents as much. So to learn from other people who are a lot older or a lot younger can highlight some experiences that they probably wouldn't have known about."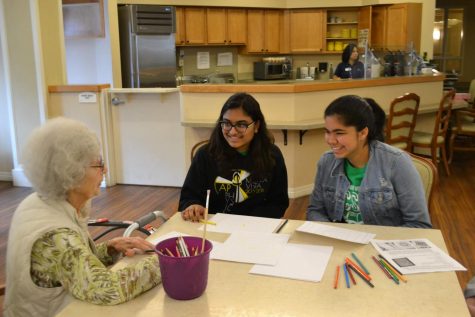 Senior Joshua Onozawa shares a similar sentiment, describing the event as nostalgic. Through working with senior citizens, Onozawa was reminded of conversing with his own grandparents. Calmerin also emphasizes the value of socializing with people of different generations.
"I think it's important because they would gain a lot of knowledge from the past generations, and I think it's also a good way for our residents to see the younger generation, and probably realize that there's not much change," Calmerin said. "They're still respectful of their elders, and they still can have a good time around the elders."
Throughout the event, volunteers spent time talking to the senior citizens at their table and getting a glimpse into the vivid lives they've lived. Onozawa mentions how he met a woman named Barbara, who shared her experience traveling from Pennsylvania to New York.
"It was interesting talking to new people and knowing what they've experienced in life," Onozawa said. "It broadens your view. It's also like building new connections. It's something you can't do in other clubs."