Legislative Council aims to foster communication with students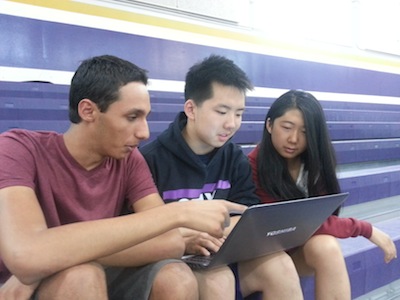 Student representatives from each fifth period class will meet with Leadership monthly to discuss changes and new additions to school activities.
Since MVHS opened its doors in 1969, the Leadership class has been in charge of proposing modifications and additions to various school activities. However, this year Leadership students have decided to open the process to more students by introducing the Legislative Council.
The new council will consist of one representative from each fifth period class, in addition to the Leadership class itself. Due to the large number of representatives who will attend the Legislative Council, meetings will be held in the Auditorium on Thursday during tutorial, once every month.
At the monthly meetings, student representatives will discuss the costs of future purchases, investments, clubs and class elections, as well as learn more about the behind-the-scenes work in which Leadership engages. Currently, there will be three main components of the meetings: an informational session in which representatives learn about new propositions discussed by Leadership, a brainstorming session to discuss new ideas and changes, and an opinion session in which student representatives may choose to provide input on pending decisions. The representatives will then report on the week's discussion to their fifth period classes.
"Our advisor, Mr. White, also set this up in Lynbrook High School," said senior Leon Chen, ASB Vice President. "We're kind of emulating it but making it better in the sense that we are going to make it very involved in our school decisions, from everything ranging from passing clubs to passing Leadership Council minutes, and possibly review[ing] budgets."
The council was created partially in response to the Leadership class's constitution, which states that some legislative body must be functional on campus.
Realizing that a student council was nonexistent in previous years, Leadership students decided to reinstate the body this year. Both Chen and senior ASB President Marisa Yang believe that the council will spread awareness about school activities and pending changes.
"If more people are involved, we're going to have a more up-to-date campus, because [students will] be telling their friends," Yang said. "And if we have more people telling their friends, everyone will know what's going on and be more involved with events."
Leadership advisor Jenna Smith hopes that the Legislative Council will make students feel more welcome at school, allowing students to have an active say in school decisions. Smith says that the council will also support Leadership's goal of building connections throughout the school.
"We wanted to make sure to reach out to all students and give them the chance to give their input, and make them feel included," Smith said. "Hopefully [they will] be able to speak for the whole school in order to make everybody not just feel like they have a voice, but also feel like they have some sort of influence and connect to the school as a whole."
Although the Legislative Council is intended to promote interaction and better communication between Leadership and the student body, students like junior Vishal Nagar worry that the results may differ from what is expected of the council. Nagar, who is the alternate student representative for her fifth period class, believes that while the council is a good opportunity for students interested in pursuing politics and leadership, some students may not be willing to put in the time needed to participate in the council. Still, she looks forward to the experience and hopes to learn more about the Leadership process.
"It's kind of interesting to see what it would be like to pass the budget for [the] school [and talk] with ASB," Nagar said, "So it's kind of interesting to see how Monta Vista works, how we deal with our money and how we deal with clubs and other stuff."
The Leadership class is in the process of finalizing the council's plans, and in-class elections will take place over the next two weeks. The student representatives from each class will have their first council meeting on Sept. 12.
"It's going to be a great opportunity for all students to have a chance to speak their mind and be connected at this school," Smith said. "It's necessary, and it will be a very positive thing for everybody."