The sophomores took control of the game through its defense, fending off a late rally by the juniors in their 2-1 victory. Video by Dickson Tsai. Music: "
ccMixter.org
" by Nitropox@ccMixter, licensed under
CC-BY-NC
.
The first ever Powderpuff team handball victory went to the sophomores who beat the juniors in a score of 2-1. Defense and ball handling was an essential element to the sophomore victory as they scored the winning goal with 2:56 yet."Our defense was good," Powderpuff player sophomore Tiffany Tsai said. "They didn't really get a lot of shots off of us."
In the first half, both teams had trouble creating any sustained offense. For the first seven minutes of the game, neither team was able to score. The sophomores' offense had a stronger start as they got more shots on goal than the juniors, but most of the shots went wide. They finally got the first goal when Tsai scored with 4:37 left in the half .
After the goal, the juniors offense was sparked as they began to drive harder on the offensive side. With 47 seconds left in the first half junior Chelsea Soldan shot the ball in the goal, but the ball entered the back of the net only after it flew out of bounds. After the first half, the sophomores were leading 1-0.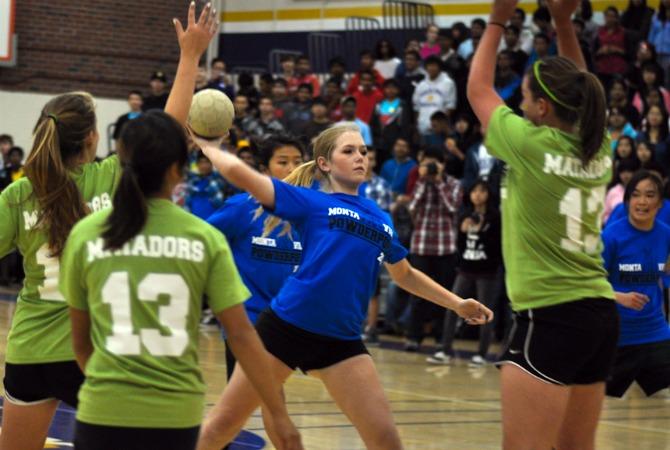 Forty seconds into the second half, Soldan scored a bounce shot to quickly tie up the game. The juniors' offense was much stronger in the second half than in the first half as they were able to create more chances, but the sophomore defense stayed strong as they continually did not let the juniors shoot.
Further into the half the juniors started to do long passes across the court that were either missed or intercepted most of the time. The sophomore offense, on the other hand, was able to effectively find gaps in the juniors' defense and get quality shots on goals.
With 2:56 left in the game, sophomore Stephanie Jennings scored the second goal for the sophomores to take back the lead. Time was running out for the juniors and they were never able to come back. The sophomores will be playing the winner of the freshman vs. senior game on Wednesday, Oct. 12.
Check El Estoque tomorrow for updates on the freshman vs. senior game.