Powderpuff: Seniors dominate for 4-0 win over freshmen
2012 scored three goals in the second half while the defense shut out 2015 in a commanding 4-0 win. Video by Dickson Tsai. Music: "I Wonder If God Was Sleeping (Transcendence Edit)" by scottaltham, licensed under CC BY NC
After the class of 2014 upset the 2013 juniors with a win the previous day, the seniors won in the 2012 vs. 2015 Powderpuff handball matchup on Oct. 7, finishing the game with a score of 4-0. Strong defense by the team and stellar goalkeeping by senior Vivian Mueller prevented the freshmen from scoring, allowing the seniors to advance to the final Powderpuff game.
Both the freshmen and the seniors displayed strong defense in the first half of the game. The first goal was not scored until there was only 2:15 left in the period, when senior Niloo Kamkar threw the ball into the net to put the seniors up 1-0. It took the players a while to become accustomed to the new game of handball, but as the game went on, the teams, especially the senior team, made better passes and controlled the ball more consistently.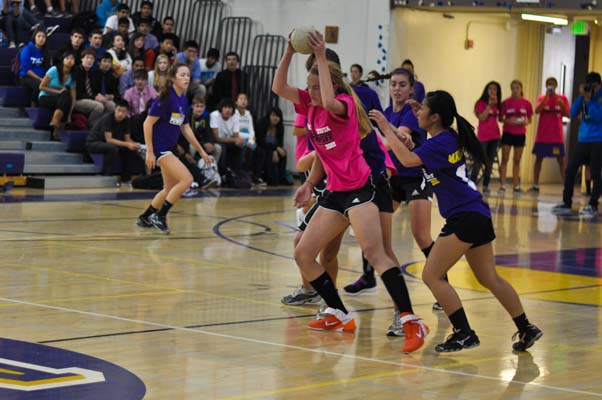 After the boys cheerleading routine during halftime, the freshmen returned to the court with a more aggressive playing style. Freshman Christina Jennings and other members of the freshman team had several good shots at the net, but Mueller blocked all that came her way. Four minutes into the second half, senior Claire Nastari's shot went over the head of freshman goalie Natasha Joma and into the net for the second goal of the game.
The substantial two-goal lead fueled the senior offense as they began to find holes in the freshmen defense. Senior Hitomi Sugimoto dribbled towards the net and scored with a direct shot, and senior Savannah Day followed with another goal for 2012 after she bounced the ball into the net.
The freshmen struggled to get onto the board throughout the rest of the game. They were often able to get close to the net with quick passing sequences, but all their shots were blocked by Mueller. The seniors won by a final score of 4-0.
"[Sugimoto's] basketball skills really helped with the dribbling," Nastari said. "Next game, we've got to keep control and keep the ball more in our possession."
The final Powderpuff game between 2012 and 2014 will be held at lunch on Oct. 12 in the gym.