Track and field renovations to begin in late September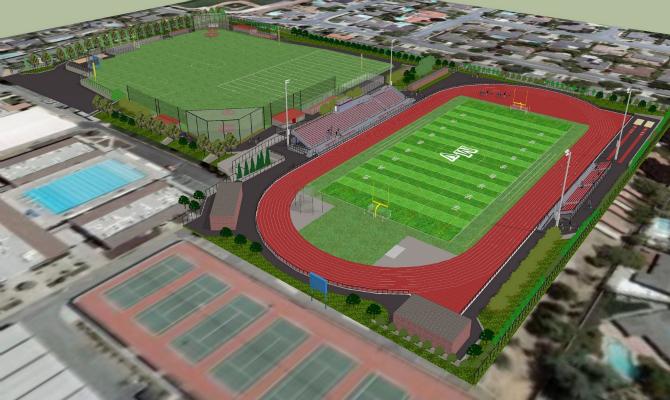 The track and fields on campus will be reconstructed during late September. After the Department of State Architects (DSA) approved the project, administration was notified on Sept. 1, and construction will begin as soon as possible. The track and field will be unusable for approximately the next 12 months, so sports games and practices will be moved to different schools. The traditional Homecoming Powderpuff football game has been cancelled, and the class of 2012 will not graduate at MVHS, but possibly at Foothill College.
The news was announced to Leadership on Sept. 6 and via School Loop mail from Principal April Scott to parents and staff.
About a year ago, the plans for MVHS reconstruction were finalized and sent back and forth between the DSA and architects in an approval process that generally takes several months.
"What this is is the final little piece before we send [the plans] out for the contractors," said Principal April Scott. "You can't do anything without DSA final approval, so really this is the big 'Hurrah!'"
As a part of renovations, the upper and lower fields will be levelled and given grand entrances, an artificial turf, and an all-weather track. In addition, new fencing, dugouts, storage, a concession stand, bathrooms, bleachers for football and baseball, and stadium lights will be installed.
While FUHSD is currently dealing with a lawsuit filed by Lynbrook-Monta Vista United about the installation of the lights alleging a failure to comply with the California Environmental Quality Act, FUHSD Associate Superintendent Glenn Evans believes that there is nothing in the lawsuit that prevents the start of construction of the lights specifically.
Scott mentioned that the school would work with contractors to ensure that there is a safe passage for students who enter campus near Fort Baker and Hyannisport Drive to get to school.
But perhaps the biggest issue for students is the class of 2012 graduation in June. Administration had already anticipated that the graduation ceremony could not take place on MVHS campus this year, and say that it will most likely be moved to Foothill College. The stadium is large enough for all the graduates and their families, and provides plenty of parking, whereas using another local high school would result in not only clashing decoration colors and plans, but a different emotional feel as well.
"Foothill seems more benign, if you will. It doesn't have as many local ties," Scott said.
For the class of 2012, the news has sparked much discussion. Class officers almost immediately met with Dean of Students Mike White to discuss their options.
"Of course we were a little mad about it," senior class vice president Craig Boman said. "We'd always heard our sophomore year that it'd happen before we graduated and we'd even get to play games at home. But [the away graduation] was going to happen to somebody…[and] we're a strong class. We can deal with it. Your senior year, nothing ever happens the way you expect it."
Administration and FUHSD are searching for a location that can hold both LHS and MVHS graduation on the same day but at different times because LHS track and field construction begins just a few weeks after the development on this campus.
PE classes will also feel the impact of construction sooner than the seniors will. Administration has been working with the PE classes for over a year, knowing that this obstacle was impending. While the classes will lose the blacktop, track and field, they will still have the pool, the tennis courts, the gym, and the field house. Scott suggested even setting up nets in the rally courts.
"We're just going to think real creatively," Scott said.
The construction will also greatly affect football and field hockey teams, as well as Homecoming. Postponing construction until November 2011 was considered to bypass these concerns, but that would mean the beginning of construction would coincide with the rainy season.
Administration was expecting the final DSA approval to arrive around October, but the goal is to get started as soon as possible to take advantage of the good weather while it lasts.
"In the rain, things come to a complete standstill, and the longer plans sit still, the longer it's going to take to complete at the other end….so we're going to ramp it up and go," said Scott.
As a result, according to Scott, field hockey will be probably be moved to Fremont High School, whose field has been already renovated. The details on football are still being decided.
According to the district website, before renovations began in the district, FUHSD high schools were the only schools in Santa Clara County whose tracks and fields had not been renovated since their original construction 40 to 60 years ago. Plans to renovate the tracks and fields for all five FUHSD schools first began in 2008, after voters passed a ballot measure that sold $198 million dollars worth of bonds. The money is being spent to introduce new technology, implement solar electricity, and improve school facilities including tracks and fields, classrooms and science labs. Evans estimates the total construction cost for MVHS specifically at about $13 million.
Scott, who attended a football game at Fremont High School last Saturday, on Sept. 3, was excited to see what the completed renovations looked like there.
"So we [receive] the announcement and then we see these beautiful fields [at FHS]," Scott said.
"And it's like 'Oh my gosh. This is what we're going to get. This is what's coming to us.'"
Correction: The announcement was made to Leadership. Sept. 9