Lawsuit threatens future of field lights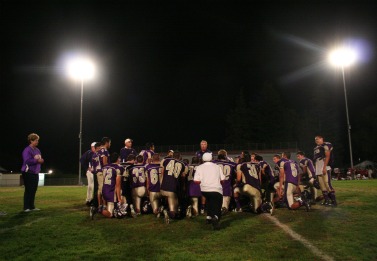 Kevin Tsukii
January 22, 2011
Lynbrook Monta Vista United files lawsuit against the FUHSD for allegedly failing to comply to with CEQA regulations




On Jan. 18, Lynbrook Monta Vista United, a group of concerned neighbors living in the proximity of both Lynbrook and MVHS, filed a lawsuit against the FUHSD concerning the proposed installment of the stadium lights at the two schools.
Although FUHSD Associate Superintendent Glenn Evans has yet to see the filed lawsuit, he believes that the lawsuit is based on the District's supposed failure to comply with the California Environmental Quality Act in its approval of LHS' lights.
The FUHSD hired David J. Powers and Associates, which specializes in CEQA cases, to author the district's Environmental Impact Report. The district also hired an attorney to ensure that all aspects of the CEQA guidelines were fulfilled.
However, in a response to the district's Draft Environmental Impact Report, residents Edward and Suzanne Ford of LMU suggest that the district failed to prepare its report in accordance with CEQA guidelines. Jan. 19th was the last day for lawsuits to be filed against the project.
"Your plans diminish our Spirit and Pride" the letter read. "It is not 'All about the Kids.' It is about the future of the entire Communities served by the FUHSD and all school districts…These are major construction projects with no schedules that our communities can find for how long the dust, noise, and traffic delays, will occur."
If evidence shows that the district did not fully fulfill the guidelines of the CEQA and the district loses the case, then the judge may rule that further investigation and re-evaluation of the project is necessary. According to Principal April Scott, cases of this nature, those based on CEQA standards and regulations, usually last six to nine months. Because the lawsuit is still in its early stages, the future of the lights, duration of the case, and amount of money that the district has appropriated for an attorney is uncertain.
"The court will not decide if the district can build, but only if the required steps were taken or not" Evans said. "The district is not aware of anything that does not meet the regulations [of the CEQA]".
Edward Ford of the LMU declined to comment. MVHS administration could not be reached in time for the publication of this article, but School Loop messages were sent to MVHS parents regarding the lawsuit and likely project delay.
"With a lawsuit you just have to wait while the legal process unfolds" wrote Principal April Scott to MVHS parents.
Check back at elestoque.org for more updates on the unfolding case or read our past coverage of the field lights (click on the headline).
Bright light fright—Mar. 3, 2010 Online: Opinion
DEIR: Decision Evaluation Is Required—Aug 27, 2010 Online: Opinion
Environmental report discusses impact of athletic renovation—Aug. 20, 2010: Online News
Students show support of sports lights—Nov. 22, 2010 Online: News
Shortage of fields, lights back in question—Oct. 20, 2010 Print: News
FUHSD students attend Board meeting in support of lights—Oct. 24, 2010 Online: News
Friday night lights—Oct. 29, 2010 Online: Opinion
Track and field with lights passed—Dec. 20, 2010 Online: News
{cc-by-nc-nd}