Making history on Feb. 29, 1940, Black actress Hattie McDaniel became the first person of color to win an Oscar for her performance as Ruth in "Gone with the Wind." Though her accomplishment deserves praise, the purpose of her character does not — Ruth was subjected to racial stereotypes that depict Black women as devoted and submissive servants with the primary job of cooking and cleaning for white families. This raises the question: by embodying the "Mammy archetype," did McDaniel's role inadvertently restrict minorities to roles that are essentially caricatures of their identities? "Gone with the Wind" is almost a century old, yet we still see the same pattern in today's media.
In recent years, the inclusion of minorities, such as people of color and members of the LGBTQ+ community, in the media has increased. UCLA's "2022 Hollywood Diversity Report" found that the overall cast diversity in cable scripted shows has quadrupled since 2011. However, this increasing diversity does not necessarily mean improvement, as the narratives assigned to marginalized characters frequently include cliché experiences and cultural stereotypes. 
Netflix original "Never Have I Ever" produced by Mindy Kaling, follows Indian American high school student Devi Vishakumar (Maitreyi Ramakrishnan) as she grapples with the complexities of her adolescent years. While the show is humorous and has charmed audiences, it perpetuates cultural biases ranging from tiger parenting — a high-pressure parenting style emphasizing academic excellence and strict discipline — to gossiping aunties.
Like other Kaling-created Indian characters, Devi does not relate to her way of life. The show openly invalidates South Asian culture just to build up the storyline, which results in Devi learning to love her culture, as seen in the most recent season finale where she performs a cultural dance at an Indian wedding. Overlooking the show's overt criticism of South Asian culture under the guise of character development, the show isn't even supposed to be solely about Devi's culture, but rather her teenage experiences. Instead of using its diverse cast to explore each character through individual, non-stereotypical storylines the producers narrowly define characters in relation to a marginalized community, shifting the focus from a typical teenage story to yet another cultural conflict.
This is also seen through the generalization of LGBTQ+ characters like Fabiola (Lee Rodriguez) and Jonah (Dino Petrera) from "Never Have I Ever," who are given story arcs that revolve around their sexuality and coming out. While this narrative of the struggle queer people go through is important, it should not be the only aspect that defines the LGBTQ+ community. The continual focus on this topic in the show fails to provide a holistic portrayal of queer characters. By boxing minority characters into narrow definitions based on their sexuality or the color of their skin, we risk reducing their representation to mere tokenism rather than genuine inclusivity.
This lack of true diversity is not just shown in "Never Have I Ever," but also in media like the early 2000s rom-com "Saving Face." The film follows the story of an American-Chinese girl, Wil (Michelle Krusiec), as she struggles to come out to her family due to the generalization of Chinese culture being intolerant to non-conformity, leading to her being shunned. Similarly, this stereotyping can be observed in fan-favorite "Shang-Chi and the Legend of the Ten Rings," where the Chinese main character must harness the power of the dragon in order to defeat the antagonist.
In an ideal representation, minority characters would be portrayed as whole, complex individuals whose racial or ethnic background, as well as their queer identities, are just parts of who they are rather than the sum total. For example, in "Never Have I Ever," Fabiola had the tokenized coming-out experience in the first two seasons. However, as the show's plot progressed, she faced more diverse challenges including issues with her robotics team, relationships and college application stress. This change in her character arc could be attributed to many inadvertent factors — namely her queer identity becoming an exhausted theme — however, her growth rendered her a dynamic and complex character.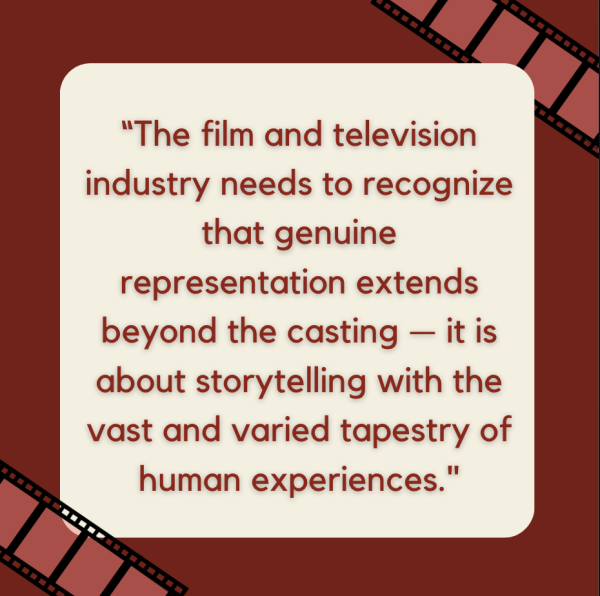 While we've seen a rise in the number of diverse characters on screen, the true essence of representation lies in capturing the depth and richness of each individual's experiences, beyond the surface of race, ethnicity or sexuality. This doesn't mean that struggles related to the culture of minorities should not be depicted — rather, they should not take precedence over all the other universal experiences or traits that make a person unique. The film and television industry needs to recognize that genuine representation extends beyond the casting — it is about storytelling with the vast and varied tapestry of human experiences. As the audience we must commemorate the strides made since McDaniel's monumental win, but continue to demand more nuanced stories that truly reflect the world we live in.