Departing from over 90 years of paper testing, the College Board announced the PSAT will go digital in fall 2023, with the SAT following suit in 2024. Test-takers will be allowed to use their own laptops or tablets, but they will have to take the test at a monitored testing location. Additionally, a new scoring system will take the difficulty of questions into account through an adaptive testing model, while the original point scale of each test will remain the same. 
The implementation of adaptive testing will shorten the overall length of the test by giving students questions tailored to their skill level as they move from module to module. However, junior Mishty Bansal, who will take the fall 2023 PSAT, is apprehensive about issues that may arise due to the new testing format.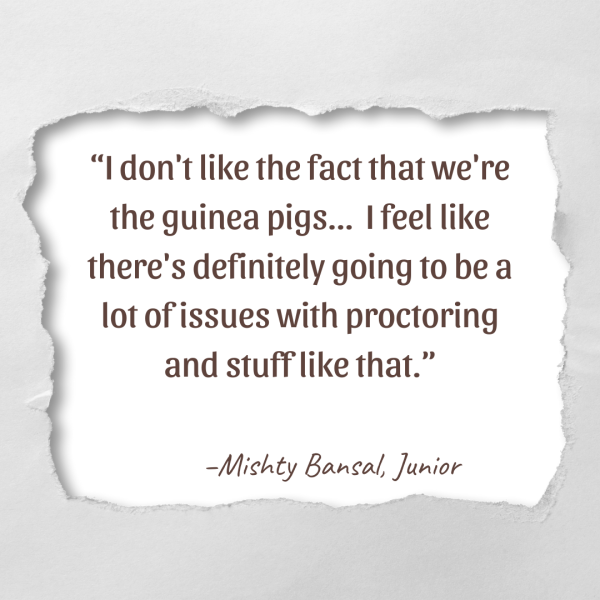 "I don't like the fact that we're the guinea pigs," Bansal said. "[This is] the first year that they're really testing this. I feel like there's definitely going to be a lot of issues with proctoring and stuff like that."
The College Board claims the digital tests will be secure by administering unique test forms and saving student work in the event of device or connectivity issues. Dedicated customer service and on-site technology monitors staff will also be available to assist students in help rooms. 
Despite this, sophomore Abhi Kotari, who hopes to take the paper SAT this fall, notes that his past digital testing experiences with the California Assessment of Student Performance and Progress test have involved students encountering technical difficulties such as WiFi issues and server crashes, leading to testing delays. Similarly, Bansal worries about the ways digital testing issues could affect their testing experience.
"If it crashed, I would really stress out [at] that moment, and it would just make the entire experience a lot worse," Bansal said. "You really have to be focused, so if I ran into tech issues, I definitely think that's going to impact my score."
Expanding on Bansal's concerns, superintendent Graham Clark says that the district is still working to find solutions to the technology hurdles posed by digital testing. Clark hopes to limit the number of out-of-district test-takers to reduce the logistical burdens that would only be exacerbated by the move toward online testing, creating a better testing experience for MVHS students. 
"We provide [the SAT] as a service to students and to the community," Clark said. "What we have noticed is there's a lot of people from other districts coming to take the test, and we're actually just providing it. There's no way for us to restrict students from [other districts]. I think we could do a really good job just providing [testing] to the future students, but we need other districts to open test sites and provide it to their students."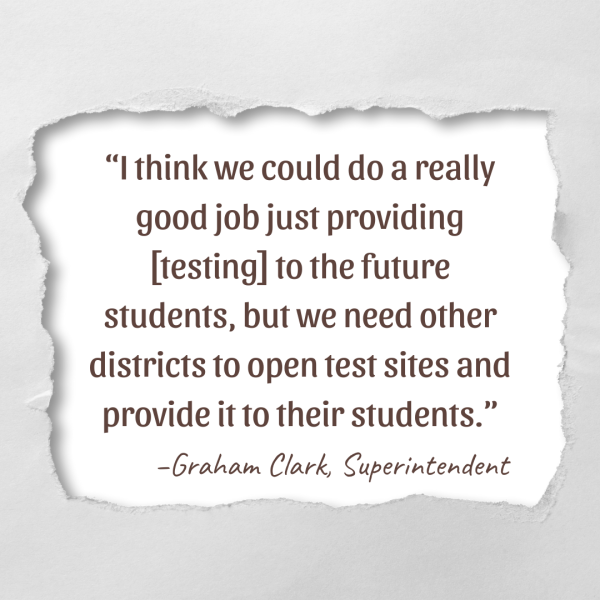 On top of digital uneasiness, the shift toward an adaptive testing model has also generated questions about the efficacy of the test. While researchers behind adaptive testing say that it is just as, if not more consistent than its non-adaptive counterparts, Kotari believes the adaptive testing model will hurt student performance, reducing difficulty to a linear spectrum and fostering stress.
The unpredictable nature of adaptive testing has also increased anxieties about preparing for the test, since the questions will vary from person to person. While the College Board has released new adaptive and non-adaptive practice tests for the digital SAT, Bansal worries that the digital test will turn out to be significantly different from practice materials.
"It's gonna be hard to perform at the same level, especially since it's way more unpredictable," Bansal said. "If it's adaptive, the practice material is going to be completely different, and I feel like prepping for it is just going to be a lot harder."
Freshman Aeshna Chatterji, whose first SAT experience will be digital, acknowledges that a digital test may have advantages, but believes that the use of adaptive testing conflicts with the SAT's intended purpose as a standardized test.
"I think [fixed] testing is more effective to rank students, and adaptive testing is more effective for students to know what to work on for their own personal growth," Chatterji said. "But for the SAT, I definitely say [fixed is preferable] because then it's easier for you to get a sense of where you are compared to others."
Ultimately, Cupertino High School principal Kami Tomberlain explains that the district doesn't have any concrete plans to facilitate the new tests. However, as the College Board's flagship assessments prepare to enter a new digital realm, Tomberlain emphasizes that the district will continue to work toward creating an equitable testing experience.
"Quite frankly, I think we're all scrambling to figure out how to test that many people at the same time," Tomberlain said. "We've got the right folks working on it, but we don't have all the solutions yet."