Playing traditional music
Students share about playing cultural instruments
Madelyn Wu (pipa)
When junior Madelyn Wu first joined an orchestra, she wanted to play the guzheng, a Chinese instrument with strings strung between two bridges. However, Wu's orchestra didn't have a guzheng teacher at the time, so she settled on the pipa, a four-string plucked lute which she has played ever since.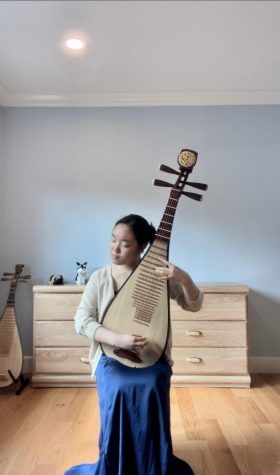 While the pipa is commonly played during Lunar New Year, Wu says that there are also pipa songs that can be played for any occasion. Because of that, Wu plays her pipa to "relieve stress [and] temporarily not think about academics, as well as [simply] relax and enjoy music." One of the songs that Wu enjoys playing is "A Small Cat Went Fishing," as it "puts [her] in a positive mindset and brings back happy memories" thanks to the song's cheerful melody. 
Another positive aspect of the pipa, Wu shares, is the people she has met through playing the instrument.   
"I made a lot of friends [because I] played the pipa in orchestras," Wu said. "It's nice to meet new people and [form] more friendships through this common interest of playing Chinese instruments, which is different from meeting friends at school, [because] those are [mostly] based on academics."
With her peers, Wu says she participated in multiple performances. One that has recently stuck with her was a performance with the MVHS orchestra last year.    
"It was an amazing experience that I really enjoyed because all my friends are in orchestra," Wu said. "It was [also] a fantastic opportunity to play with orchestra [instruments] and see the combination of Chinese and Western instruments playing together to create harmonious music."
While Wu has experienced challenges practicing her pipa due to her academic workload, she says that she is still pushing herself to "become better" at playing.     
"After playing [the pipa] for so long, it has become a part of me," Wu said. "Seeing my personal improvement after all these years has kept me motivated to continue practicing. Also, seeing my pipa peers in my orchestra, who are at a higher level than me, are also [always] inspiring me to keep going."
Shreyas Garimella (mridangam)
When he was young, junior Shreyas Garimella used to go to his brother's Carnatic concerts — a form of classical music from South India. His brother used to sing the vocal part of Carnatic music, but Garimella also noticed that a drum would always accompany his brother. The rhythm of the instrument made him interested in what he later learned was called the mridangam. When he was 8 years old, Garimella began to learn the mridangam himself. During the initial stages of his learning process, Garimella shares that the hand movements he had to master surprised him. 
"What really interested me was how fast [mridangam players'] hands move," Garimella said. "A split finger technique is used [to play the mridangam], [which means] people move their fingers in several different positions. Each position creates a different sound on the mridangam, and together, they create many harmonic sounds that sound very beautiful." 
However, learning such techniques was initially difficult for Garimella due to the mridangam's "steep learning curve." Because he had "never done anything so intricate with [his] hands before," he only started to master his skills after a year and a half of playing. However, Garimella explains that his teachers — called gurus — were the ones who encouraged him to keep going. 
"You won't sound good [at first], but gurus support you and encourage you to go play [your mridangam], no matter how you sound or how good you are," Garimella said. "The community of carnatic musicians [will also] come and support you [during performances], no matter your skill level."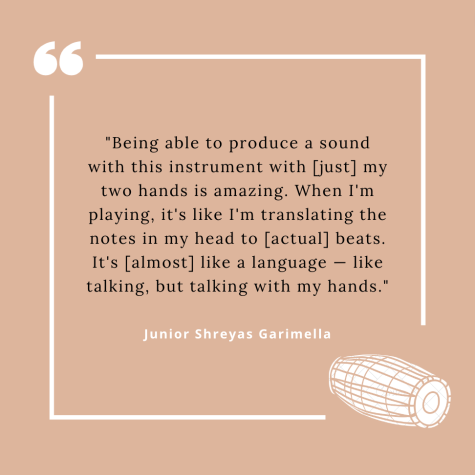 Garimella gradually started growing his experience with the mridangam through playing in concerts and performances. Among those, Garimella fondly remembers a "nerve-wracking" performance he held, where more than 200 people came to watch. 
"[The performance] was a memorable moment for me because I spent a lot of time preparing," Garimella said. "I [also] played with artists that were a lot more experienced than me. At that point, I only had three or four years of experience and I was playing with artists that were 10 to 12 years into the field and were legends in our own circle. I got to learn a lot from them and I've taken those experiences with [me] to other future concerts."
While Garimella is becoming increasingly busy due to high school, he says that he still makes sure to consistently practice his mridangam, as he doesn't want his hand movements to become sloppy and lose their crisp sounds. Additionally, Garimella also believes that playing the mridangam is overall a very fulfilling experience.    
"You can [learn] a lot of new skills [through the mridangam] that you wouldn't get from playing other instruments," Garimella said. "For me, being able to produce a sound with this instrument with [just] my two hands is amazing. When I'm playing, it's like I'm translating the notes in my head to [actual] beats. It's [almost] like a language — like talking, but talking with my hands."
Shourish Mukherjee (tabla):
While watching an Indian concert in fifth grade, senior Shourish Mukherjee started tapping along with the percussion. Sitting next to him, his dad noticed and gave him a nudge.
"My dad said, 'Oh, well, you might be interested, do you want to play?'" Mukherjee said. "I said, 'Sure, I want to try it out,' and I grew to like it a lot."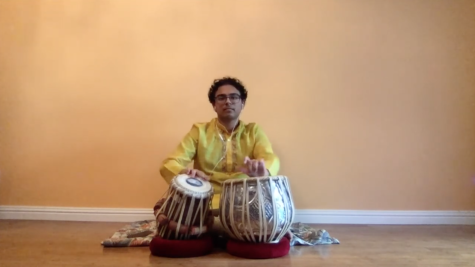 Since then, Mukherjee has been playing the tabla, a type of drum popular in the Indian subcontinent. He says the instrument has cultural meaning as it provides the beat to Hindu devotional songs. However, he feels that the tabla is hard to master, as after three to four years of learning basics such as hand positioning, improving has become an arduous struggle.
"When you're just starting out, you have [to learn] the hand positioning, but eventually you encode them into muscle memory," Mukherjee said. "That's the easy part, and your skill rapidly increases [from there]. But [once] you figure all the basics out, then it's technique, technique and technique. Figuring those out takes a much longer time and it needs someone to put in a lot of effort and a teacher who is also willing to put in that effort with the student. People who play it professionally practice for hours and hours every day because improving after that initial rise in skill is very hard."
Despite this, Mukherjee plans to continue practicing the tabla as it helps him connect to his Indian and Hindu identity. He often plays the instrument at Indian cultural events, where he can play in front of a large audience and interact with more of his family.
"Our family goes to festivals now and then and always asks me to play the tabla at [those] festivals," Mukherjee said. "To be honest, it's gotten a little tiring, but it helps me connect with my family and extended family a lot more than I would have."
Overall, the tabla has been a welcome addition to Mukherjee's life, offering him a chance to take a break, sit down and then return to other things with a fresh mind. 
"One aspect that I like is that it's very focused on your hands," Mukherjee said. "When you're playing it, you enter this sort of Zen state that helps you focus, and the music leads you into playing it instead of thinking about what you will play next."