AAPI Silicon Valley hosts multicultural diversity festival
An event that showcased a variety of AAPI communities across the Bay Area
AAPI Silicon Valley hosted the Asian American & Pacific Islander multicultural festival at the Cupertino Library Square on May 21 to observe and showcase the various AAPI communities of the Bay Area.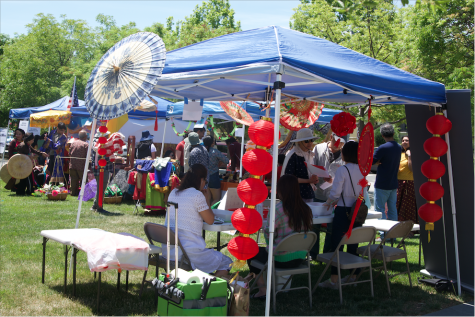 The event consisted of numerous booths representing various AAPI communities and cultures in the U.S., such as China, Vietnam, the Philippines, Korea, India, Japan and many more. There were many activities such as painting, displays of student art, traditional clothing, music and educational history of different ethnic communities. Other booths such as voter registration and county resources, as well as educational organizations such as test preparations for students in the Bay Area participated in the event.
In addition to a diverse group of cultural communities, groups across the Bay Area also showcased a variety of martial arts and music performances for the public, including Taekwondo and traditional dances.
Louansee Moua, a participant at the event and an exhibitor for the Hmong community booth, says the event was a great way to highlight Hmong culture and history to the public.
"I'm here to ensure that people know about [the Hmong community]," Moua said. "The Bay Area is really diverse and I want people to see that there's a lot of different cultures, and our culture is really unique because we have a really colorful [heritage], [like] our clothes [which] kind of sets us apart from a lot of other ethnicities."