Students for change: 5TRINGS
Highlighting 5TRINGS, the organization that brings music to senior centers
The deep, rich timbre of the violin echoed through the room as senior Dillon Huang performed "Violin Concerto No.1 in G minor" by Max Burch at the Cupertino Health and Wellness Center. For many seniors, the teen is a small blessing — someone who brings music and beauty into their life once a month. Similarly, Huang was grateful for the opportunity and eventually developed a deep connection with one resident in particular — a senior citizen paralyzed from the waist down and experiencing difficulty moving his hands. His position as a previous concertmaster gave him a special appreciation for Huang's work. As Huang was finishing his performance, he turned to see tears gliding down the man's cheeks and his hand extended in a shaky thumbs up. 
Huang's nine years of experience competitively playing the violin helped kickstart his monthly performances at senior centers. After performing at the Cupertino Health and Wellness Center with four friends, Huang realized the positive impact music had on the center's residents and decided to establish 5TRINGS, a program that brings music to senior centers via in-person performances or pre-recorded videos, due to COVID-19 restrictions.
As the main organizer, Huang finds musicians from MVHS to perform in person, while simultaneously searching for out-of-state volunteers to help compose pre-recorded videos. Huang then compiles the videos into one collective YouTube video to send out to various senior centers in the community. A large part of his job requires him to use his experience and connections from his musical career to help find interested musicians who are willing to send him videos of their performances. One of these musicians is a junior at Flintridge Sacred Heart Academy, Alexis Forman, who met Huang at a Northwestern University violin intensive during the summer of 2022.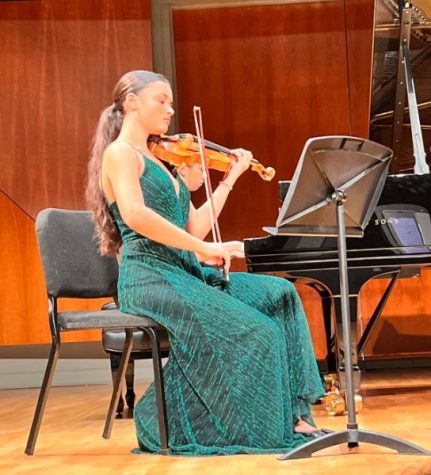 "I usually do two to three hours of practice a day, and then I will [practice] six times a week," Forman said. "I'm [also] a part of the advanced orchestra at Colburn [School of music in Los Angeles] as well as [a] piano trio, so I have [a rigorous] rehearsal , which all contributes to my violin [ability]. [Being able to volunteer for 5TRINGS] makes me feel amazing because I know that the hard work I do every day – practicing daily [and] going to music school multiple times a week — is [going to] pay off and help people."
Similar to Forman, senior Renee Hau, who is also a member of the program, appreciates the opportunity to provide happiness to seniors by playing flute.
"I have a grandma who went to one of these centers, and her experience [was not] great because she was really scared," Hau said. "I get [that] these elders are probably feeling like that, [and] they're probably really stressed [and] they probably just want to leave. Giving them some comfort and entertainment [helps] them ease into senior centers. [And] because of 5TRINGS, it allows them to feel more comfortable, so that's why I think [the program is] really positive."
Huang says that 5TRINGS initially played mostly classical music but has incorporated more genres —  including '60s songs, pop songs and holiday-themed songs during Christmas and St. Patrick's Day — that better match the seniors' tastes. Hau adds that some of her favorite memories in the program were performing Disney songs and "The Nutcracker" during the Christmas season. 
"I remember one of these elders told me how she played the flute, and sometimes she would sing along to what we were playing because my brother [and I] would play Disney duets," Hau said. "I will never forget when me and my brother [played] 'The Nutcracker.' That was probably my most memorable piece. It was hard, but it was definitely fun because you don't see a bunch of saxophone and flute duets. I remember I always loved 'The Nutcracker' and my parents always loved it too … so it was very nostalgic."
Forman says that performing with 5TRINGS has taught her discipline, commitment and communication skills, both through music and words. Forman is also grateful for the opportunity to perform and meet people. Huang similarly values these opportunities to perform for seniors, as "music is a pretty big part of [his] life."
"I've been playing competitively, [and] music is something that helps me relate with my emotions," Huang said. "I can also let [my stress] out through the music and music helps me find joy. I'm pursuing a double major in college, so I will be pursuing violin performance as one of my majors as well."
With 5TRINGS starting out as a small program for Huang and his friends to bring music to senior centers, Huang appreciates the journey and ties his success back to his musical career. Additionally, learning that the seniors often ask the activities coordinators when the musicians will come back to perform has inspired Huang to keep going.
"I have been talking to freshmen and sophomores about them taking charge [of] the program, but I do plan on continuing [to stay involved with the program] throughout college," Huang said. "I [also] plan to broaden the reach to [include] elementary schools or communities in the area of my college, as well as [performing] when I'm back for breaks. [Overall], I think [it is] really heartwarming to have all of the seniors [stand] up and clap after every performance. A lot of them have disabilities, but they were able to show their appreciation [despite] their disabilities, and I found that really [inspiring]."