MVDT steps into the spotlight
Exploring the choreography and production of the MVHS Dance Team at the home dance competition
The USA Northern California State Dance Classic competition was held on Saturday, Feb. 11, in the MVHS gym from 8 a.m. to 6 p.m. A total of 21 high school dance teams participated to display a range of dance performances and took part in various dance genres throughout the competition.
Senior and captain Kylie Chang explains that when initially deciding which dancer will participate in a specific routine, the coaches and captains take into consideration the dancers' expertise and background experience.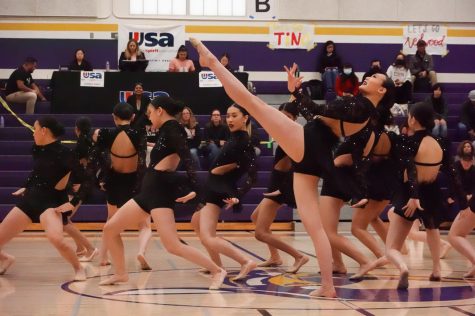 "Usually, people who have more ballet experience or technique experience will be placed into dances that are contemporary or lyrical because those require much harder skills," Chang said. "However, [there are] more people who are doing hip hop because this year we do have multiple hip hop routines. We also have one routine that's for everyone in it, so that's our character routine."
Chang explains that when preparing for competitions, the team focuses on improving sections of their routines that need more attention. Chang describes that although the competing season can be stressful, the team fosters a positive mindset by holding different team bonding activities during practice and after each contest. 
"Right after [the] competition [we] will go to IHOP," Chang said. "In terms of during practice, before and after we'll gather up in a circle, and sometimes we'll share things about each of our days. I think that really helps us to sort of build community within the team and make sure that everyone feels like they're included."
Having only recently taken charge of the team, for coach Joy Lee, team bonding is a key component of tournament preparation as well. She and fellow coach Caitlin Malone try to cultivate a positive working environment, with their biggest goal being to simply have fun at this tournament. 
"I think one of our main priorities right now is just making sure that these kids are going to have memories to last a lifetime," Lee said. "But I mean in terms of winning, we would love to win a couple of titles."
Lee cites the rapid pace of the competition season as a struggle while preparing for the tournament. She and Malone, both MVHS alumni, joined the team as coaches two weeks before this season's tournaments began, and the majority of the choreography had already been planned out.
"It's very much a learning curve for us — learning what each dance is about, what we need to do to clean it and making sure that all the kids are matching," Lee said.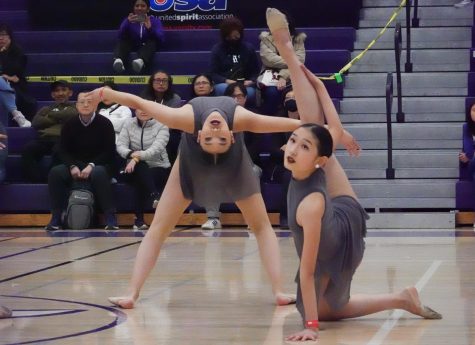 However, she is confident in her team's ability and aims to have as many dance routines qualify for nationals as they can. Despite their short time with the team, Lee and Malone both speak to the enthusiasm and strong leadership of the current dance team captains.
According to Lee and Malone, a key factor in their success and high spirits is the fact that this tournament is being held on the MVHS campus. Lee compares hosting the tournament to "welcoming others to their house." Despite some stress about organizing and decorating the gym for the competition, Malone explains that having the tournament on their "home turf" is an advantage for the team.
"When you're at home, you're comfortable," Malone said. "They've already danced on that gym floor. They already know what it's like. So hopefully when they compete, it comes out of them."
As a way to welcome the other teams to MVHS, Lee, Malone and MVDT decorated the front rooms with purple and gold. They also made posters and goodie bags for each team with a personalized note in each bag. 
After the array of performances, Malone and Lee were filled with contentment. The coaches were deeply appreciative of the work the team had put in and could not be happier with their team. 
"We have our physical plaques to show for the work that these kids have done," Lee said. "But it's honestly the chemistry that we create as a team. That is really our reward at the end of the day. So we feel great. They won as soon as they stepped out there for me."