Students for change: Erin Handelsman
Sophomore Erin Handelsman leads a hygiene kit making service project after earning the rank of Eagle Scout
Stumbling between the large Western red-cedar trees that populated the beautiful Juan de Fuca strait in Canada, sophomore and Eagle Scout Erin Handelsman and her best friend, Prospect High School sophomore Jacob Kahn trudged along on their 27 mile hike. The previous days' wet weather had created mud slick grounds that made it difficult for the scouts to pass through, and as the day dragged on, the tension thickened as they lost their way. A moment encapsulating their friendly rivalry was when Erin pulled out her phone to record Kahn as  6-inches of deep mud engulfed his feet, rather than helping him escape from the thick mud.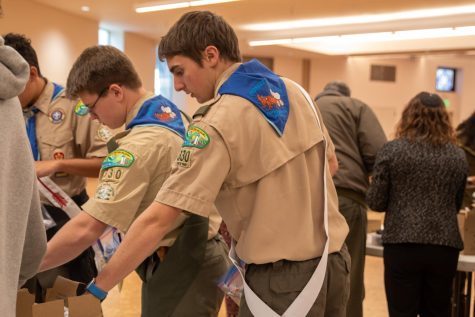 "My friend Jacob was in the Scouting program before girls were allowed to join," Erin said. "I wanted to tag along with him because he would tell me about all these adventures he went on and I wanted to do that with him. I think my motivation was definitely trying to beat [him]. He was in the first class, and I was down at scout, so he was higher [ranked] than me [but] then I started ranking up and beating him. And he was like, 'OK, well, now I [have] to step up my game.'"
Erin joined the Boy Scouts of America (BSA) program in 2019, as soon as the BSA changed its policies to allow girls to join. As a scout, Erin earned 32 merit badges for learning various skills, including cooking, first aid and hiking, which is nine more badges than what is required to earn the Eagle Scout rank — the highest out of seven — in 2021. Along with earning merit badges, scouts must lead a community service project — for Erin's Eagle Scout project, she built four concrete benches for her synagogue after consulting with an engineer and developing three prototypes.  
Due to these challenging requirements, only six percent of scouts achieve the Eagle Scout award. While accomplishing a goal that typically took scouts over eight years to attain, Erin's determination helped her become part of the first inaugural class of female BSA Eagle Scouts in America. This title refers to the female scouts who achieve the Eagle Scout rank within the first two years of the BSA program's inclusion of girls. Erin's sister, junior Zoe Handelsman, expresses her pride at how quickly Erin achieved the Eagle Scout rank and also attributes Erin's motivation to the COVID-19 pandemic, where Erin's competitive spirit with Kahn and her desire to be a part of the first inaugural class of female BSA Eagle Scouts fueled her success. 
"Scouting is more of like a family connection because my dad goes with her to events and outings, and at the same time, I know some of the girls in our troop, and we have family friends that also do [scouts]," Zoe said. "It's definitely fostered a family connection because you spend a lot of time together and you rely on each other. Scouting isn't necessarily about what the individual can do to survive. That's part of it, but it's also how you work together to reach a solution that benefits everyone."
When Erin first joined scouts, she felt intimidated by the demanding hiking and camping trips — she recalls that her first trip was to Death Valley in March of 2019.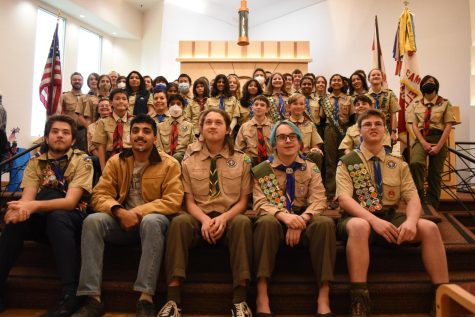 "I brought so many jackets [and] extra blankets because I was so scared I was going to be cold because it's winter so [it goes in] the negative degrees sometimes, but we went to this crater and the biggest chocolate factory, and I had a great time," Erin said. "After I came out of that trip, I felt confident in myself that I would have a good time in this troop and that I would have a great scouting journey. [Although] at first I was hesitant, after [the trip] I felt pretty confident."
Scoutmaster Maria Guardado adds that Erin was "shy for about three seconds and then fit in with the rest of [the troop]." President of the board of Congregation Beth David and Erin's father, Nathan Handelsman, recalls how quickly Erin adjusted to the expectations of the BSA program.  
"She was just a shy girl going into a scouting community that was mainly for boys, and she was a little bit worried about what the expectations were [but] after a very short time, she fit in," Nathan said. "I don't think there was a [big] divide between boys and girls, because [they were] always together."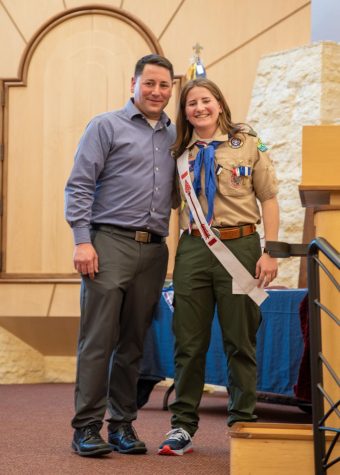 Erin says that while "most people [who] reach the rank of Eagle leave and don't help [their communities]," Erin strives to continue her work by mentoring younger scouts, teaching them skills like knots and leading them in backpacking trips and fun volunteering events.
Erin's friend, junior and scout Sarah Quintana, says Erin "has always been a cornerstone in [her] scouting experience" and "has always influenced [her] to do [her] best." 
"[Being in the Scouting program is the] best experience I've ever had," Quintana said. "I found out I love backpacking, hiking and photography. I [also] found my love for speaking in front of people even though I'm severely dyslexic. It teaches me how to overcome that fear or just being able to read more complicated stuff in public. I'm really proud of Erin for coming up with such a thoughtful gift to do. I've been to five Eagle Scouts Court of Honors [and] none of them have ever done a service project after, which is very impressive for her to be doing."
Guardado feels optimistic that Erin will continue "to participate in [her] troop, give her knowledge and guidance to younger scouts and bring her own kids back to Scouting."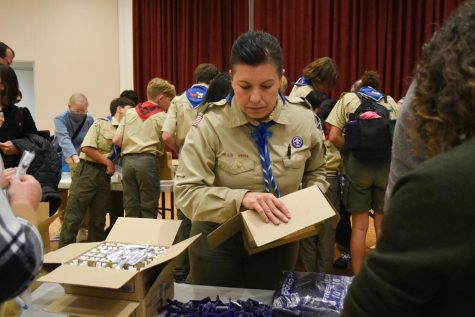 "I was really really enthusiastic about [Erin accomplishing Eagle Scout]," Guardado said. "I myself have been a first in many categories as well, so I know girls can do anything the boys can do — maybe differently, but they can still do it."
After Erin's Eagle Scouts Court of Honor on Sun. Feb. 5, she decided to complete a project to give back to the community, which required making 1,000 hygiene kits to donate to four non-profit organizations. Some hurdles that Erin faced throughout the process included reaching out to organizations, raising adequate funding and organizing the event. 
"I raised all the money to buy the materials [by fundraising] through my community and through my congregation, [where] I set up a website where [people] can buy materials, [which will be used to build the hygiene kits]," Erin said. "I'm setting up different stations where people will just walk down and put the different stuff for the hygiene kits in the bag, seal the bag and  place it in a box. Once we have ten boxes of 100 [kits] set up, then we're going to transport that to different locations for the nonprofits."
Junior Allison Lin, who attended the event, enjoyed the experience and was glad to be able to support her friend. 
"It was just a very tight knit community," Lin said. "I think it was nice that so many people were really engaged and [that] so many people [were able] to help support her project."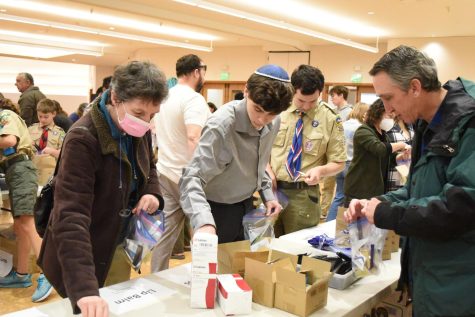 Although Erin was simultaneously working on her Eagle Scouts speech and composing the hygiene kits, she had strong support systems for both events. Rabbi of Congregation Beth David, David Roller, explains that he felt a special connection with Erin when they first met, because he too was an Eagle Scout during high school and both of them worked to achieve the religious Ner Tamid emblem.
"[Erin's achievements are] just an incredible thing to be proud of," Roller said. "[She's] a trailblazer. [For the future], I expect to be surprised by Erin. I mean, I can't imagine what [her future projects] will be, but I know it'll be something that we'll all be really proud of and I'm looking forward to seeing it."
Nathan agrees that Erin has experienced difficulties throughout her journey but continues to be a "proud father" and an avid supporter of Erin's endeavors. 
"[It was] a struggle because [Erin] was really [trying] to figure out how to write [her speech for the Eagle Scout] ceremony and [was] also doing hygiene kits and fundraising, [so] preparing for both events at the same time was a big [challenge]," Nathan said. "[In the future], I hope she will continue to motivate teams to continue to do community service, not just here at the synagogue but also at Monta Vista and [in] scouting."