Now is all
Looking into students reactions to the FIFA World Cup Qatar 2022
Blanketed in crimson red jerseys, banners and flags and speckled with the forest green of the national flag, the Moroccan fans sent roaring cheers in Arabic that echoed across the field. On Dec. 1, junior Dylan Chaahoub was in the stands as the Moroccan national team took on Canada at the Al Thumama stadium in Doha, the capital city of Qatar, joining in on what he describes as a crazy experience — witnessing thousands of fans from around the world gathered in a single stadium to watch the FIFA World Cup Qatar 2022.
"I remember seeing different sides of the stadium where there [were] fans from one country and then fans from another country," Chaahoub said. "When I was at the Morocco game, I was able to go along with the chants because it was one of the teams I was supporting at the World Cup. It just felt like I was part of some big thing, trying to cheer and help on the players in order to win the game."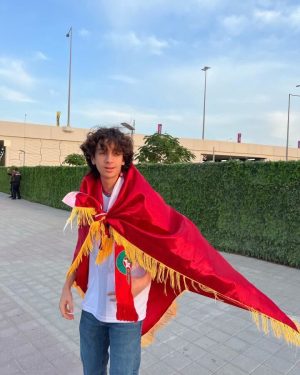 Chaahoub grew up watching soccer clubs like Arsenal, Real Madrid and PSG with his dad and says that his familiarity with the players makes the World Cup even more exciting. With tickets to four group stage matches, Chaahoub flew to Doha with his dad and brother to attend a World Cup in-person for the first time.
The first FIFA World Cup that sophomore Siyona Kathuria watched was in 2014 when Brazil, her current favorite team, hosted. She recalls the World Cup dominating the family TV for an entire month — a tradition that has continued eight years later, with Kathuria constantly texting her family to exchange updates when she's at school.
This World Cup, Kathuria was rooting for both Brazil and Portugal, with a preference for Brazil because of "how connected [they are]" and how "they treat each other like family." Meanwhile, senior Valentino De La Torre originally supported Mexico, his home country, but switched to Argentina because of its star player, Lionel Messi, after Mexico was eliminated in the group stage.
"Since I was a kid, I liked how [Messi] played, how he moved, how he shoots," De La Torre said. "For a lot of important players, [it is] the last World Cup."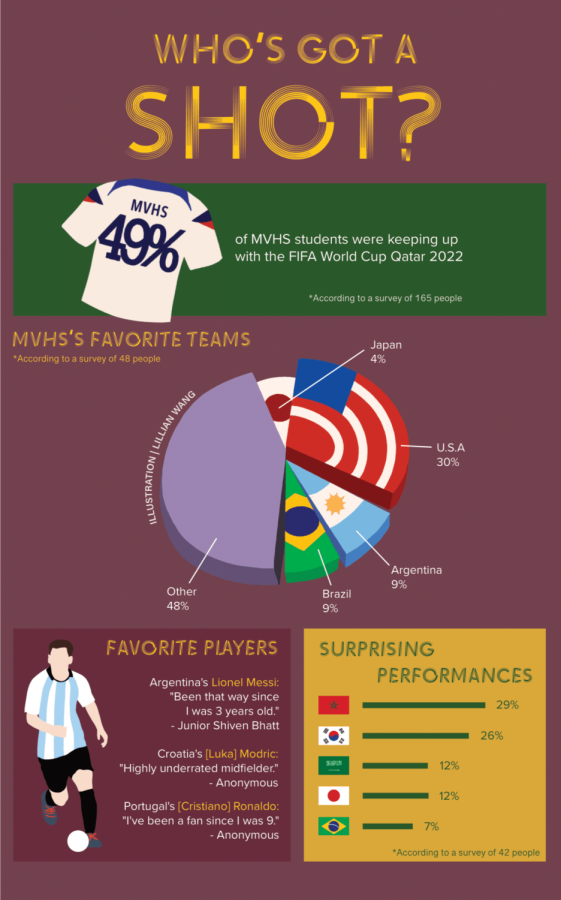 Chaahoub tried to keep up with most matches — especially Morocco's, as he is half Moroccan — despite their times conflicting with school. He and Kathuria both watched highlights for games they missed. On the other hand, De La Torre sometimes watched the World Cup during class and says that while most teachers are fine with it, one teacher confiscated his phone while he was watching a game.
Chaahoub, Kathuria and De La Torre have found this World Cup full of surprises. De La Torre mentions that several "important teams" were eliminated early, while South Korea's win against Portugal and the U.S. even making it to the World Cup were unexpected results to Kathuria. After Morocco advanced to the quarterfinals for the first time, Chaahoub's dad had his Moroccan friends over to watch the quarterfinals match against Portugal on Dec. 10, in which Morocco won 1-0 and advanced to the semifinals, becoming the first African team to do so in World Cup history.
"I think it's been a really interesting World Cup because there [are a] lot of teams that you wouldn't expect to [do well], but they've actually come out and beat top teams," Kathuria said.
Kathuria finds that the World Cup has made her more passionate about soccer after she got back into the sport following a break, and enjoys "the environment and unity that it creates." Chaahoub agrees, reflecting on the diversity of the soccer fans he saw while in Qatar.
"It's really cool [with there] being one place where everyone around the world just comes to watch soccer," Chaahoub said. "There's such a variety of different people there. When I [went] on the metro, I [saw] people from Saudi Arabia, Spain, Canada, Brazil, Argentina [and] even India. I thought that was amazing."
About the Contributors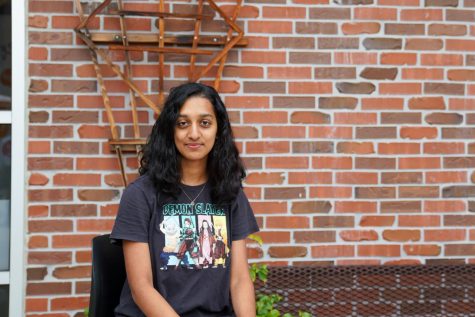 Kalyani Puthenpurayil, Sports Editor
Kalyani Puthenpurayil is currently a junior and a sports editor for El Estoque. She is a midfielder on the Varsity field hockey team at MVHS. She enjoys baking, reading and going on long walks.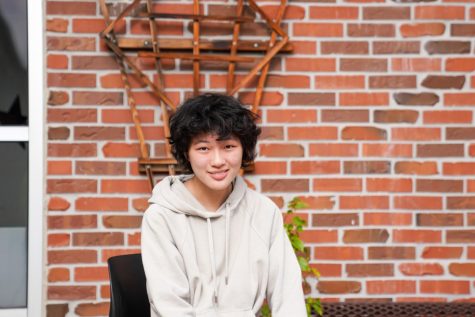 Lillian Wang, News Editor
Lillian is a news editor and a professional junior.