Football defeats Saratoga High School 42-35 in a thrilling comeback
The Matadors end strong with a 22-0 run in the fourth quarter despite a rough start
Varsity Football defeated Saratoga High School 42-35 in a close matchup on Friday, Sept. 30, bringing its overall record to 2-3. Although MVHS was able to score a touchdown early in the first quarter, multiple interceptions and fumbles allowed Saratoga to take the lead, ending the second quarter with a score of 6-28. Senior and linebacker Aditya Mishra attributes this to the shortcomings of the team's defense going into the game. 
"[We] started off very slow," Mishra said. "I think the pass[es] over the head really caught us off guard, and the first play [where Saratoga scored an early touchdown] was just something that's happened to us a lot where the first play's just a touchdown."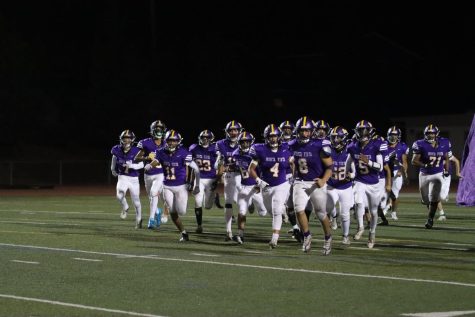 However, after halftime, the Matadors showed renewed spirit, with senior and running back Greyson Mobley scoring two touchdowns in the third quarter and Mishra recovering a fumble late in the third quarter, bringing the overall score to 20-28. Mishra says the halftime break allowed the team to pull themselves together and stop making mistakes. 
"During the [halftime break, the] students and coaches yelled at us," Mishra said. "I mean, they really told us what we're doing wrong. So we just came out there and stopped making mistakes because that was the only issue in the first half. We were able to get the ball moving, stop them [from making plays], and that was it."
MVHS kept the momentum moving into the fourth quarter, with Mobley and senior and wide receiver Isiah Dimaya combining for three touchdowns to cut the lead to 34-35. After an important MVHS stop in the final minutes of the game, Mobley threw a 50-yard-pass to senior and wide receiver Alex Lee. In the next play, Mobley rushed into the endzone, scoring a touchdown and taking the lead. With under a minute left in the quarter, he rushed to the endzone again for the 2-point conversion, ending the game with a score of 42-35. 
"Everything that happened [felt like] a movie," Mobley said.