No pain, no gain
Analyzing how MVHS teams overcome failure
Whether a sport is individual or team-based, players often rely on their teammates for support after a loss. Senior and Varsity Water Polo player Kinton Duong explains the influence of camaraderie on team morale.
"It doesn't matter if you win or lose [because] we'll still have that close connection," Duong said. "All of us know that it's better to encourage each other and keep the morale high for the sake of giving each other chances of doing well [in] the next game."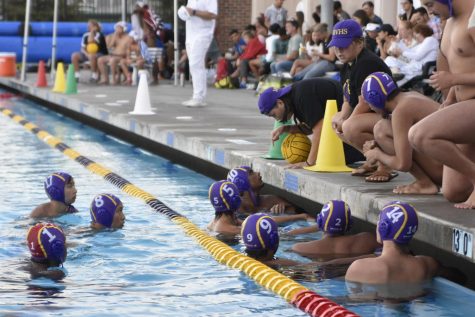 Junior and Varsity Tennis Captain Himani Jha agrees with Duong and believes that her teammates can maintain positive outlooks on future games because they put their past
games behind them. Jha shares that such a mindset helps the team play better after a loss compared to a win, as they refuse to let a loss define their abilities as players.
While it is important to avoid dwelling on the past, Jha explains that it is equally as important for players to understand what they can improve on and to "focus on making [their skills] better for the next match." According to Jha, this can be done through specialized practices that allow athletes to prepare for their upcoming games physically and mentally. By focusing on specific areas where athletes can improve, practices can become a lot more effective in improving the players' abilities.
In order for players to keep polishing their skills, athletes tend to rewatch films from previous games and practices to gain insight into how they can improve. Senior and Varsity Football player Vihann Shetty explains how he watches videos of other players and their prior experiences to improve his own performance in games. 
On top of honing the skills of individual players, teams such as Water Polo enhance the strategies they use in games in order to improve on their performance in future games. 
"Usually the starting lineup will stay the same for the entire season," Duong said. "But we'll [also] make changes and add new plays and keep working on getting better at the ones we already know."
However, Duong also emphasizes that when the team is analyzing what they need to improve on, it is crucial that the team as a whole is taking accountability instead of singling out individuals for their mistakes during a game, as it is easy for emotions to run high.
"Sometimes we let our emotions seek the best of us and [we might] yell or scream during a game," Duong said. "But everyone on the team knows that that is nothing personal. [We motivate each other by saying] 'We got this. Let's finish the quarter strong.' So even though there might be some initial frustration, you always end up encouraging each other [in the end]."
According to Shetty, by participating in frequent team meetings, the players can reflect and improve on their mistakes. Shetty attributes this to the coaches, explaining how they highlight ways for individuals to improve but also ensure that the entire team is held accountable after a game.
"The coaches [do] not [put] us down, but [instead they show what] our weaknesses are and how we can improve," Shetty said. "Instead of just getting on [an individual player's] case, [they] productively tell them what they're doing wrong and how to fix it. We can't change what happened in the past. But what we can do is we can improve our technique and what we're doing to make sure that that doesn't happen [again]."